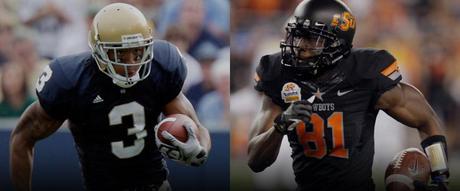 Photo: vikings.com
- Adam Parker
As we draw inevitably closer to draft day, teams are wrapping up their private visits with potential prospects and finalizing their draft boards.
Though the quarterback circus is once again taking center stage (like it tends to do every draft), the top two receivers are creating a pre-draft debate the likes of which we have not seen for some time.
Sure, there always seems to be that one guy every year who is a clear cut above the rest of the wideouts in the class, but this year we have a unique scenario.
The meteoric rise of Notre Dame's Michael Floyd to join Oklahoma State's Justin Blackmon at the top of the wide receivers' heap has seemingly closed the gap between these two studs. It has reached the point that some NFL scouts believe teams couldn't go wrong with either choice if they are a team in dire need of quality pass-catchers.
But is it really that close? Or could Floyd possibly be even better than the two-time Fred Biletnikoff Award winner in Blackmon?
Let's begin with the measurables -- after all, since today's NFL Draft and the related events preceding it have become a glorified livestock auction, measurables are a substantial piece to the puzzle of player evaluation.
Justin Blackmon - 6'1" 215 lbs. 40-yd dash: 4.46
Michael Floyd - 6'3" 224 lbs. 40-yd dash: 4.47
Well, just based on those stats alone, I'd probably lean more towards Floyd. He's the bigger of the two receivers and appears to have just as much speed despite boasting the larger frame which is always a plus in the NFL.
Next, their season stats from 2010-2011 -- their two most productive seasons.
Blackmon, 2010 - 111 receptions; 1,782 yards; 20.1 yards per catch average; 20 Touchdowns
Floyd, 2010 - 79 receptions; 1,125 yards; 13.0 yards per catch average; 12 Touchdowns
Blackmon, 2011 - 121 receptions; 1,522 yards; 12.6 yards per catch average; 18 Touchdowns
Floyd, 2011 - 100 receptions; 1,147 yards; 11.5 yards per catch average; 9 Touchdowns
It's pretty clear from looking at these numbers why Blackmon was touted as the college football's top wide receiver the past two seasons. Sure Floyd's numbers are impressive, but Blackmon's are substantially better over that two-year span.
But what about their career numbers? 
Blackmon, Career (2009-11) - 252 receptions; 3,564 yards; 40 Touchdowns
Floyd, Career (2008-11) - 271 receptions; 3,686 yards; 37 Touchdowns
Their career numbers are strikingly similar, but a couple things should be of note here. One, Blackmon put up almost identical numbers across the board with Floyd, but did it with 19 fewer catches and one less season to boot.
However, unlike Floyd, Blackmon had stability from the quarterback position in his two Biletnikoff seasons with Brandon Weeden throwing him passes.
On the other hand, Floyd seemingly put up great numbers despite dealing with the revolving door of quarterbacks in South Bend under Brian Kelly at Notre Dame.
Take that how you will, but the chemistry between a quarterback and his receivers is vital to the success of any passing game, and the difference in the two receivers' scenarios shows that Floyd continued to consistently make plays despite the instability at the quarterback position and diversity he faced at Notre Dame.
There have recently been whispers comparing Floyd to Kansas City's Dwayne Bowe while Blackmon is closer to New Orleans' Marques Colston in terms of scheme fit. Many believe that Floyd has the ability and second-gear to beat defensive backs one-on-one on the outside while Blackmon is more of a one-speed receiver. Not to say that his one speed is bad, considering his sub 4.4 40 time.
Floyd also appears to have the versatility to fit into any scheme, whereas Blackmon is more a of YAC monster better suited for a West Coast offense -- the likes of which can be found in St. Louis, Cleveland or Jacksonville -- which, luckily for Blackmon, seem to be his most likely landing spots.
Rest assured that both guys will do great things at the next level for their respective squads.
Want to join the debate?
Tell us your thoughts on who you would draft -- Justin Blackmon or Michael Floyd?
Be sure to follow Beard And Stache on Twitter 
@BeardAndStache
, 
and also Adam 
@Adam_Parker43
, Like our Facebook page 
HERE
!