I have a confession to make. I eat baby food. It makes me run fast.
I was volunteering for a 50k a couple of months ago and in the process met some great guys who put up with my incessant questions about Ultra Racing. What do you eat? How often do you train? How many miles do you go for your long runs? Do you walk up all the hills? What is a good time for a __k? How much water do you carry? What shoes do you use? They were very patient with me. We ran 20 miles together; they had no choice.
I learned...they run runs by the hour, not the mile. For instance, on the weekend, they may go for a 4 hour run, regardless of the number of miles. I learned that they mostly use hydration VESTS, rather than belts. I learned that they use Montrail and Asics and Some Weird Shoe with a bigger heel. And, as far as fueling, I learned that some of them eat baby food.
So I tried it. I tried a few different kinds. Each were apple based and were in those squeezable packages. I know, it's landfill, but I am only using one a week at the most. Here are a few I tried.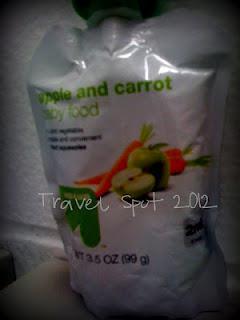 Target Up and Up Brand Baby Food -- 1 x 3.5 oz $0.79 each  -- $0.23/oz
Trader Joes Crushers -- 4 x 3.17 oz packs for $2.99 ($0.75 each -- $0.24/oz)
Safeway Brand Squeeze Applesauce -- 4 x 3.17 oz packs for $2.50 ($0.63 each -- $0.20/oz)**
The results? I love it. It goes down MUCH easier than Gu (which I am not a huge fan of but will use if I need to). It's about 50 calories per pouch, so you may need to carry several, which could be a drawback. I used them in tangent with my other favorite fuel, honey stinger chews. I take a shot of applesauce around the 1 hour mark and a few chews about an hour afterward (2 hr mark) and probably about a half an hour after that (2.5 hr mark). I've never been big on fuel, and so far, this seems to work for me. I may start to carry two of them (hey, that's why I wear a bra, right?) and take them on the hours and the chews on the half hour. Who knows. I still have three 20+ mile runs ahead of me to test it out.
What kind is the best? Seriously, just go with **the cheapest one. They all taste the same to me. Just make sure there is no added sugar. They should be made from fruit, which is already naturally sweet!
Now that I mentioned this, you may wonder why I need to worry about all this stuff. It's because I got a wild hair and finally signed up for my first ultra (after hemming and hawing and watching the price rise and the number of available spots drop!) Which one!? It's the Skyline 50k which is right near my place in Oakland! Click the icon to go to the site!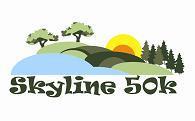 The race is on August 12. That means I have about one month to complain, ask more questions, be nervous, get over my fear train! I have decided NOT to buy new shoes. I will probably wear my regular old Asics that I have been wearing on the street and trails for the last few months. I am still not sure about a hydration vest. I am not sure I need the water, but the added storage pockets may be nice. Also, for my marathon training, I still have 2 more 20 milers. I can decide whether to do one of them on trails in preparation for the 50k. Does anyone have any advice for these issues? 
Don't forget to stop by Jill's for more Fitness Friday posts!  Also, happy FRIDAY the 13th!

Have you ever eaten baby food? If people ask you lots of questions about something you are knowledgeable about, is it annoying or flattering?