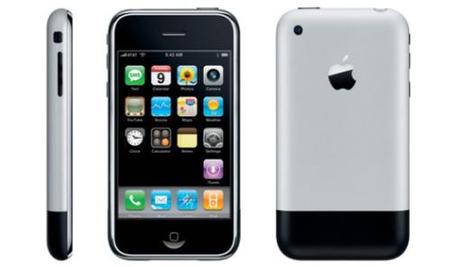 The first iPhone, known as iPhone 2G or iPhone Edge
Today, on June 29th 2012, Apple's iPhone turns 5 years. Unfortunately, Steve Jobs, the former CEO of Apple, isn't with us any more to celebrate enormous success of a device that was unlike any other handset the world had ever seen before. Steve passed away October 5th 2011, so let's remember him by watching the video of where he presents iPhone to the public for the very first time in January 2007:
There has been no other device that has changed social and technological life in such a short time, and five years later, the phone's enormous influence can be seen in our daily lives. In the past years the iPhone has come a long way – from a simple device with nothing more but a 2G radio, full capacitive touchscreen, and dream, to an iPhone 4S with an 8 megapixel camera, voice assistant Siri and video chat client FaceTime.
Up to now more than 217 million iPhones have been sold.