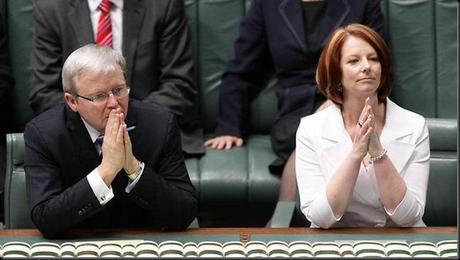 In an amazing night of drama in the Australian capital city of Canberra, Julia Gillard the now former Prime Minister in an attempt to firm up her position before the upcoming General Election, held a snap leadership vote as one of her aids in the Labor party suddenly switched allegiances to her rival for power, Kevin Rudd. The vote held in the past couple of hours saw Mr Rudd win by 57 votes to 45 and now it is he who becomes Prime Minister and will lead his party into the upcoming election.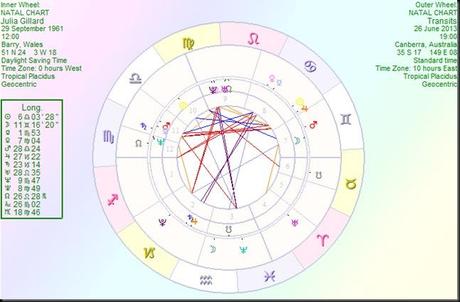 Firstly I will look at Gillard, born 29th Sept 61 at noon in Barry, Wales. Her Midheaven and point of career is ruled by Virgo and thus by the planet Mercury which is stationing right now in her 8th house of enforced change and the opinions and views of other people. Effectively this was a sign that support for her was turning. Which way? Well Mercury was turning almost exactly opposite her natal Saturn sitting in the 2nd house of her personal values. With Saturn's ruling sign Capricorn encased also in the 2nd house, her personal values and her authority and ambitions and career position were coming under serious opposition from this soon to be retrograde Mercury. Her Ascendant is ruled by Pluto and this was being opposed by Neptune and receiving a trine from transiting Pluto, so here we see her personal standing weakening, disintegrating and being undermined by these two powerful outer planets. Her time under this vote was surely up and she quoted that if she lost the vote she would stand down from politics. Surely she will now walk away after this humiliating defeat.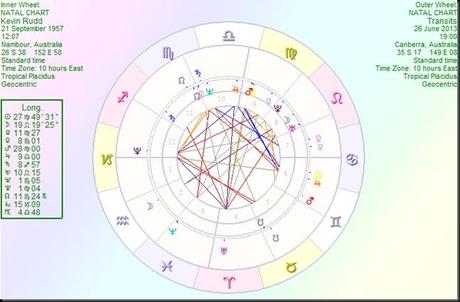 Now to the new Australian Prime Minister and his chart. Kevin Rudd's Midheaven, his point of career and public projection is ruled by Libra and thus Venus. His natal Venus is now receiving a conjunction from Saturn which rules his chart in his 10th house giving him added responsibilities and pressure. That Venus is also now being connected by the grand Water trine of Saturn, Neptune and the Sun/Jupiter bringing his dreams and wishes into form and shape, giving him influence and thus it is expanding his life. The unexpected nature of his promotion can be seen through Uranus at a point on his chart making multiple aspects to his Ascendant, Saturn through a beneficial trine updating his work and career through party (11th house) action, North Node, Jupiter, Mars, Sun Mercury and natal Uranus. Here, fresh new energy were being pumped into his life and his career. That same expansion can also be seen through transiting Pluto making a sextile to his natal Venus as well as a square to Jupiter giving him power and a career boost (Jupiter in 10th) through which he benefitted via behind the scenes sources (Sagittarius on 12th house cusp).
Out of the two, it was obvious to me who was going to benefit from a snap vote and now Mr Rudd moves on to take on Tony Abbott, the opposition Liberal party leader in the election to come. When we have an official date for this election, I will attempt to have a look to see which way the wind is blowing in Australian politics.