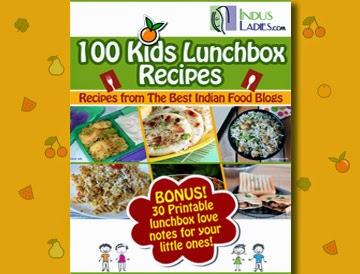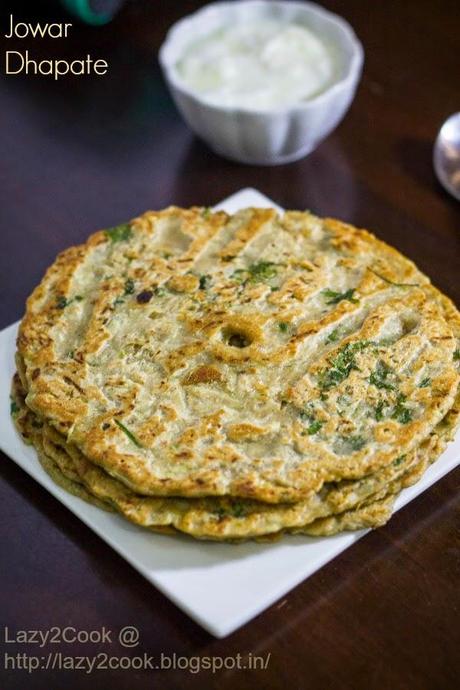 Very healthy and quick, Breakfast or sometimes meal, is Jowar Dhapate. Dhapate is cousin of Thalipeeth, a very well known breakfast in Maharashtra. Jowar is sorghum, very much famous for Gluten free diet. People with Gluten allergy can easily have this Sorghum Flatbread or Jowar Dhapate , its very tasty and filling dish used as Breakfast or meal with some accompaniments like chutney or curd.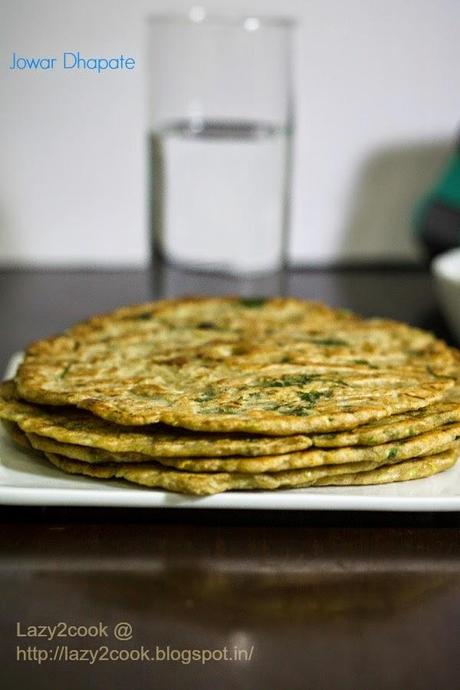 In Maharashtra, Jowar Bhakari is ,very well know bread type, used for dinner. It is very healthy and easy to digest. This Dhapate was introduced to me very lately after marriage. My hubby likes this and that is how I started making and eating , and now it is very famous breakfast in our home just like Thalipeeth.

Ingredients
1 cup Jowar Flour
1/2 cup Wheat flour
1-2 tsp. Green chili
6-7 garlic cloves
1/4 cup chopped cilantro
1/4 tsp. turmeric powder
1/2 tsp. carom seeds
1/4 tsp. cumin seeds or 1/2 tsp. cumin seed powder
Salt to taste
Oil as required
Preparation
1. Make a paste of green chilly and garlic.
2.Add chilly and garlic paste, cilantro, turmeric powder, carom seeds, cumin seed, garam masala and salt Jowar flour and wheat flour. Jowar flour should be more than wheat flour.
3.Add water and knead the dough. Divide the dough into small balls.
4.Take a thick plastic paper or thick cotton Cloth. Fold into half width-wise. Apply little water. Place one dough ball inside.Put water on your fingers and press with fingers to make a medium circle. You can also roll to required thickness.
5.If the edges are cracking, adjust with fingers. And put small holes with one finger in the center on rolled Dhapate , as in pictures.
6.Heat pan, add some oil and put rolled Thalipeeth carefully from cloth or plastic paper. Also put some oil drops from holes to cook evenly from middle also.
7.Cover and cook over medium heat. Cook from both sides.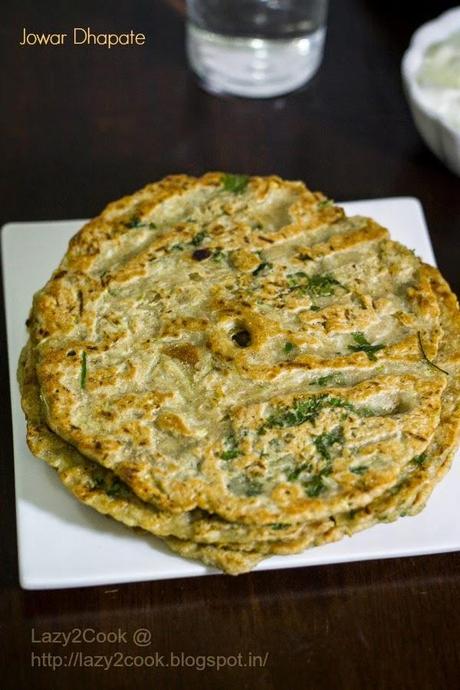 I prefer this as breakfast for kids because I could embed any vegetable like spinach, fenugreek, or cabbage or grated lauki (bottle gourd) inside it and serve with curd or butter. So, our kids will get all vegetables hidden under breakfast ;-)
Serve hot Jowar Dhapate with fresh curd or Butter. Yummy ...!!!!
The recipe is submitted for Indus ladies Kids Lunch Box Recipes and got selected in 'Kids Lunch Box Recipes' eBook. You can download this eBook for free HERE.