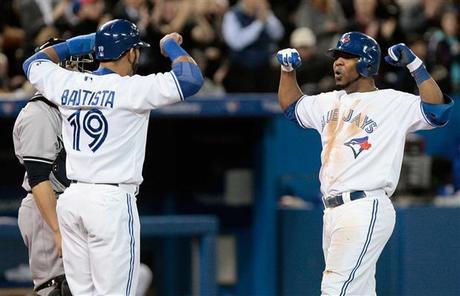 Photo: Getty Images/Abelimages
- Adam Parker
After stalling before even getting out of the gates, it appears Toronto Blue Jays star Jose Bautista is finally showing signs of life and reclaiming the pop in his swing that has made him arguably the most feared power hitter in baseball over the last two seasons.
In the first month of the season, Bautista was mired in a prolonged cold streak at the plate. He only managed three home runs, 10 RBIs and a .634 OPS while hitting a deplorable .181.
Not exactly the stats you expect from your main offensive cog and franchise player. Bautista was in an early season, 'still shaking the rust off' slump. Nothing wrong with that. As long as it doesn't go on for too long.
Just ask Albert Pujols.
And thankfully, for the baseball fans of the great city of Toronto, it didn't. April came to a close, and with it, May arrived -- ending Bautista's slump and bringing forth what I like to call Mayflies and Big Flies.
Why do I say that? Well, it's simple, really.
During the month of May, 'Joey Bats' has been on a tear, batting .280 to bring his season batting average to .230. Not only that, he's tripled his big fly production from last month and now has twelve home runs on the young season to go along with 31 RBIs.
A solid turnaround for the Jays' star, and hopefully, his stats will continue to soar as the season grinds along.
Bautista, a two-time Silver Slugger and Hank Aaron award winner, says that his success all comes down to patience and better plate discipline.
"Just remaining selective, trying to hit my pitch and to my strength, which is hitting it hard,"
Bautista said.
"I feel good with what I've been doing, because I've been able to contribute more as of late."
The resurgence of Bautista is sure to be a welcome site for a Toronto team that somehow found a way to keep its head above water during the first month of the season. Now, with May coming to an end in a few short days, the club is (24-22); ranking them fourth (only a 1/2 game out of third) in the always tough American League East division.
Of course, the season doesn't end for another four months -- so that begs the question -- can the Blue Jays sustain the stellar play?
It's possible, but it's all going to come down to that offense. Sure, Ricky Romero and Brandon Morrow will be decent, but questions arise at the back of the rotation with guys like Kyle Drabek and Henderson Alvarez. Suffice to say, the Blue Jays' defense has made the back-end of the rotation look better than it actually is.
That being said, it will be up to guys like Yunel Escobar, Colby Rasmus, Brett Lawrie and of course, Bautista to pick up their play and join overachieving Edwin Encarnacion in providing the necessary run support to get the Jays over the hump and piling up the W's.
Will they be able to pull it off and help lead Toronto to its first playoff appearance in just under two decades? It's hard to say at this point, but if Bautista's resurgence is any indication, you have to like their chances.
After all, considering where teams stand so far in 2012, stranger things have happened.
Be sure to follow Beard And Stache on Twitter 
@BeardAndStache
, 
and also Adam 
@Adam_Parker43
, Like our Facebook page 
HERE
!