A huge, huge hug to the team of Ellana Minerals!  This coming September 27 , Sat, from 1-4 PM I'll be teaching a workshop at their La Fuerza Makati showroom (near Don Bosco on the outside of San Lorenzo Village, Makati.)  Hoping to see you there

  To find out how to join the details are here beneath the poster or go directly to this Ellana link here to reserve your slot.

  Downpayment for the reservation by the way is Php1000.00 (not sure why the workshop link says Php500 at the moment..maybe they updated the downpayment amount), don't worry just add the reservation fee option to your cart at that link and you've reserved a slot.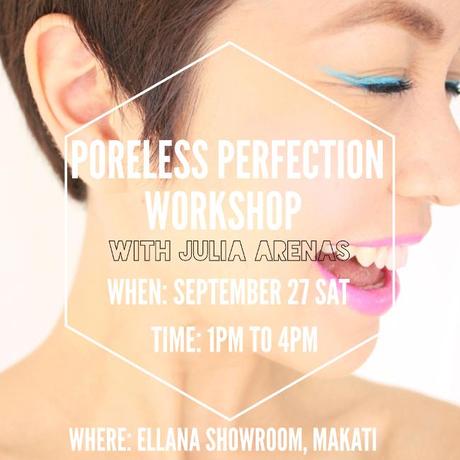 Ever wonder how to get a pore-minimized, flawless complexion that stays with you all day?  Want to know how to do the perfect look for the office and transform that into a smashin' party evening look?

Let Singapore-trained makeup artist Julia Arenas show you how with Ellana Mineral makeup! This 3-hour workshop includes in-depth, hands-on demonstrations on techniques that you can apply to your everyday routine. The fee is only P2,500 (downpayment for reservation here at this link) and includes a P2,000 gift certificate to Ellana Minerals and snacks during the  event.

To sign up, head on over to this Ellana link here to get your slot. We only have 10 slots so hurry before they get filled up!

We hope to see you there!
If you've fretted and fussed over mineral makeup and powder products and also products like eyshadow, contour, and blush then this is the workshop for you.  Learn how much powder to put on where to apply and other tips, shortcuts, and tricks I like to use as a professional.  Hope to see you there!  Don't hesitate to leave any questions in the comments or email me at [email protected].