I have to say I had really high expectations for the K-Pak Revitaluxe because I've used Joico's Moisture Recovery Shampoo & Conditioner before and loved it! I started using the Joico products a few years ago when I was flat ironing my deep waves down and I noticed my hair was not happy, starting to change texture. I got nervous and stopped using the flat iron & went back to blow outs. Not that they're any better but I feel like it's less intense. I was in the market for a new shampoo/conditioner that would bring my hair back to life and the Moisture recovery was it!
So when I saw this was a "restorative treatment to revitalize, nourish & repair" I picked it right away (in my Beauty Army Feb. Kit)
I usually buy products that will repair, hydrate, condition because my hair is so long & thick that it can always use a good conditioning treatment. It doesn't get oily and I blow it out often enough that I keep my ends trimmed and layers polished to avoid split ends.
I use a clarifying shampoo either weekly or bi-weekly (depending on what I put my hair through that week) for a deep cleansing. I can't feel like I have dirty hair or I freak out!
True story!
I had just shampooed & was ready to condition. I smelled it beforehand and I loved the scent! It smells so good that I would wear it as a perfume! I like my hair to smell good as well as look/feel good. It has that "fresh from the salon" scent, I love it!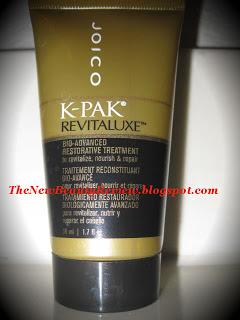 I was disappointed to see the consistency of the K-Pak when I squeezed some out into my hands. It wasn't thick like I imagined it would be. I shook it up to see if maybe that would help but it didn't. At that moment I had a feeling it wouldn't work for me because it was too thin.
I need something that will penetrate my uber wavy locks so I look for a thick consistency in my conditioning treatments.
I used it anyway and let it soak in for a good 10 minutes. I always comb my hair through with a wide tooth comb in the shower while my conditioner is still in to keep from breaking. When I went to do this, I noticed it wasn't slippery enough and it was pulling my hair. Not good.
My hair wasn't really knotted so I got through it and finished up. I used a Bumble & Bumble serum and proceeded to blow my hair out.
It had some slip and I'm sure this would work really well for someone with a thinner texture.
My hair still smells great and it looks & feels good. I still love their other products which I will continue to use. Sadly, this wasn't a good match for me but I'm sure it will be for someone else ;-)
Keep it pretty!
*Stephanie*