hey everyone,
ive bet you've seen this john frieda: full repair products everywhere through the blogging world,
the only thing is i havent really liked mine!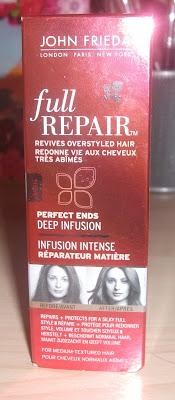 dont get me wrong, it is a really nice product and there are some good bits about it but i dont see it making a difference to my hair.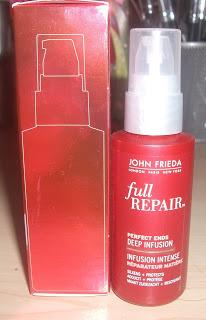 (a picture of the bottle next to the packaging, thank god its bigger then the picture because it is still tiny)

oki so the bad bitsthis bottle is tiny, and i mean tiny!, i think it was like £7 pound or £6 to buy, luckerly i had some boots points on my card so i brought it with these, yaaaa, i think i would rather buy the spray because it comes in a bigger bottle and looks like it does the same thing.it is in a liquid form and acts just like water, it feels like it has no substance so i dont know whether it is actually doing anything to my hair.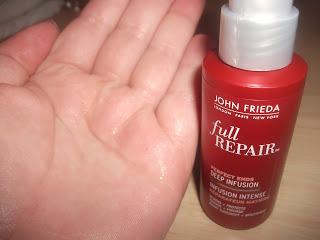 (my lame attempt at showing the constancy of the serum)

i also found a sizzled bit of hair when i started using this, you know when your hair is dry and you find abit that's got tiny zigzags like its been shinged which wasn't good, i have no idea with it was this product at all, so im not blaming it, but after i put 2 heat protectors in my hair i couldn't feel it anymore.
so the good points:it soaks into your hair really quickly and easily, and you don't have to wipe your hands on a towel to get rid of the residue after like you do with some products.you can use up to 7 pumps in your hair for extra protection and it wont leave your hair feeling crispy or oily when its dry, but at the same time i feel like 3 pumps does just the same so it could last a long time.it has things in it like icha inchi, micro oils rich in omega 3, so it has lots of lovely things in itdoesnt really have a smell, so it isnt good or bad.
so have you tried it before? do you like it? just remember not every persons hair is the same so what doesnt work in my hair my work in yours.
see you all soon xxx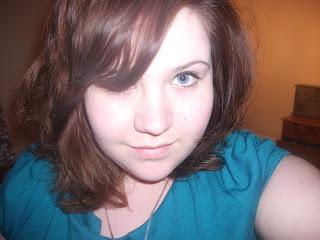 (my big sexy hair after my sock bun, can find it here!)