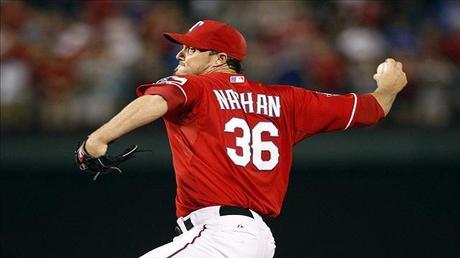 Photo: Jim Cowsert - US Presswire
- Adam Parker
Every baseball fan today remembers the glory days of Joe Nathan with the Minnesota Twins.
In my own personal experiences as a Yankees fan watching him with the Twins, I always thought, 'Man, this Nathan guy is second-only to Mariano Rivera in terms of best closers, at least in my book.'
The guy had some serious talent. When healthy (and that's a big factor), Nathan is one of the most dominant closers of this era and boasts stuff in his repertoire that's so nasty that everyone and I mean
everyone
 is quaking in fear when they step into the batter's box and see him standing there on the mound.
Joe Nathan is a batter's nightmare, and after the tumultuous turns his career has taken in recent years, it's a great sight to see him back out on the mound in the ninth [inning]; sending opposing hitters back to the dugout shaking their heads and staring blankly at their bats and searching for answers.
A great sight indeed. After all, it was not too long ago that many people, I'm embarrassed to say myself included, had thought we'd seen the last of the vintage dominant Joe Nathan.
But honestly, can you blame most of the baseball world for thinking Nathan was done? I mean, after all, this guy not only had shoulder surgery back in 2000, but then, a decade later in 2010, he underwent Tommy John surgery and looked like a completely different pitcher. After undergoing those two surgeries, Nathan had lost his swagger, and more importantly, his
stuff.
Or so we thought.
After missing all of 2010, Nathan returned in 2011 to Minnesota, and although he stunk it up initially, was able to rebound from June 2011 onward in Minny to the point that the Rangers had faith in throwing him a bone in his late 30s and immediately thrust him into their closer's role, thereby allowing hurler Neftali Feliz to be moved to the starting rotation.
What a great signing Nathan has turned out to be.
He has been utterly dominant this season for the Rangers. He's sporting a stellar 2.18 ERA; 21 saves and an astounding 49:7 strikeout-to-walk ratio. That's called getting it done.
His pre-injury velocity on his fastball (average of 93.9 MPH) has returned, and he has also developed a nasty slider to complement his other pitches.
Wow!
What a turnaround for Nathan! What makes it even better, is that Nathan, born in Houston, Texas, is getting to dominate and put on a show in front of family and friends every night.
It's the perfect situation for all parties involved. Nathan, 37, was looking for a second chance to show his stuff and compete for a World Series and the Rangers, who've competed and lost in the last two World Series, were in the market for some additional quality pitching to put them over the top.
If all goes according to plan, it will be mission accomplished for everyone.
Welcome back to baseball relevance, Joe Nathan. Welcome back.
Be sure to follow Beard And Stache on Twitter 
@BeardAndStache
, and also Adam 
@Adam_Parker43
, Like our Facebook page 
HERE
!