Does anyone here who loves to cook?
Me? I super duper loves to cook. 

I always find ways to cook something unusual and still manage to make them taste yummy, though sometimes  not all are picture worthy hahaha.
So, one cold morning I was craving to chow down a hot and spicy instant noodles in the cupboard, but thinking about the unhealthy ingredients inside one pack of it makes me think otherwise.
Did I give up? Of course not! I still have something in mind to cook. 

  And since my Spicy Korean Rice Cake (ddeokbokki) was a hit, I think I know what I am gonna cook, plus anyone can try it cause it is cheaper yet taste the same.
Do you have any idea what it is? Yes! You're right! I'm going to cook JJAMPONG. 

 You remember that Korean-drama like commercial in your boob-tube? Yes, that kind of Jjampong, but much healthier I guess 

Now, give me a hug and let's start cooking. 


What you'll gonna need: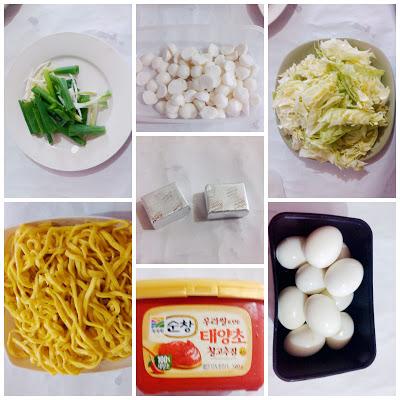 Spring Onions 3 Stalks cut about 2 1/2 inches
Squid balls ( you can add any hotpot balls you like)
1 Big Cabbage
2 Shrimp Cubes for 1.5 liters of water
1 pack egg noodles
1 cup gochujang (Korean chili paste)
10 eggs (boiled and peeled)
To cook :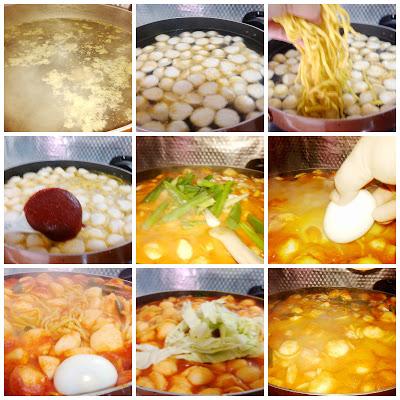 Bring the 1.5 liters of water to boil. Once boiling put the 2 cubes until dissolved.
Next, put the squid balls, egg noodles and the chili paste. Let it simmer for 2 minutes then add the spring onions.
Then, put the eggs and the cabbage. Let it simmer for another minute.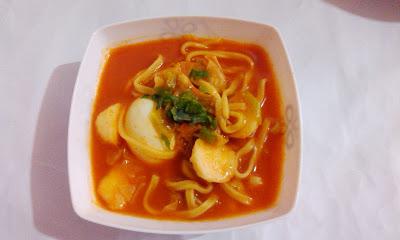 Serve while it's hot  
Yield : 10 servings
This snack is superb for rainy days or just any day you wanna have a taste of Korean cuisine.
How about you? What do you usually cook if you want a quick fix of your favorite cuisine?
Have you already tried eating Jjampong (spicy seafood noodles)?
Tell me about it guys and comment below 

xoxo,