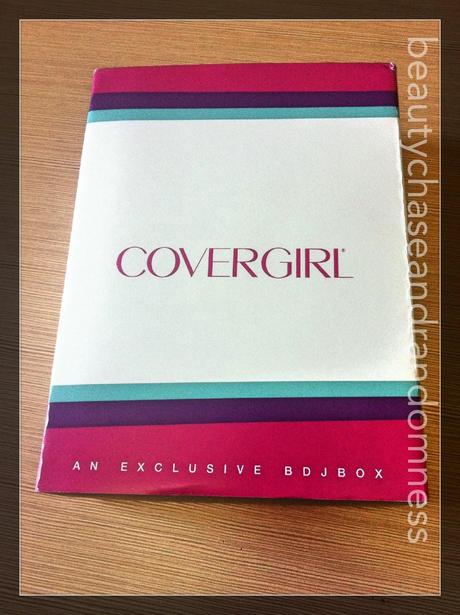 Received my December BDJ a week ago and was not able to post my unboxing until today because of the activities that hovers me this month. And boy! was I surprise? I think that's an understatement. Why? Because I just got an exclusive Covergirl present from them 


 *tee-hee*
What do you think are inside this gorgeous box?  Let's check it together!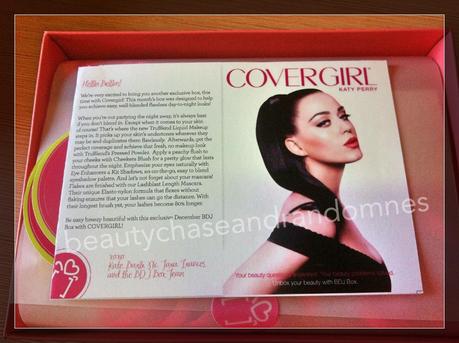 Katy Perry is definitely Superb here!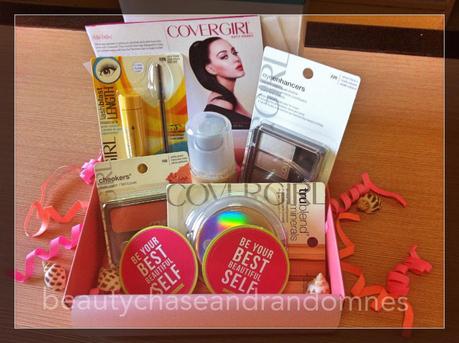 I haven't tried any CoverGirl products before so this will definitely my first to test it. Let's have a closer look of each items.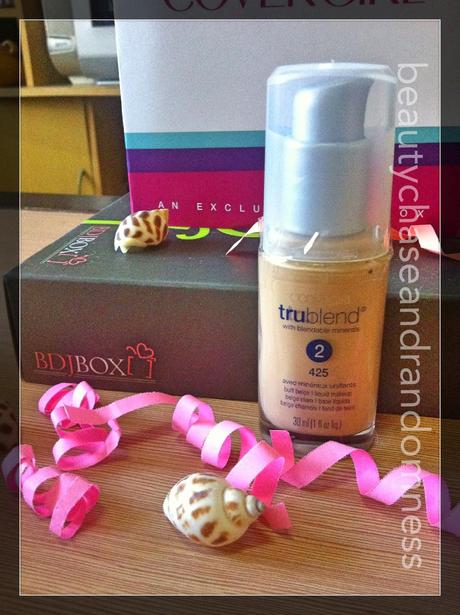 TRUBLEND LIQUID MAKEUP
Full Size: 30 ml Php 645 ($14.50)

Product Description: A liquid Foundation that provides smooth full coverage for a flawless natural-look. You won't even know where your makeup ends and where your skin begins. Available in 21 shades to perfectly match 99% of all skin tones.
I'm excited to try this foundation if it will gonna be the same effect as what bb creams do...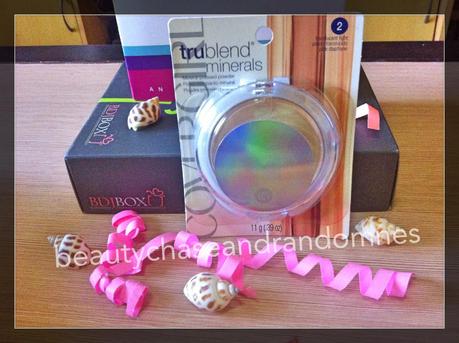 TRUBLEND PRESS POWDER
Full Size: 11 ml Php 425 ($9.50)
Product Description: Has silky-smooth formula that adapts perfectly to your skin tone. A perfect coverage to achieve a fresh no makeup look. Especially designed to match with the TruBlend Liquid Makeup. A lightweight formula that controls shine and doesn't clog pores.

Not a fan, but since the description says that it is perfect to combine with the liquid makeup I am in to try it.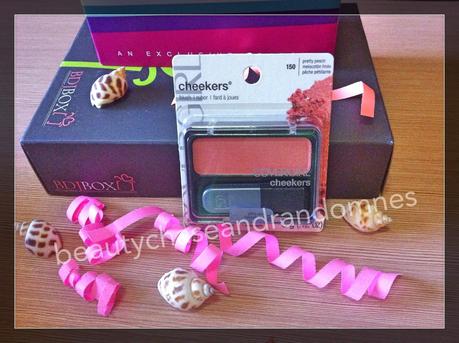 CHEEKERS BLUSH*
Full Size: 3g - Php 395 ($8.85)


Product Description: Get easy and natural peachy flush with a portable mini-compact that gives you subtle highlights that goes on to stay-true, stay natural-looking for hours. A sassy way to give life to your cheeks exclusively available only at BDJ Box.
*Available in stores on February 2015

Woohoo, gotta love being one of those who can road test this product before it will actually hit the market hahaha. I'm a blush fanatic, may it be powder, pressed, tint, etc. I will definitely hoard them. Blush for me makes my complete everyday no make up look and this shade is just perfect together with that nude pinkish lippy and a mascara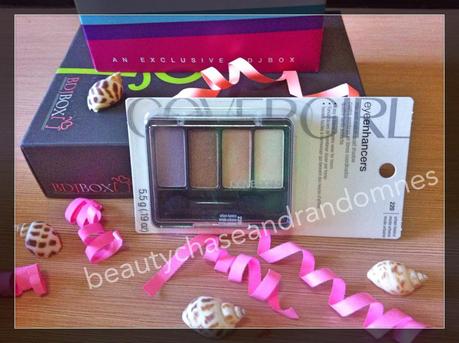 EYE ENHANCERS 4 KIT SHADOWS
Full Size: 5.5g Php 450 ($10.06)

Product Description: All on-the-go eye shadow palette that is designed to emphasize the eyes naturally for a day to night look. These easy to blend colors give radiant glow to your eyes without over shadowing it.

I'm not a fan of eye shadows, but I love nude colors so I might try this and check how pigmented they are!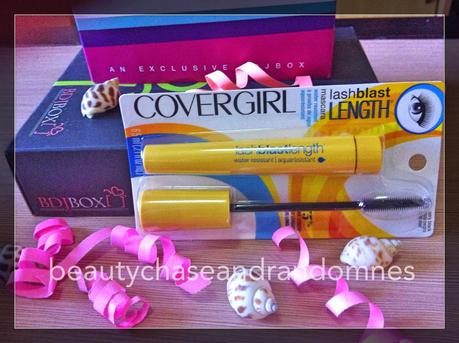 LASHBLAST LENGTH MASCARA
Full Size: 6.5 ml Php 450 ($10.06)
Product Description: This LashBlast Length Mascara is definitely a wand to keep! It provides flake-free application that give full lash coverage for bold, noticeable lashes. Its waterproof formula will give you irresistible eyes, rain or shine!

I love Mascaras, so definitely this is the first product from the box that got my attention. I'm so looking forward to try this and make a review about it.
So, WOW that's all in full size and everything that are included are worth to try. 

Only 5 items, but all are in full sizes. The whole box contents is worth
Php 2365 roughly $52.97 definitely a stealfor a Php580 ($14)!
What I think about DECEMBER '14 BOX?!?
Packaging:                 *****
Product Featured:     *****
Satisfaction:               *****
Overall Rating:          *****
5/5 Happy Meter 

Why 5/5 you ask? Everything inside this box is just perfect! Like what BDJ's mantra for this month...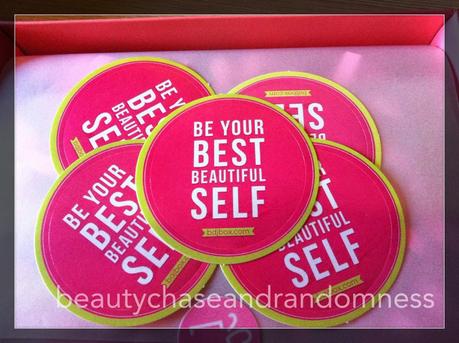 #BeYourBeautifulSelf...
because each and everyone of us are beautiful and can stand out individually like the products that are included in this box where each have an ability to make you stand out and be your beautiful self.
Start to standout and be the best today! Share your thoughts and I'll do my best to accommodate you babes...
If you want to learn more about 
BDJBOX? 
Check out the following:
FB PAGE:
BDJbox
WEBSITE:
www.bdjbox.com
Also check:
CoverGirl Philippines
For International Inquiries:
 http://www.covergirl.com/                                       
   FB PAGE:
CoverGirl
See you on my next unboxing bellas. 

xoxo,