Jewel toned nail polish... YUM.
There's something so satisfying when jewel tone nail polishes come together. They compliment each other so well and the end result is so deep and gorgeous.
I've been wanting to try making decals using my stamping plates and I thought this stained glass idea would be a great idea to try. Besides taking FOREVER, I really enjoyed the process and I am in love with the outcome! Want to see what I came up with?
I started by painting my nails with Enchanted Polish June 2014... actually it was an old mani, but it still works ;) Then I used Bundle Monster plate BM-208 and WetnWild Black Creme to pick up the image. While it was still on my stamper I filled in some holes using Color Club Kismet, The Little LacquerBean Blue Ribbon Baby, LynB Designs Teal The Cows Come Home, and LynB Designs Nightmare Revisited. When I finished filling in the holes I took my Sech Vite and painted over the entire design. I let that dry completely and then took some tweezers and loosened up the edge of the image. When the edge was loose I used my tweezers again to grab it and slowly peel it off of my stamper. I put a coat of Seche Vite on my nails and laid the decal over top. I then got rid of the excess with my cuticle clippers and cleaned it up with a brush dipped in acetone. Finally I finished it off with one more layer of Seche Vite.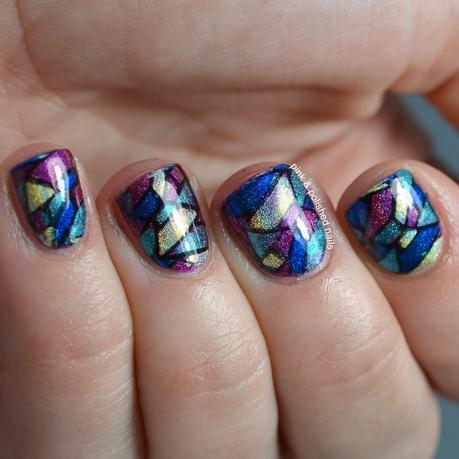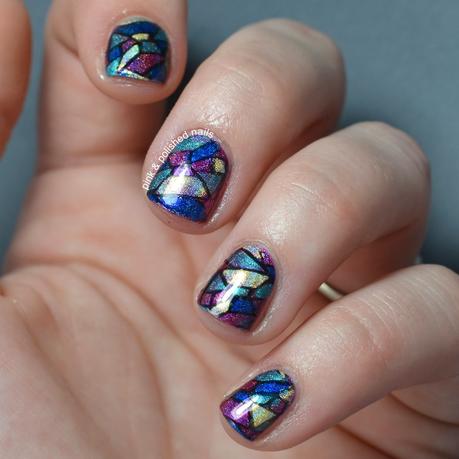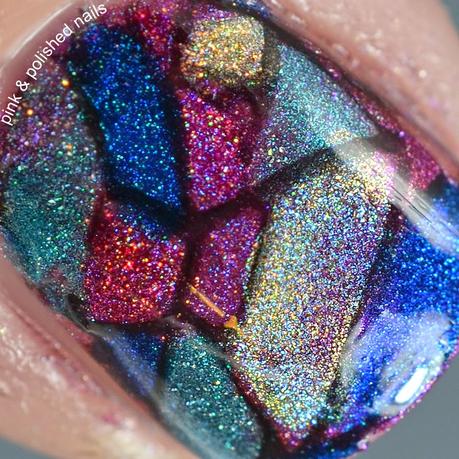 So. In. Love. It was a bit more difficult then I anticipated to do, as you can see by my messy lines in my macro ;) But that was my first nail and the rest got progressively better I swear! The hassle was definitely worth it in the end though because I mean just look at it! Look at all those jewel toned polishes!! 
I know I'll be revisiting this technique again really soon, is there anything that you guys want me to do?
OH! And I've decided to start filming tutorials again! I love filming them for you guys but life got a little bit crazy and I just didn't have the time. Thankfully things seem to be settling down finally so I can start filming again and I started with this design! Look for a tutorial sometime today on my Instagram account <- click the link to be taken there. 
Thanks loves :)