There's a reason why a bottle of this sells every 12 seconds in Japan, gee, it was even handpicked to be Oscar Swag!  I've had this for months and haven't opened it because seriously, when it comes to skincare I really TRY (note TRY) to go through current products before opening something new…with as much self-control as I can muster that's what I do.   Unknown to some people Toyo Life's Cure Natural Aqua Gel was actually included in the Oscar Swag Bag (the loot bag they give to Academy Awards attendees) a few years back (2009-ish? 2010-ish?) and that gave this a little more popularity in the Western Hemisphere.  Why exactly is this gommage-y gel sooo popular?  Think of something that appears and feels as gentle as Cetaphil, is fragrance-free, is made of more than 90% water, but removes dead skin (without acidic or grainy sting) before your very eyes.  Yup that's exactly what this pure baby does.  If you're picky about exfoliants and don't want scrubs and ALSO are hesitant to try AHA or BHA acidic liquid exfoliants because of sensitive skin this one is perfect for you and there's more to it than meets the eye.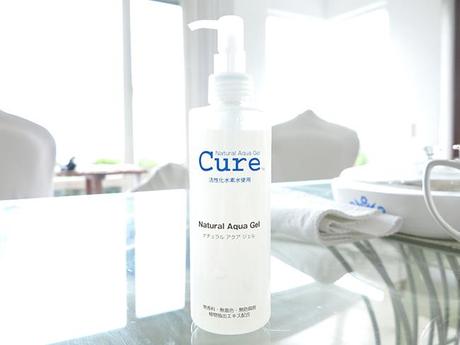 Best selling exfoliator in Japan
Free from preservatives, fragrance, artificial coloring or alcohol
Contains 90% revitalized hydrogen water
Contains natural plant extracts from aloe vera, gingko, and rosemary
Was reportedly included in the famous OSCAR Swag Bag a few years back
SIZE: large 250 ml bottle (lasts 4 mos. if used 2x a week), PRICE: Php1500.00 from Beauty Bar PH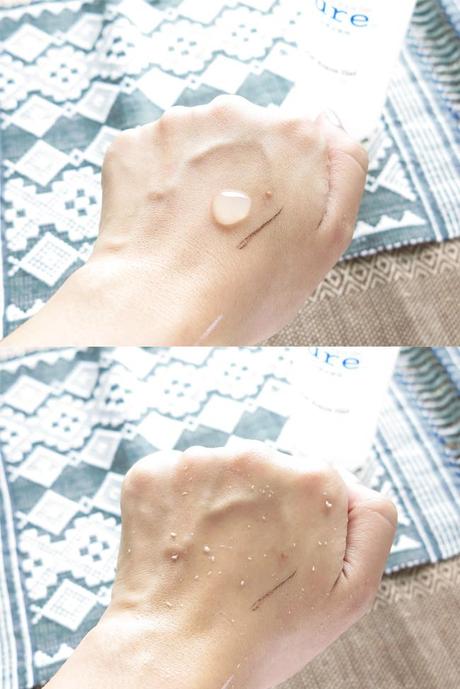 INGREDIENTS: water (activated hydrogen water, non-acidic and purified), glycerin (a moisturiser), acrylates/C10-30, alkyl acrylate crosspolymer (a thickener), dicocodimonium (a conditioner), chloride, steartrimonium bromide, aloe barbadensis leaf extract (moisturises, protects rough skin), gingko biloba extract (moisturises, prevents skin-mottling and freckles), rosmarinus officinalis/rosemary leaf extract (possesses anti-inflammatory and anti-bacterial properties), butylene glycol.
This works and is very gentle, you only need about half a pump or a peso sized dollop.  The Cure product IS AN EXFOLIANT, NOT A CLEANSER, AND NOT MEANT TO BE USED DAILY, ONLY TWICE A WEEK.  The key ingredient I believe is the gentle thickening agent which causes dry skin to plump up, then the hydrating gel makes it easier to remove gently when you massage your face in circular motions (don't apply this near the eyes to be safe).  To prove a point you can see the eyeliner on my hand, this exfoliates but does not remove makeup so you must remove makeup before using this.  Watch this Japanese advertisement for CURE that's been subtitled in English.
I've tried something similar before, that Hello Kitty Rosette gommage one which was also from Japan, but I found out that the bits I was seeing from that one was partly just the product itself just bundling up into bits and eventually I didn't like the fragrance.  THIS ONE, however, is fragrance-free and I can really feel my dead skin gently being sloughed off the surface and I know it's really happening because of how baby smooth my face feels after (treatments like this in my opinion are best used at night and best if followed by a gentle facial oil or hydrating serum). Read more to find out about my second use for this product and learn about the three main types of exfoliants available in the market.
If  you're heading outdoors after using this it would be good to apply sunscreen and be safe because new skin is exposed.  My face feels absolutely divine after using this followed by my Pai Rosehip Bio Regenerate Facial Oil.  The oil helps protect, hydrate, speed up regeneration in the newly revealed skin surface.  Here's my second wonderful discovery about this Aqua Gel, it's a safer and more hydrating "cuticle remover" for the nails.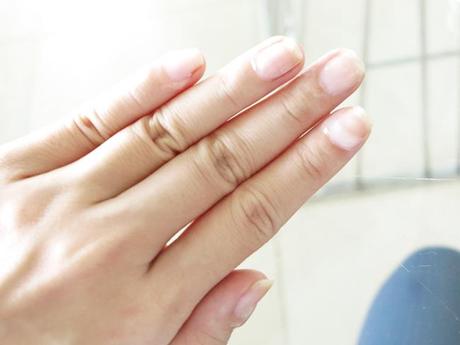 I prefer not to "clip" my cuticles, I exfoliate them instead,  whatever is good for the face is more than gentle enough for the hands.  I used to use those cheaper liquid chemical cuticle removers (because they're the fastest acting ones) but if I had a small wound or hangnail I couldn't use that, it was too painful.  I now prefer to use Cure on my fingertips as well because it's more gentle and hardly stings or doesn't at all if I have small cuts or hangnails and it doesn't feel like it strips the skin or dries it out.  If you look at my index/pointer finger that's my finger-rubbed option if you don't like using a pusher on your nails.  I know some people whose eyes roll back at the idea of scraping their nails, they don't like it.  Let Cure Aqua Gel sit over the nail bed for a minute or two then just rub your nail bed (or even your entire fingers) using your other hand, it will work just as it does on the face plus you're actually caring for the hands since Cure Aqua Gel hydrates with natural essences as well unlike cheaper cuticle removers.  A few drops of your facial or cuticle oil on fingers after this treatment would be best.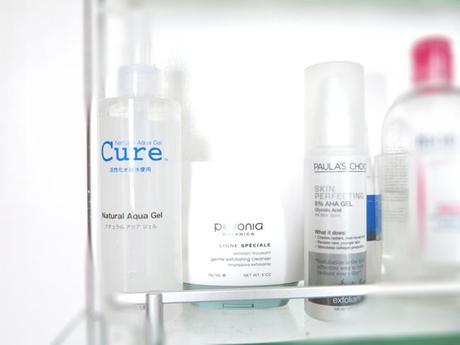 THREE TYPES OF EXFOLIANTS: L-R,  Gommage/Gel type, Emulsifying Scrub Type, AHA/BHA Acidic Type (helps control breakouts also)  Which one suits your situation?
These at the moment are my 3 favorite exfoliants of varying types and they represent the three main categories of exfoliants available in the market which is also why I decided to have all three open for this feature.  Of course I never use these all at once in the same session, HELLO, KNOCK KNOCK, it depends on what I need to happen.  All these should not be used more than 2-3x a week.  For more regular exfoliating days Cure Aqua Gel is now my most go to because it's the gentlest one.  For the days when I wear heavy makeup or did lots of physical grimy activity outdoors I like to use the Pevonia Gentle Exfoliating Cleanser (an Exfoliant & Cleanser in one reviewed here) with gentle circular massaging movements and I take this down my neck and onto my shoulders also, when using physical grainy scrubs like this you have to be gentle, you don't want broken capillaries.  For those days, primarily the days before THAT time of the month before PMS breakouts can begin, I try to remember to use the Paula's Choice AHA Gel Glycolic instead because acids AHA/BHA (but more BHA) discourage zit development on the surface, my mom at her age got zits again when she ran out of her own glycolic cream!  It's important to exfoliate but I know we all have preferences depending your skin type.  If you have reactive, troubled, sensitive skin consult your dermatologist first on which sort of exfoliant is the best for you.  Cure Natural Aqua Gel is available at Beauty Bar outlets for Php1500.00 but you get a whole lot with 250ml for your money.