Jabong.com and PUMA launch their first ever digital fitness campaign "Gear up buddies" with PUMA Fitness Ambassador Chitrangda Singh!
Let winter the and cozy blankets not be an excuse to gear up for the workouts this winter. Jabong.com along with PUMA bring to us all an interesting digital fashion fitness campaign, with non other than the very fir and very fashionable CHITRANGDA SINGH.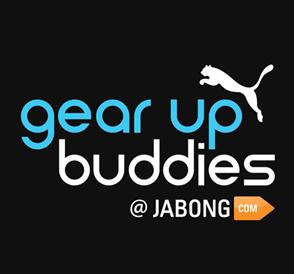 Here is what Chitrangda has to say about this unique concept :
"Fashion & fitness are the two words that best describe me.This is the first association which combines both fashion & fitness and I am glad to be a part of such an association. This is one campaign that speaks to the fitness fanatics and will be a platform for me & my 4 buddies to make people fit. I am delighted to be a part of this great endeavor put together by PUMA & Jabong. "
Jabong.com in association with PUMA announces their unique campaign "Gear up Buddy" with Chitrangda Singh. This new initiative aims at promoting fitness in a big way. Starting today, the four week long campaign would culminate with the announcement of the 4th 'Buddy' for Chitrangda. Jabong.com and PUMA, both leaders in their own domains joined hands for this unprecedented initiative to bring its consumers an opportunity to showcase various looks on the gorgeous Chitrangda Singh and her 3 buddies.
The campaign will not only have PUMA merchandise up on the website for grabs but will also have other exciting activities to participate in. The chain of events will begin on www.jabong.com/gearupbuddy/ with 3 different fitness regimes running, zumba & cross fit.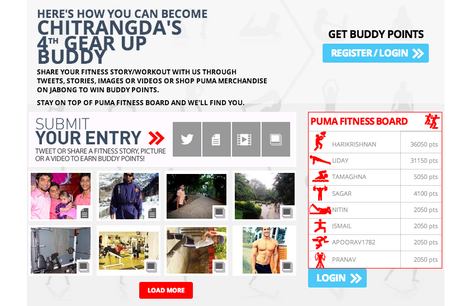 The activities will be performed by Chitrangda Singh and her 3 fitness buddies - Nupur, Sucheta Pal and Shayamal. These rigorous regimes are described in detail through videos posted on the page and participants will get points by shopping the merchandise, sharing details with friends and family, uploading their work-out videos etc. Meet Chintranda's buddies.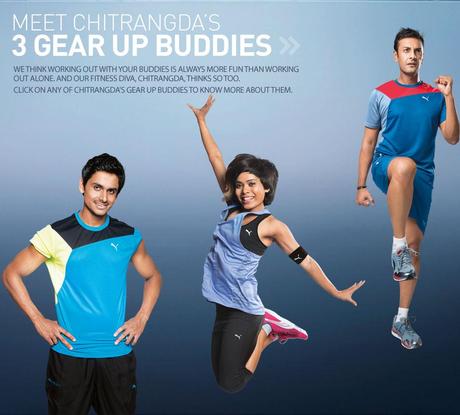 The contestants will be entitled to points which will be accumulated on the PUMA fitness board (on the page itself) and the ultimate aim would be to be on the top of the fitness board. The winner will get a chance to work out with Chitrangada Singh herself. There is more in store for the participants as they stand a chance to win exciting goodies from PUMA and Jabong.com.
HERE IS HOW YOU SCORE POINTS

Jabong.com is India's leading fashion and lifestyle e-store. Jabong.com offers 1000+ brands and more than 1,00,000 products in the offering. With a keen eye on the latest fashion trends, Jabong.com offers the widest assortment of fashion and lifestyle brands across categories such as shoes, apparel, bags, accessories and much more. In a few months since its launch, Jabong.com is the most trafficked e-com site in India (as per Google.com traffic stats). As per the Com-Score report of December 2012 to May 2013, has the highest amount of traffic coming to its site amongst all Indian e-commerce companies.
About Puma
PUMA is one of the world's leading Sports Brands, designing, developing, selling and marketing footwear, apparel and accessories. For over 65 years, PUMA has established a history of making fast product designs for the fastest athletes on the planet. PUMA offers performance and sport-inspired lifestyle products in categories such as Football, Running, Training and Fitness, Golf, and Motorsports. It engages in exciting collaborations with renowned design brands such as Alexander McQueen and Mihara Yasuhiro to bring innovative and fast designs to the sports world. The PUMA Group owns the brands PUMA, Cobra Golf, Tretorn, Dobotex and Brandon. The company distributes its products in more than 120 countries, employs more than 10,000 people worldwide, and is headquartered in Herzogenaurach/Germany. For more information, please visit http://www.puma.com
So what are you waiting for? Log on to www.jabong.com/gearupbuddy/ and make your way to a fitter, cooler self that's fashionable too!
Gear up! On Facebook & Twitter. Sign up and get started with Gear Up Buddy!
You Might Also Like