There are 337 Crore Email accounts listed on web. Per day at an average a person receives/sends 105 emails. this explains the powerful presence  of email on Web.
There are so many email service providers which will provide you a free email account along with some free on-line storage.
Gmail is one of the biggest email provider on web. Many people (include me!) use it as it is combined with Google. So everybody will feel more comfort using Gmail in which they can directly login to one Google account and use all of its services like Blogger, Picassa etc. This made Gmail a leader among all other email providers.
But don't you feel bored with the interface of Gmail. Even though Gmail is providing some themes they are not up to the level of Google services. We need something more interesting.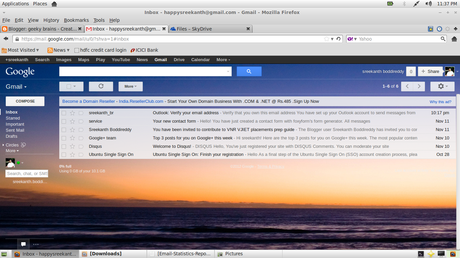 Gmail with ocean theme
So here comes the solution Hotmail. Recently Microsoft redesigned the Hotmail and changed its name to Outlook. Microsoft has taken care about the speed issues of Hotmail . Now just open the Hotmail and feel the freshness of it.As Windows 8 evolved every Microsoft product has changed its look.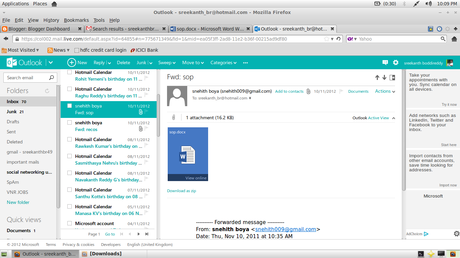 the all new fresh look of Hotmail
Now there are no issues with the speed of Hotmail as early. The look is pretty awesome.You can choose the color schemes just as in Windows 8.
The best part of Hotmail is you can directly open and edit your Microsoft Office documents right from your browser.When it comes to Gmail, there also you can edit word documents using Google docs but you may lose your document formatting.
So here the winner is Hotmail without any doubt.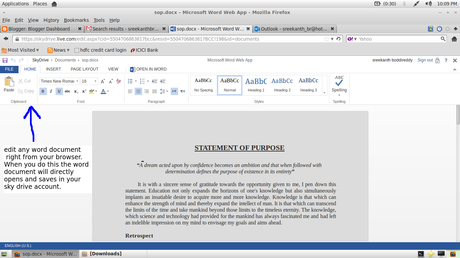 Edit your word document right from your browser

The Microsoft team has also taking care of their new mobile OS caption on Hotmail......... Putting People first :)
Hotmail can be integrated with all your other online accounts like Facebook,Twitter,Google and LinkedIn. The best thing is your Facebook wall will be directly updated on Hotmail. You can chat with all your online contacts.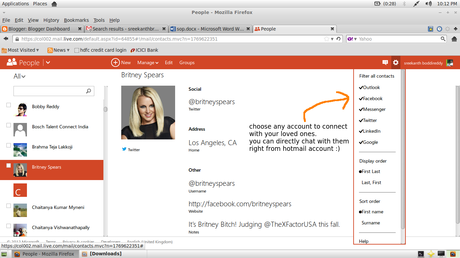 see all your online contacts on Hotmail
As cloud computing and cloud storage are rapidly coming into picture Microsoft has integrated a free cloud space storage , the Skydrive.The new look of skydrive(can be opened directly from Hotmail) is very dynamic.Every Hotmail user will gets a decent online space of 7GB.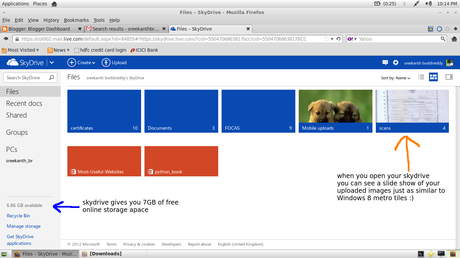 The new Metro look of SkyDrive
Again here the Skydrive is inspired from Windows 8 metro tiles.
Now with all these advantages you might be thinking of creating a new Hotmail account.Yeah! good decision. But what about your old email (Gmail !) account.May be you have given that email ID to many people. So you may now think of sticking back to your old email ID. But we have a solution for this.
Yes you can link your Gmail account(or any other email account) to your Hotmail account. So whenever you get a new mail in your Gmail account the same mail will also delivered to your Hotmail in-box directly.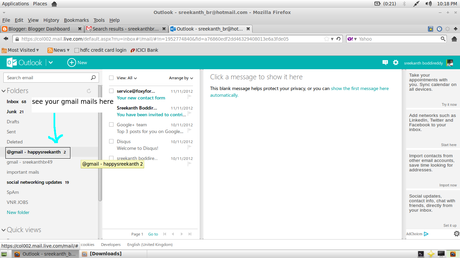 See your Gmail mails in a separete folde
You can actually link any number of of email accounts (of any email service provider)
to your Hotmail account. For each email account a separate folder will be created.
How to Link the other email accounts with Hotmail :
To link your other email accounts click on settings icon and select "more email settings". there you can see an option "Sending/receiving emails from other accounts" click it and add your email account which you want to connect to Hotmail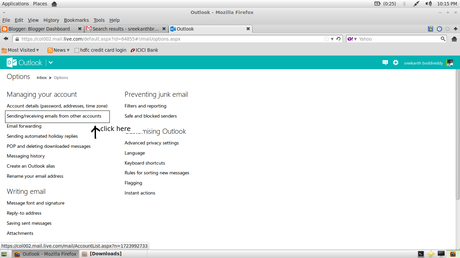 Hotmail settings pane
The advantage of linking your email account is not only receiving mails from other accounts but you can send mails from Hotmail with a Gmail user name also.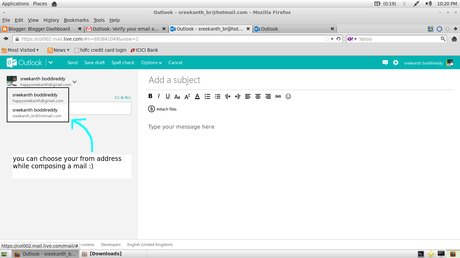 you can send a mail from hotmail using your gmail ID as sender name
This is a killer trick from Hotmail on Gmail. But do remember  that this can also be done in Gmail too. But the matter of discussion is a pretty good interface where Hotmail is a step ahead now.
With the entry of Windows 8 mobile platform it is sure that the Hotmail userbase will drastically increase.
So what are you waiting for. Keep all your email accounts together on Hotmail with a beautiful interface :)