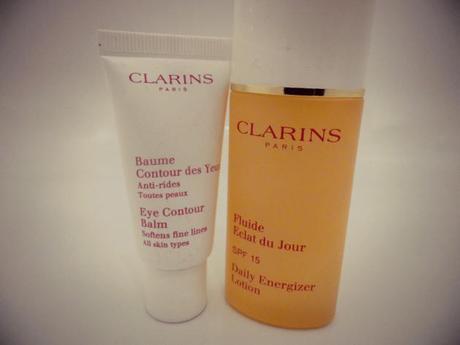 CLARINS SKINCARE
Hey There,
If anyone was to ask me, what my top 5 skin care brands were, Clarins would be one of the first I thought of. Not only does pretty much every female in my family use Clarins, but my mom has banged on about how good they are for years, (And we all know, when it comes to looking after your skin, my mom knows best).
One of the first ever moisturisers I tried was Clarins. I was a typical spotty teenager, especially around that hormone driven area…The chin. Anything chemical based, (Which is usually recommended for oily/acne prone skin), would just irritate and inflame my spots. It was my mom who introduced me to more gentle, caring skin care products, (Unfortunately this came with a higher price tag), but small changes in my skin care routine, such as the Clarins moisturiser, made such an impact on my skin, that I still swear by the brand now.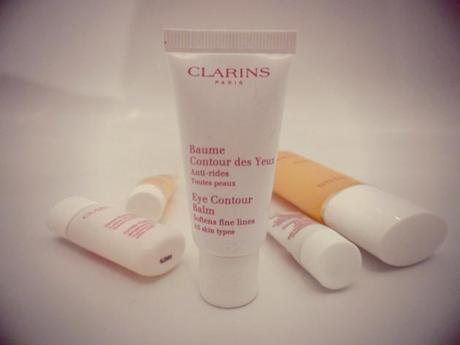 Moaning about looking old, (Especially around my eyes), I am forever paranoid about those fine lines and wrinkles, I asked my mom to pick me up an eye cream, so of course she went for the Clarins Eye Contour Balm (£26-30), much to my surprise she actually said it was 'her treat', (Best mom ever), so not only did I have a new luxury eye cream to soften my fine lines, but I wasn't out of pocket £30.00 either.
My mom is rather picky when it comes to her skin care choices, (But she looks pretty damn good for all her fussiness), and she will often tell me if she thinks a brand I have just picked up is 'crap'. Sometimes I argue this with her, but nine times out of ten she is right, most of the time I stick to what I know, look for the ingredients, and go from there. But sometimes, I am limited by my bank balance, or taken in by all the offers, discounts, and prices, and this can affect my judgment at the time of purchase.
So this is why, when I send my mom out for products, she will bring me back a beaut of a product such as Clarins Eye Contour Balm, rather than the first eye cream she comes across. I can imagine her spending a lot of time at the counters, discussing such products before making and informed decision and purchase. This is why I have such faith in her choices.
I feel that I have been neglecting my love for Clarins recently, and since using the Eye Contour Balm, I have rekindled my fondness of the brand, (Now owning a face cream, and having added few more products to my wish list).  The Clarins Eye Contour Balm contains Shea Butter, which helps to nourish and soften the eye area, with Chicory extract to revitalise and reduce those horrible fine lines and wrinkles. My eyes are extremely sensitive, (I'm not even exaggerating, they react to everything), and this Balm suits them just perfectly. It is light but creamy in consistency, and a small bit goes far, (No need to get product happy). It feels cooling on the skin, (I sometimes leave mine in the fridge – the coldness will help to depuff any tired signs in the morning) and the product is absorbed easily, so I have no problems when I'm applying that concealer, (Although sometimes I do get it on my lashes, and end up with a bit of a mascara smudge… Well I am assuming that is the cause of it).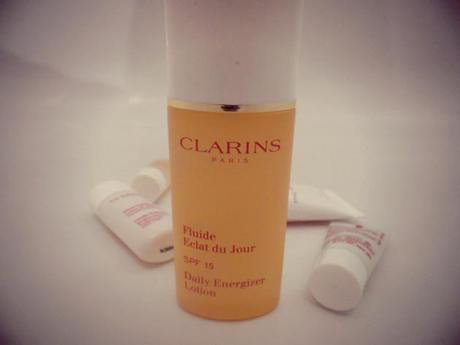 Enjoying my new Clarins Balm, I decided to stop of in at a Clarins beauty salon. I actually went in for a face wash, came out with a lotion, and some samples. Having ran out of my Super Facialist Vitamin C day cream, and still hyping up the Origins Ginzing Moisturiser, I was drawn straight away to the Clarins alternative – The Daily Energizer lotion. It is light in consistency but creamy and rich enough to fully hydrate in the mornings. The moisturiser is designed to improve the appearance of the skin, including imperfections, and dullness. My skin feels hydrated and looks healthier, (Although my recent break out is trying to ruin this for me), and the lotion has that gorgeous Clarins scent to it. It is rich in Vitamin C, alchemilla, turmeric and ginkgo extracts. And of course, these all tick boxes for me, my regular readers will know I am a little bit vitamin crazy, (Oh and I nearly forgot to mention it protects your skin with an SPF of 15).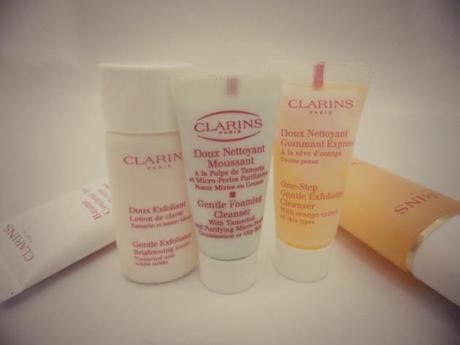 While picking up my new day cream, I was given three Clarins samples. The Gentle Exfoliator (Brightening Toner), which you use twice weekly, and apply using a cotton pad. Having read some good reviews on this product, I will be tempted to purchase the full size, I am not sure I will be able to tell how much I like it from just the sample size. I was also given the One Step Gentle Exfoliating Cleanser, which was OK, but I didn't really rate it as a daily cleanser. I would use it as a weekly exfoliator, but I like my cleansers to foam up and get all creamy on my skin, (I don't know why, but I just think it cleans it better when it foams up – There is no exact proof behind this). And this is why I love the third sample, the Gentle Foaming Cleanser so much. It was everything I wanted in a cleanser, and I was rather upset when the sample was gone in pretty much two uses. I know I go on about how you shouldn't get product happy, but when it comes to foamy cleansers, I can go a bit crazy – I just love that clean skin feeling. This is definitely being added to the wishlist, (In fact it would of already been purchased, if it wasn't for my spending ban *Sad face*).
WHAT ARE YOUR THOUGHTS ON CLARINS SKINCARE?
HAVE YOU TRIED ANY NEW CLARINS PRODUCTS RECENTLY?
Lots of Love,
KBxx
 Twitter : Beautybykaris - Facebook : Beautybykaris
Instagram : Kkbrelsford - Bloglovin : Beautybykaris
For me,