Now I must be honest and let you all know that I am not Italian. Luckily for me that is not a requirement for making this tasty soup. 
I really wasn't feeling the soup vibe until my coworker came into work with a bowl of this for lunch the other day. It smelled divine and made my humble ham and cheese seem just a little too humble. My coworker is actually one of those people that is super good with the habit of making a big batch of something then bringing it for lunch every day. That is both a cost effective and time saving habit to have. I admire her ability to do this.
I don't have that ability. I'm a throw a bunch of stuff in a bag and hope for the best at lunch person. Sad, right?
But, I can happily make this soup for dinner and maybe if I'm lucky the leftovers will last a couple of days.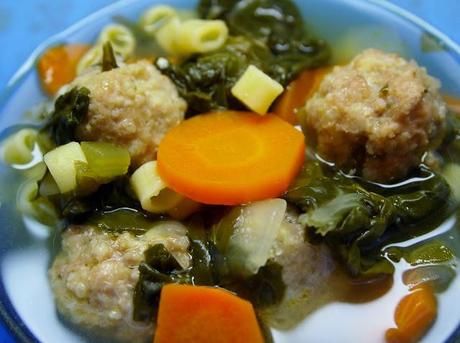 Now if you haven't had Italian Wedding Soup before, basically it's a clear broth soup with some veggies, a green leafy veggie and little meatballs. For my version I like a hearty green so I used Swiss chard, which is a mild, yet hearty green and can stand up to the cooking of the soup. My meatballs are made of ground turkey. These little guys are tender and moist. Plus since they're made of turkey they help make this guilt free!
Italian Wedding Soup
For The Meatballs:
1 (1.3 lb) Package Ground Turkey (I used 94% Fat Free)
2 Large Garlic Cloves, minced
1 Tbsp Fresh Parsley, chopped
1/4 cup Parmesan Cheese, grated
1 Egg, beaten
1/3 cup + 1 Tbsp Panko Bread Crumbs
1 tsp Kosher Salt
1/2 tsp Ground Black Pepper
For The Soup:
1 tsp Canola Oil (Or any cooking oil)
1 Small Onion, chopped small
1 Stalk Celery, chopped small
3 Small Carrots, peeled, sliced into circles
1 Tbsp Fresh Parsley, chopped
3 Cups Swiss Chard, chopped
1 tsp Kosher Salt
1/2 tsp Ground Black Pepper
10 Cups Low Sodium Chicken Stock
1 Cup Dried Ditalini or any small pasta shape
To Prepare The Meatballs:
1) Preheat oven to 350 degrees F.
2) Mix all ingredients in a medium sized bowl. Use a fork to mix so that the meat doesn't get too mashed up.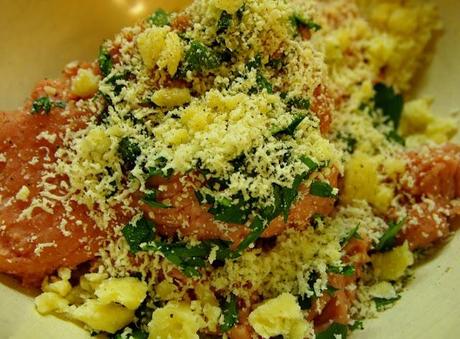 3) Scoop teaspoon sized amounts of the meat mixture and use your hands to roll them into balls. Lay on a sheet pan that has been lined with oil and sprayed with nonstick spray.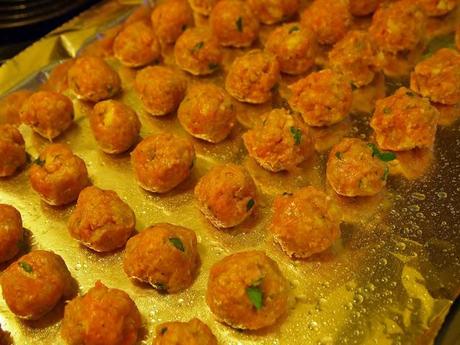 4) Place the tray of meatballs into the preheated oven and cook for 10 minutes. Remove from oven and set aside.
To Prepare The Soup:
1) Heat your pot over medium heat. Add the oil and let that get hot. Add the onions, celery, carrots and parsley and cook until translucent or about 5 minutes. Add the Swiss Chard and cook another 2 minutes. Season with salt and pepper.
2) Add the chicken stock and then add the meatballs to the pot. Stir the pot and then turn heat to medium-low. Let slowly cook for 1 1/2 hours.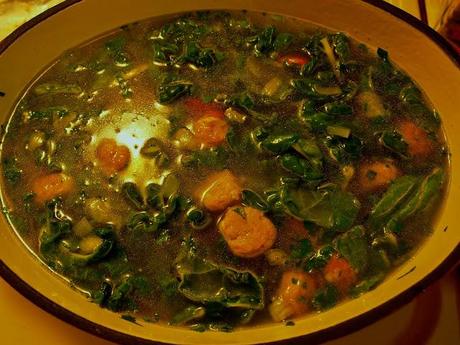 3) After the soup has cooked for the 1 1/2 hours turn the heat back to medium and add your pasta. Since this is a small pasta shape it will cook quickly and not need to boil. Plus I like to let it cook a little slower so it will absorb more flavor. Once the pasta is cooked you can serve your soup and enjoy!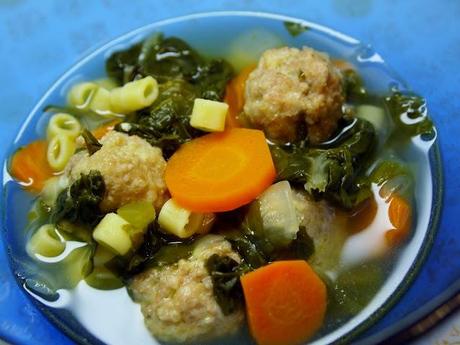 I recommend serving this soup with some crusty bread and a little extra parmesan cheese on top. It's great for a cold winter night, but light enough for a warm spring evening. Or you can be like my consistent coworker and make a big batch for those dreaded workday lunches! Whatever you choose, this soup is sure to satisfy.