Valentine's Day is coming! Are you excited? Are you a lover or hater of this love oozing day? 
I personally am a fan of the day, BUT I wasn't always. Before my boyfriend and I started dating I was most certainly not a lover of Valentine's. He actually made his move on Valentine's day of 2009 with two single roses and a "Happy Valentine's Day" and it was the cutest, sweetest thing ever! He nabbed me right then and there! Sorry I'm having a cheese fest here. 
Seriously though I wish I had made more of the holiday before then and wasn't always such a negative Nancy about it. You don't have to be in a relationship to enjoy spreading the love. Do something nice for your Mom or Grandma or even a complete stranger! And really, who says it has to be only on February 14th that we express our love and kindness? 
In fact, you can start spreading the love right now by making someone special these deliciously decadent brownies! That's what I did as a surprise for my Dad last night. Which he didn't end up having one since he went to bed so early...so I sneaked one into his lunch for work today. I bet he was surprised when he went to lunch today! See that? I'm spreading the love!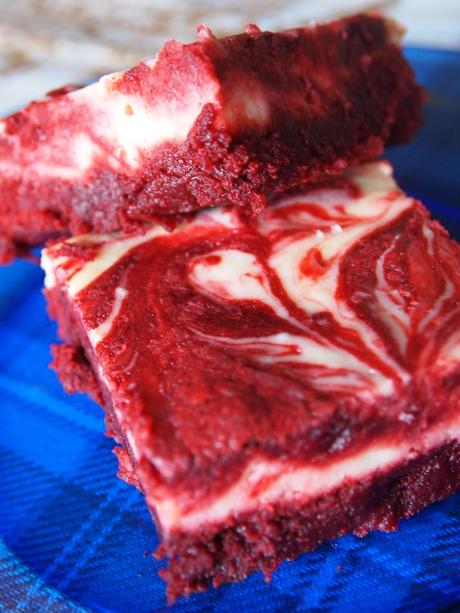 This recipe was adapted from Culinary Concoctions By Peabody
's
recipe for "Red Velvet Swirl Brownies", which she adapted originally from Sunny Anderson, host of "Cooking for Real".
Red Velvet Cream Cheese Swirl Brownies
For the brownies:
1/2 cup (1 stick) Salted Butter, melted
1 cup Sugar
1 tsp Vanilla
1/4 cup Cocoa Powder
1/8 tsp Salt
1 Tbsp Red Food Coloring (I used Wilton's Icing Colors in "Red Red")
1 tsp Apple Cider Vinegar
2 Eggs
3/4 cup Flour
For the cream cheese swirl:
1 (8oz. package) Cream Cheese, softened
1/4 cup Sugar
1 Egg
1/2 tsp Vanilla
1) Preheat your oven to 350 degrees F. Butter or grease an 8 x 8 in pan.
2) In a large bowl or the bowl of your stand mixer add the butter and sugar. Mix until just combined. Add the vanilla, cocoa powder, salt and food coloring one at a time and mix between adding each ingredient until just combined.
3) Pre-whisk the eggs in a separate bowl then mix into the other ingredients. Then using a rubber spatula gently fold in the flour until just combined. Add the batter into the pan, reserving about 1/4 cup of the batter that will be used on the top of the brownies to swirl with the cream cheese layer.
4) To make the cream cheese layer, in a medium sized bowl cream together the softened cream cheese, sugar, egg and vanilla. It will look a little like runny frosting. 
5) Spread the cream cheese mixture over the brownie batter that is all ready in the pan. Dollop the extra brownie batter on top of the cream cheese layer then, using a knife or toothpick, swirl the layers together. Swirl as much as you like until you get the desired level of "swirl". 
6) Bake for 30 minutes, remove from oven and let cool entirely before cutting.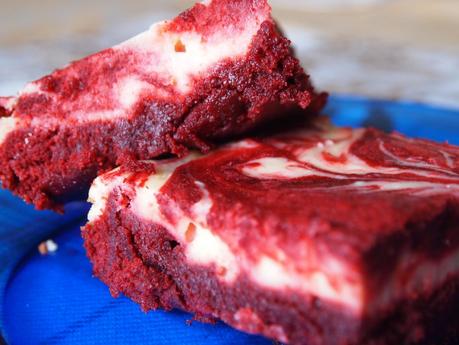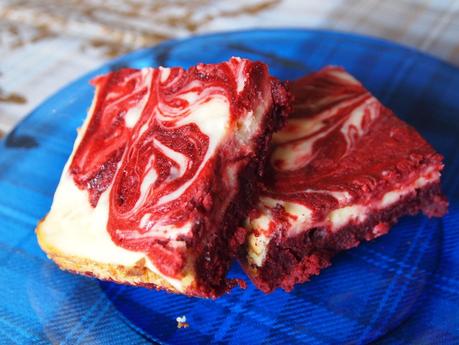 I drool a little every time I look at these. They're fudgey, creamy, rich and a perfect treat to give to someone you love or care about. Is it me or does the swirl in the left brownie look like a heart? It's love!