Well I had been wishing for a good snowstorm...and Mother Nature delivered.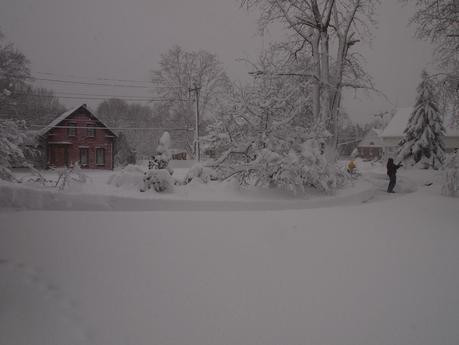 We had a blizzard!
It started snowing yesterday...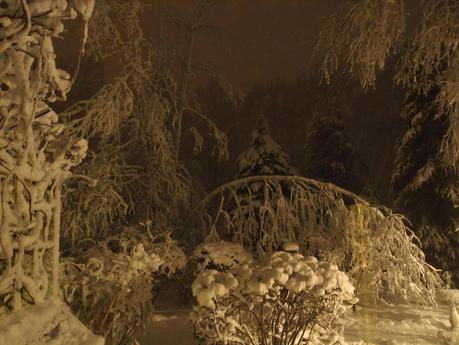 And kept snowing all night into this morning...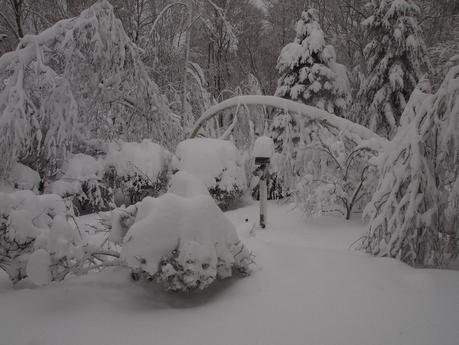 We lost power for a little over 12 hours. It was a very long and cold night. Thankfully once power was restored we were able to warm the house back up quickly. My poor little car on the other hand, still has to be dug out. We'll save that for tomorrow.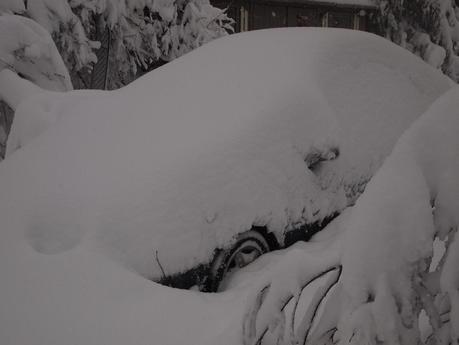 Before we lost power I was lucky enough to have a chance to make an amazing bean recipe that my boyfriend's friend gave me, which I've now nicknamed "Blizzard Beans". She found it originally in "Bon Appetit" magazine and made them one day and gave some to my boyfriend for us to try. I was in love with this recipe. It's so warm and comforting and full of healthy ingredients. It truly is something I could eat any day and be satisfied.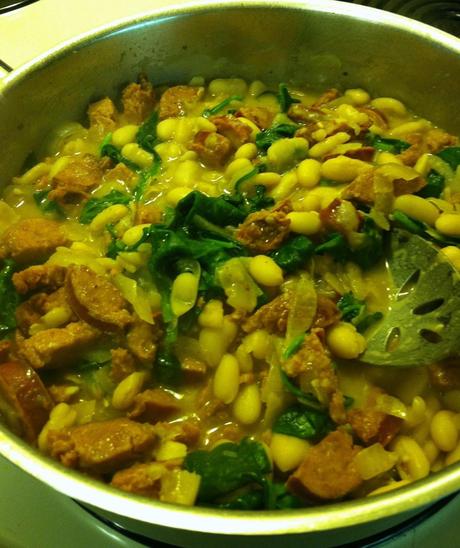 Honestly the picture does it no justice, but it is seriously one deliciously satisfying dish. My Dad actually came home from work and ate some then came back and saw there was still some left and ate the rest right out of the pan. It's just that good.
Chorizo, Spinach and Cannelini Beans (Blizzard Beans)
2 Tbsp Olive Oil
1 lb Chorizo ( I used turkey chorizo), sliced
1 Medium Sized Onion, chopped
4 Garlic Cloves, minced
1 Sprig of Fresh Thyme
2 (15oz) Cans Cannelini Beans, drained and rinsed
2 Cups Low Sodium Chicken Broth
1 tsp Kosher salt
1/2 tsp Ground Black Pepper
1 (16oz) Bag of Fresh Baby Spinach
1/2 tsp Smoked Paprika (optional)
1) Heat 1 Tbsp of the olive oil in a large pan or skillet over medium heat. Add the chorizo to the pan and cook through, about 10 minutes. Remove from pan and set aside.
2) Place the pan back on the heat and add remaining tablespoon of olive oil. Add the onion, garlic and thyme and let cook until soft, about 6 minutes. Add the beans and broth and let come to a simmer for about 5 minutes. Crush some of the beans in the pan to help thicken the sauce and continue cooking for about 10 minutes. Season with salt, pepper and paprika (if you use it). Add the spinach and cook until it just wilts, about 2 minutes. Add the chorizo back to the pan and stir to combine. 
Serve with a crusty piece of bread and enjoy!
(Recipe adapted from a friend's recipe that she found originally in "Bon Appetit" magazine.)