Good afternoon Beautiful,
Merry Christmas!! It's FINALLY Christmas!! I LOVE
CHRISTMAS
and have been counting down for a long time! We're up in my hometown of Wingham, ON and it's a white, white Christmas here!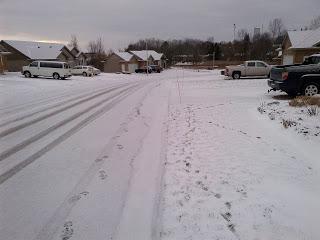 We've been here since Sunday and it's been a whirlwind! Sunday was spent just hanging out and relaxing. Not much to share other than we enjoyed some different types of wine and I downloaded Battleship on my iPad and we played it all night - fun times! C beat both me and my mom at it, but I beat my mom so I at least walked away with one win. Phewf.
Yesterday my sister and I woke up and went to the town gym in Wingham and it was a lot busier than I remember it ever being. I used to work there part time actually and I guess at this time of year when everyone is back in town they have to get their workout on because nothing in Wingham is open Christmas day. Brooke and I worked up a nice sweat and I walked out of there with a massive bruise on my leg thanks to a lovely spin bike that jumped out in front of me... seriously, it's like a huge circle on the side of my thigh. I'll share a picture with you tomorrow... We worked on our backs and biceps and shoulders and abs and did a 5 minute warm up on the spin bikes. I pushed myself hard because 1. there was people in the gym that I went to high school with but didn't really know, I knew they would recognize me so I wanted to look intense, and 2, as much as I wanted to workout Christmas morning, I so knew I wouldn't have the willpower to workout before diving into the realm of the gifts under the tree.
After the gym we met my mom at the health food store in Wingham called Pandora's Pantry. I haven't been in that store for years but it has a ton of fun things that I never remember them having, maybe because it wasn't a priority to me at that time. I bought myself a single use protein powder for a shake because I didn't bring any with me, and some hemp hearts! They also had other things such as organic goji berries, maca root powder, tons of holistic supplements, gluten free products and organic foods. My mom bought my some gluten free pizza crusts because everyone was ordering pizza for dinner last night so I made my own homemade version. I got the gluten free crusts along with some organic pepperoni which was also gluten free and some tomato sauce and a sprinkle of cheese! It was delicious and much less guilty than if I were to have regular pizza. Score 1 for Sarah! After I finished my pizza I had a large salad with some hemp hearts sprinkled on just to top my delicious dinner off. Everyone else had chicken wings, I opted out. I really did want some though.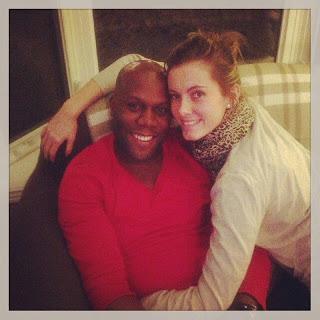 Our Christmas Eve Picture :)
This morning we woke up around 8:15 to texts from my really excited younger sister texting me asking me to wake up (my phone was on silent... for obvious reasons) so C and I got up around 8:15, got ready and were at my parents house before 9am where my little 88 year old grandma was waiting to watch us open out gifts like we are all still 6 years old. She's so cute. Without going into details I will let you know that I was absolutely spoiled rotten. I got a ton of new books (a paleo cook book, 2 fashion books from Nina Garcia and Lauren Conrad and a non-ficton book about the Casey Anthony trial that I found super interesting) and something really big that I may be typing this blog post on right now (I KNOW - SO spoiled...). I was really excited to give out all of my gifts and they were all very well received. Now I'm sipping on some white wine while waiting for some more family to arrive to make Christmas dinner. My family does things a bit differently and we usually BBQ steak for Christmas, but this year we're having steak AND lobster tails. Mmm..... lobster.
I've stuck to my diet quite well with the exception of wine and 2 chocolate coconut goodness that I got from my sister. I couldn't resist those bad boys. I also have been good for workouts, although I didn't keep my promise and workout this morning, the workout yesterday kicked ass and I'm sore today (not JUST my bruise, my muscles are sore too). Tomorrow we're heading back to Toronto and I'm for sure going for a run to try and burn some of this wine off.... sigh. I was thinking about goals for 2013, and what I accomplished in 2012. I want to share with you some of my fitness goals for 2013!
- Run 2 10km races, one in the spring and one in the fall.
- Run other shorter races and build my bling collection.
- Do yoga 1x/week.
- Strength my calf muscles.
- Swim 1x every other weekend, and do CrossFit 1x every other weekend.
- Run 3-4x/week.
I don't think my goals for 2013 are going to be too extreme because of my school work that I'm committed to.... but I think these are some good starting goals and now that I've shared them with you they're basically written in stone. I think they are definitely doable and nothing that I haven't done before, I just want to do them better this year! I think I want to stop and get some new runners tomorrow, hopefully I can get a sweet Boxing Day sale! Think C will be down for stopping en route home for some new shoes? :)
How was your Christmas?
What are your fitness goals for 2013? Share them here! Write them in stone with me so I'm not all alone! :)
Stay healthy,
xoxo