Whey protein plays an important part in weight loss, and one that I have really taken a likely to. IsoWhey

  

sent me some of their products a few weeks ago before I had even decided to take on this weightloss journey- so to them I say thank you.
They sent me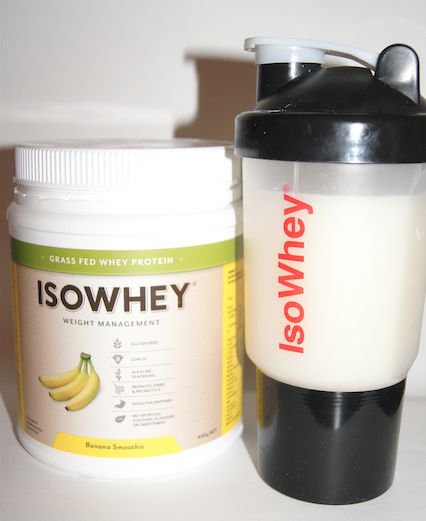 IsoWhey Banana Smoothie Shake powder- 448g $47.95 (also available in 672g $69.95.)
Low in carbs this protein powder is perfect for those who are looking loose weight and tone their bodies as it is low in sugar and carbs (thigh and hip loving buggers.)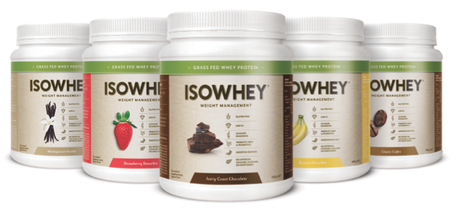 IsoWhey is said to contain the highest grade whey protein that does keep you fuller for longer. At first I thought the product would bloat me and is where I would feel fuller for longer, but it doesn't- it just makes me feel like I have just eaten and will stop me from snacking through out the day.
To begin with I did not read the instructions properly and just mixed this protein with water hoping it would knock some fat off, the only thing this knocked off was the smile on my face- it was vile. So I tipped it down the sink and tried with skim milk like it says on the package, this was amazing and taste exactly like a banana smoothie (well a little less sweet.) This is IsoWhey's instruction to using the product:
Adults:
 Mix 1 serve (1 heaped scoop = 32g) into 200mL of low-fat milk or milk substitute. Consume once or twice daily.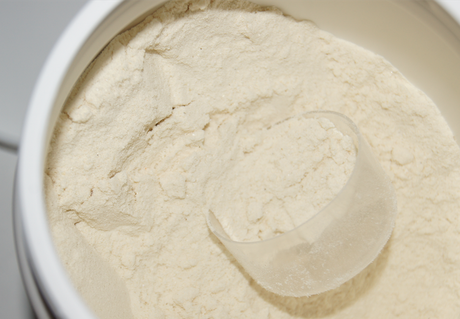 IsoWhey helps to maintain muscle mass whilst you loose fat. Plus contains added nutrients including 12 vitamins and 11 minerals providing you with a balanced nutrition. It is great to know what I am putting into my body is doing it a world of good rather then bad- and packing a many nutrients in there as possible.
Other flavours available are: Chocolate, vanilla, strawberry and coffee- but I am in love with Banana.
When I finish this tub off I will go on to get a large tub and keep incorporating IsoWhey into my weightloss journey.
IsoWhey also have some great relatively NEW
IsoWhey Meal replacement bars in two different flavours- Berry Yoghurt and Chocolate Superfoods Bar. 12 Bars for $59.40
You can tell instantly by looking at these bars they are not going to be bland and tasteless as you can see the whole grains and ingredients in them.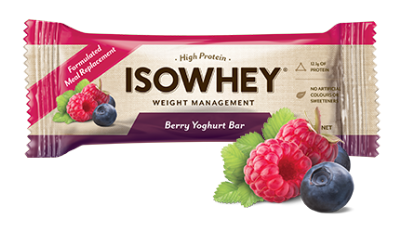 The Berry Yoghurt bar
 contain the following - 
Berry Yogurt Bar with wholegrain oats, mixed berry pieces, almonds, pumpkin, and sunflower seeds with yogurt topping.
This is my other halfs favorite as he stole a bite while I went about my way eating my bar. He told me to go and buy some as he could eat them all day long. He is being very supportive of my weightloss journey and has even jumped on board. He takes supplements and horrible things that are meant to help him loose weight, while I have found all the delicious supplements and aids.

  

Very yummy and very nutritious.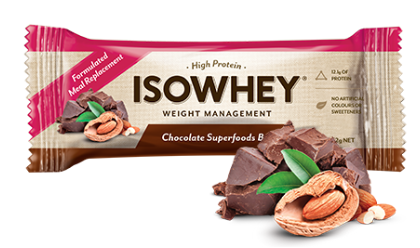 Chocolate Superfood Bar
 contains- Chocolate Superfoods bar contains wholegrain oats, chia seeds, almonds and cocoa.
This is my favorite of the two bars as I get to spoil myself with chocolate all the while it is apart of loosing weight. I wouldn't eat this every day, but then again why not! All the bad things are taken out and your only left with the good stuff that loves your insides.
I actually look forward to waking up to my IsoWhey products and will continue to take them on my 12 month journey.
http://www.isowhey.com.au/