One of my favorite brands that I have tried through BNT is iSOi (I'm so intelligent). I have reviewed the Bulgarian Rose Blemish Care Serum twice, and have also reviewed the Bulgarian Rose Pore Tightening Tonic and the Bulgarian Rose Intensive Energizing Cream. All of which I really enjoyed. 
Hoping that this would be as good as the others, I tried it out excitedly. But to be completely honest, I'm slightly disappointed with this product.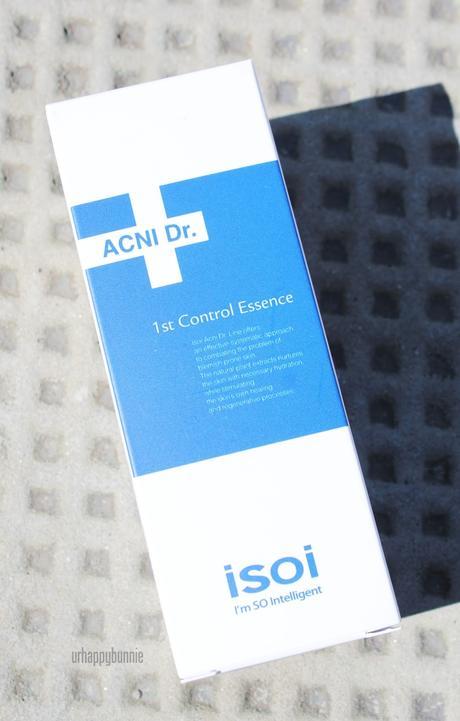 The ACNI Dr. 1st Control Essence is actually one of the 4 products and the 3rd step in the ACNI Dr. line from the brand. 

Ingredients:

Purified water, glycerin, dodder seed extract, extract the crowd, ethanol (plant fermentation), Xanthan Gum, Sodium hyaluronidase, Caprylic / Capric Triglyceride, macadamia seed oil, glyceryl stearate SE, sunflower seed oil, Mysore Grief stearate, betaine, shea butter, cetyl alcohol, cetearyl alcohol, fruit Rosehip oil, tocopheryl acetate, allantoin, sodium citrate, White Willow leaf extract, olive leaf extract, licorice extract, Equisetum arvense extract, extract of rape West , Houttuynia cordata extract, Centella asiatica extract, beta-glucans, chestnut shell extract, extract gallnut, gold extract, peony root extract, damask rose flower oil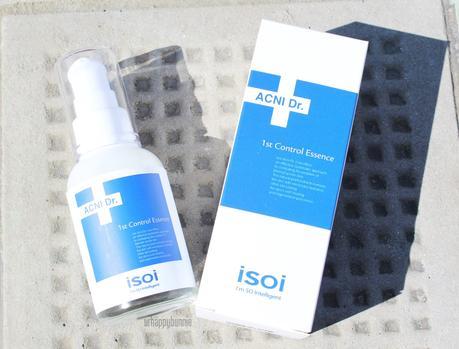 The line aims to calm sensitive skin and ease skin troubles like acne and protect it from future irritations without blocking the pores. It is made from natural products and does not contain any chemical ingredients. It is particularly aimed for those who have skin troubles and oily to combination skin. 
This product really gives me the vibe of "use me, I'll heal you" clinical look: blue and white color theme and simple packaging. 
The essence is white in color and has a slippery, gel-like texture.  Although this is not part of the Bulgarian Rose line, it smells like the other Bulgarian Rose products which basically smells like roses. 
One of the major causes of acne is excess sebum production and clogged pores which is why this product particularly targets oily to combination skin types. My disappointment stems from this.  Because of it's drying properties which is good for those who excessively produces oil, it really dried up my skin.  Although I have now transitioned to combination skin type due to weather conditions, my skin is still borderline dry so this product just gave me horrible dry patches after I used it for a couple of days.  I also have no problem with acne or breakouts so this really didn't help at all.  While I really enjoyed the Bulgarian Rose Blemish Care Serum which also targets breakouts, it was way milder than this one. 
I see this as a good product and my disappointment with it is more on it not being compatible with my skin type.  
I still believe that iSOi delivers great quality products but regretfully this one is not for me. 
*This product was sent to me for review but as always, my reviews are honest and based on my own opinions and experience.
Don't forget to visit the other BNTGirls, 
Doris
,
Laven
,
Alene
and Bella.
Visit 
BNTNews
 for the latest Korean news and trends
Official Page
Tumblr YouTube
Facebook
  Twitter: @officialbntnews