Home > Stock Market, The Economy > Is the FTSE-100 low in?
Is the FTSE-100 low in?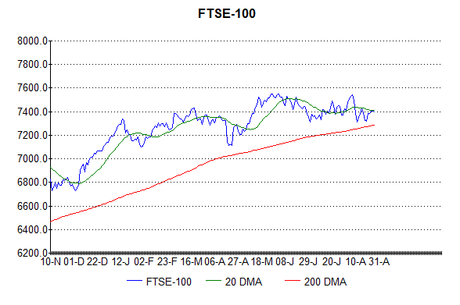 The Korea wobble seems to have petered out and the FTSE failed to break out of its recent 7,300-7,550 range. So, again my prediction seems to have been too bearish; if the threat of World War III can't drag the stock market down, then it looks like nothing will! Assuming nothing else happens to upset things we have a nice spike minimum in the chart and I am optimistic that the index could hit 8,000 in the next few weeks. While this may seem irrationally exuberant when UK economic growth is slowing down, the reality is that the stock market does not correlate to the economy well at all and is far more dependant on US stock market performance where the mood is much more positive at the moment. If we can make 8,000 relatively soon after the decisive break through 7,000, then the doubters may start to pile in for fear of missing out on further gains.