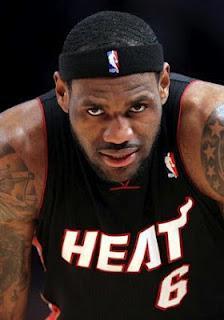 Photo: Jim McIasaac-McClatchy
- Troy Ballard
LeBron, LeBron, LeBron.
I suppose it was inevitable. The pure talent of LeBron James would cause something like this to happen. All the King James haters have drawn back and are totally speechless. The other side, James supporters, are still screaming with joy.
With the Miami Heat down late against the New Jersey Nets -- LBJ decided to take matters into his own hands. The King scored 17 straight points in the waning minutes of the fourth quarter to rally the Heat to a win.
17 Points.
17. Straight. Points. 
Who needs Dwyane Wade and Chris Bosh?
Yes. The game was against the miserable New Jersey Nets. Yes. This game is essentially totally pointless in the grand scheme of things. Yes. One regular season explosion does not mean that James' fourth quarter woes have been miraculously cured.
But it's a start.
Considering that just a month ago James was getting bashed for passing off the ball in the final seconds of the game -- I'd say this is a monumental improvement. Forget not wanting to take the last shot, King James went as far to take
every single shot
.
It was beyond domination.
King James owned that fourth quarter.
And not only that, but he has locked up the MVP Award following his earth-shattering performance. Kevin Durant may have been in the conversation, but forget it now. Any whisper about James not deserving the award has been silenced, and David Stern is already practicing his speech delivery.
But the biggest question on everyone's mind is this -- can James continue to dominate like this far into the reaches of the postseason, and possibly even the NBA Finals?
That answer is going to be up to no one other than James himself. He has proven to the entire NBA that he can take over and single handedly win a game, now he just has to translate that into a playoff atmosphere.
Given the context and what's at stake this season for James and the Heat, I'd say there is a damn good chance we see a performance like this in the near future. He may have dropped the ball last season, but it's rare to see a player of James caliber make the same mistake twice.
After all,
we are all witnesses. 
Be sure to follow Beard and Stache on Twitter @BeardAndStache, and also Troy @TroyBallards, Like our Facebook page HERE!