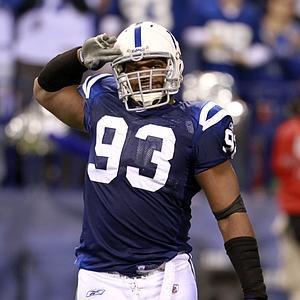 Photo: fantasyknuckleheads.com
- Adam Parker
It was only a matter of time.
The Indianapolis Colts have been slowly dismantling the old generation in preparation to receive the new.
It all started a few months ago with the firing of Bill and Chris Polian from the Colts front office and the departure of head coach Jim Caldwell soon followed.
On Wednesday, longtime franchise face and 4-time NFL MVP Peyton Manning was released after 14 years with the team.
The 'Manning Era' is over in Indy, and some of his veteran teammates could be next to follow Peyton out the door.
Most notably, perennial Pro Bowl defensive end Dwight Freeney.
According to league sources, the Colts are actively fielding phone calls from teams interested in trading for Freeney, who is the Colts' all-time sacks leader with 102 and a 1/2.
The Colts do not necessarily want to part ways with Freeney, whose patented spin move makes all left tackles and quarterbacks alike quake in their boots.
That being said, Indianapolis is in dire need of some salary cap relief and Freeney has a $19 million cap number this season and is unwilling to restructure his contract, according to sources.
So with Indianapolis needing money to bring in fresh faces to begin the 'Era of Luck', Freeney and his massive cap number might have to clean out his locker and head to a new home, barring the Colts receive what they deem the right price in return for the All-Pro pass rusher's services.
Like Manning, Freeney has spent his entire 11-year career with the Colts and has been named to seven Pro Bowls. His 8 and 1/2 sacks last season were second on the team.
However, Freeney might not be the only veteran Colt who could be on the move. Tight end Dallas Clark ($8 million) and linebacker Gary Brackett ($7.4 million) also have high cap numbers that could cause them to hit the housing market.
The complete overhaul in Indy is underway.
Who will be the next casualty? We'll find out when free agency begins March 13th.
Be sure to follow Beard And Stache on Twitter 
@BeardAndStache
, 
and also Adam 
@Adam_Parker43
, Like our Facebook page 
HERE
!