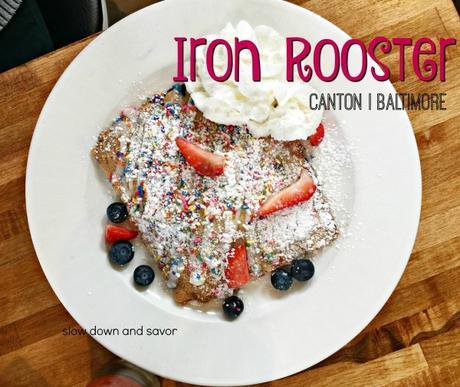 Going to out to Target in the Canton neighborhood of Baltimore is pretty much an event for us. I mean, it's a whopping 20 minute drive away, when we usually just walk everywhere, so when we decide to go, we make it an experience. Sometimes our experience includes but is not limited to: haircuts for the boys, a trip to Ulta for me, some Harris Teeter shopping and going out for lunch.
There are a whole variety of places to grab a good bite to eat at the Canton Crossing shopping center, like Five Guys, Atwater's, On the Border, Pie 360... You get the drift. Well, recently a new and exciting restaurant , Iron Rooster opened its doors.
So the last time we visited Target, we decided Iron Rooster would be a more than excellent place to have our meal. It was lunch-ish time, but according to the signage, Iron Rooster does breakfast all day long, in addition to lunch, supper and drinks. Sweet. Something for everyone!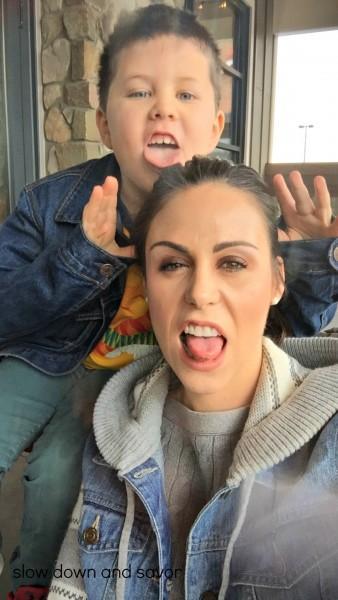 It looked pretty packed when we made our initial approach, and I was afraid that the wait would be unreasonable, but I put my name on the list anyway and said a prayer it would be under 30 minutes. Prayers were answered and we waited 28 minutes for a table, but if I were you, I'd make a reservation ahead of time. This place seems to ALWAYS be packed, especially for weekend brunch.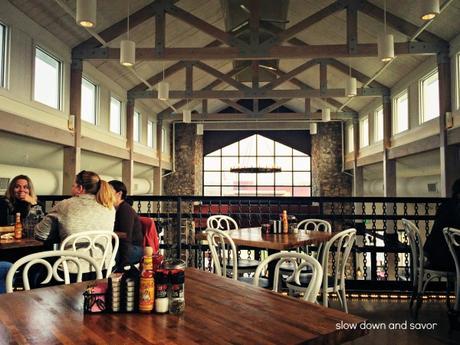 When a table was ready for us, we followed the hostess upstairs to a really neat balcony area. We got our menus, got the baby set up in a highchair and began to settle in. We all were happy with the staff so far, as everyone was super nice and went above and beyond the call of duty when it came to making sure we were comfortable and that our kids were taken care of.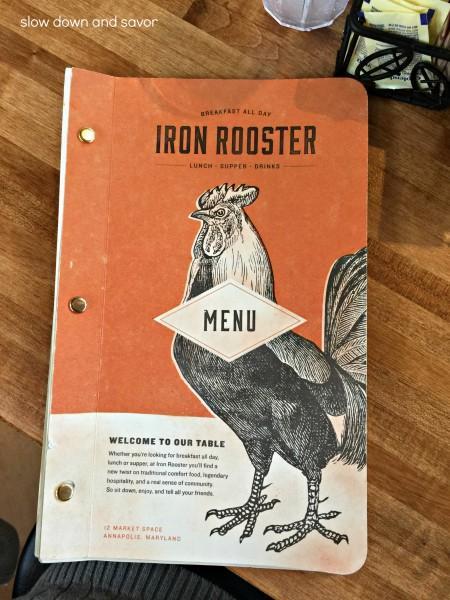 Michael was after the breakfast side of the menu, as was Major with the kid's breakfast menu, and I initially dove into the more lunchey options. But somehow I managed to find myself in the land of breakfast sandwiches. There's something about lox and shmear on a toasty bagel that really just does me in. Heck yes.
Michael had a hard time deciding, but ended up with their famous Chicken and Waffles: buttermilk marinated fried chicken breast on top of a cornmeal waffle with a generous dousing of black pepper pan gravy, ($14.95). Major selected the Griddle Breakfast from the kid's menu and selected 2 pieces of French toast and sausage, ($6.99). And as I mentioned before, I went with the Smoked Lox Sandwich, which included smoked lox (chilled smoked salmon), cream cheese, cucumber, capers, red onion and sliced hard boiled egg on a toasted bagel, ($15.95).
Michael and I both decided to have a Bloody Mary to celebrate brunch properly, and Major had some lemonade.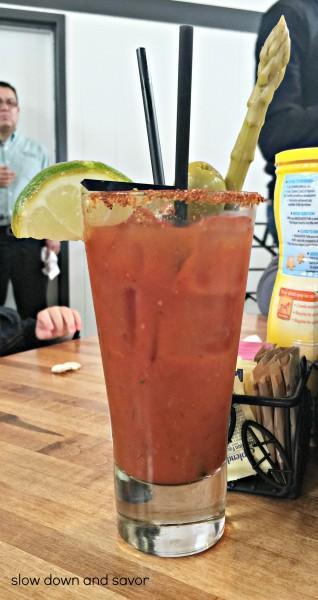 But before anything, we collectively decided that we HAD to, yes, NEEDED to try one of their homemade pop tarts. Yes. HOMEMADE POP TARTS. They're $5.95, and made fresh daily. The flavors of the day when we went were mixed berry and maple bacon brown sugar (I'm pretty sure it was maple bacon brown sugar). But we chose the mixed berry variety because, well, I made the decision and that's what I wanted... So... Yeah...
Our pop tart came out first, with our Bloodies, and everything was just so pretty. My Bloody Mary was great, albeit small, but it was properly spicy, tart and sweet. My favorite part was the pickled asparagus garnish. Player... I need many, many more of those in my life. Like, now.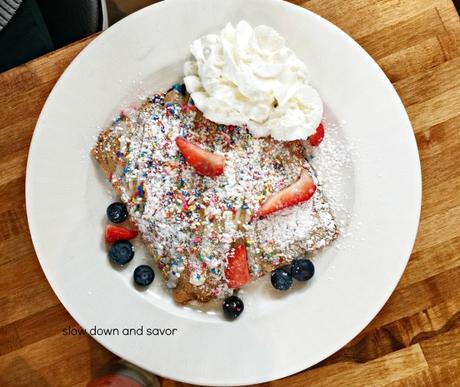 Now, that pop tart really does require a moment of silence.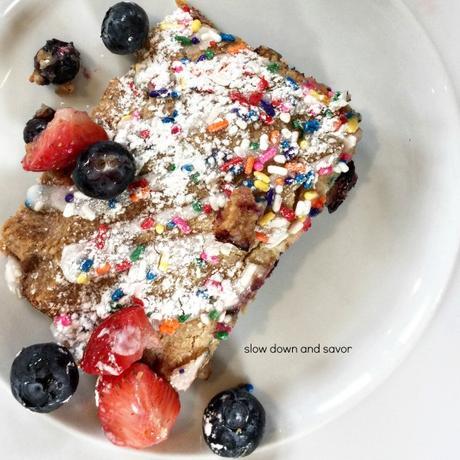 It was amazing. The appearance alone was incredible. It was an oversized version of my childhood favorite, so colorful and playful. The smell hit me next and I was sent to some sort of amazing joy-filled realm. It was buttery, toasty and sweet and I already knew it was going to be great. I already knew.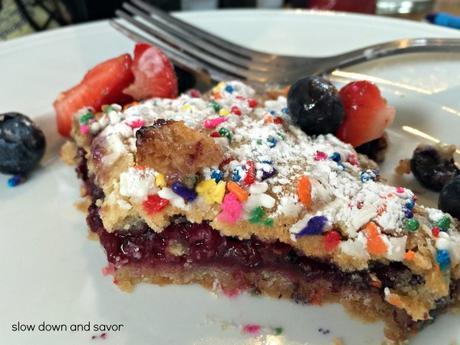 But that first bite superseded expectations. The crusty was flakey, buttery perfection that gave way into sweet, gooey wonderful deliciousness. I boarded the ferry straight down Flavor River into Flavor Town. I am not sure if Guy Fieri trademarked his Flavor Town references yet but, it seemed highly applicable to use them here. Beautiful. Simply beautiful. One pop tart is seriously a lot of food, so it is ideally shared between you and your party, but hey, go for it and eat the whole thing for yourself, but that will probably do you in for the rest of the day. Like, you will need a nap... Or just hibernate.
As we were finishing up our pop tart, Michael and I both noticed a JAR OF BACON being delivered to the table across from ours, and we overheard that if you check in on Facebook while at Iron Rooster, a jar of bacon can be yours for free.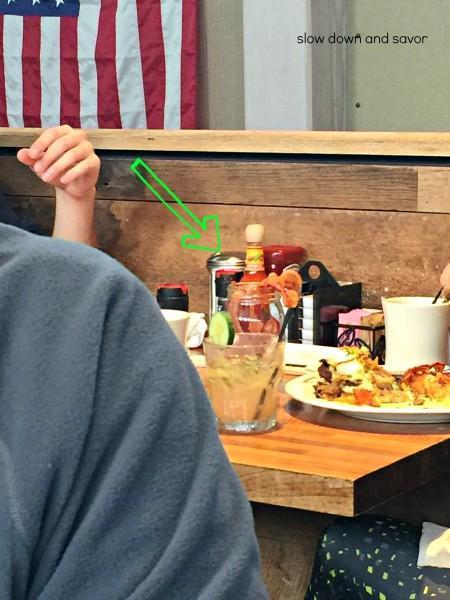 WHAT. So of course I proceeded to check into Iron Rooster from Facebook and wham, just like that we had our very own jar of bacon... Jar. Of. Bacon. Yep.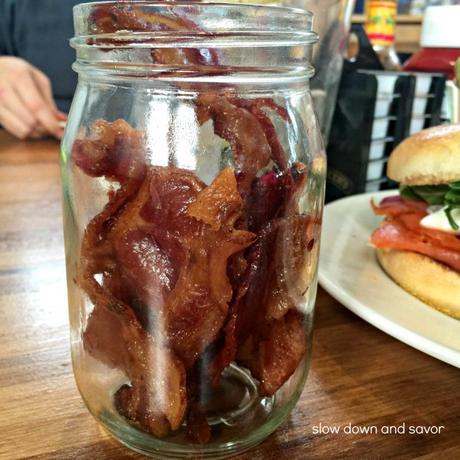 Our entrée courses came out soon after we finished our pop tart, and once again, appearance was everything.
Michael's chicken and waffles were beautifully composed, and looked like a true, cohesive dish.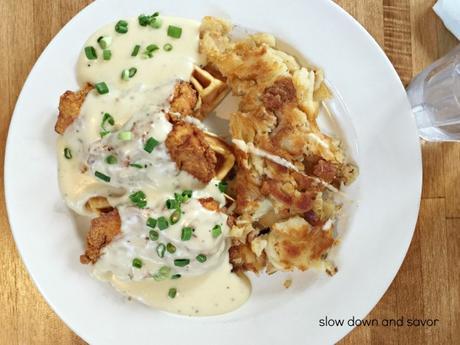 Once again, it was a HUGE portion of food. Two huge pieces of fried, tender, crispy and juicy chicken sat on top of two savory, cornmeal waffles, and then were smothered in a creamy pan sauce, and then finally garnished with sliced green onions. To the side was a hefty pile of golden hash brown potatoes.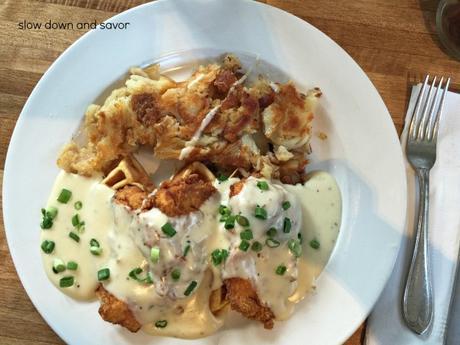 Michael loved his dish. It was a monster in size, so he had to take some home, but he was able to relive the deliciocity of it again the next day... Lucky...
Major was very happy with his French toast and sausage, and made short order of his plate, smiling and chatting the whole way. Yum.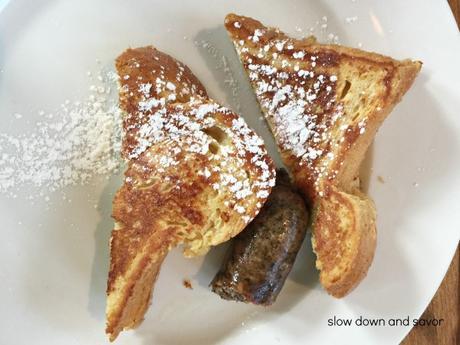 My smoked lox sandwich was delicious too. Piled high, they definitely didn't skimp on the salmon, that's for sure. The egg was a nice touch, and I enjoyed the traditional flavors of a lox breakfast.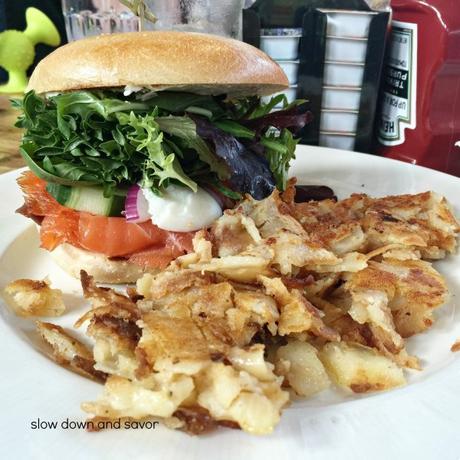 It's one of my favorite meals ever, and I'd say they did a good rendition. I wished there had been more salt, but that's just me. I'm a salt-lover. But other than that, it was excellent.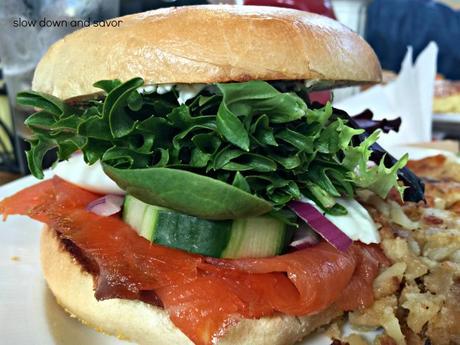 Before we're done here, I do need to mention the hash browns. They were amazing. I could have eaten an entire plate of those. They were crispy, yet fluffy, salty but not too salty, and had just a tiny hint of butter. Nothing ruins perfectly good hash browns for me than a HUGELY strong butter flavor. I am going to go ahead and say it, they were basically my ideal hash browns, and I'd go so far as to say they're perfect. Yep. Perfect hash brown potatoes can be found and enjoyed and DEVOURED at Iron Rooster.
We had a truly exceptional experience, which was even better since we had no idea what to expect when we went. We'd never heard of the place, and it ended up becoming one of our favorites. Who knew!
Iron Rooster has 2 locations, one here in Baltimore and one in Annapolis. Have you been? What do you think? What was YOUR favorite dish? Come hang out with me on Facebook and share your photos there, or let me know down in the comments!