It is true, it is official. The Apple's new flagship smartphone is called iPhone 5.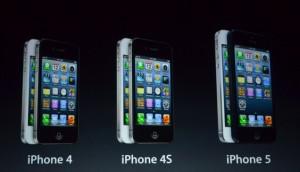 The New iPhone 5
In a nutshell, the iPhone 5 has a larger touch screen. It is a 4-inch Retina display (326ppi) with a 1136×640-pixel resolution. As for the connectivity, it features 100Mb LTE and dual-band Wi-Fi. As stated by Apple, iPhone 5 is "the thinnest smartphone" out there, measuring only 7.6mm. It weighs 112 grams, which is less than 4S. In terms of speed and processor, the new iPhone runs on an A6 chipset (the latest improvement by Apple), which will provide two times faster speed and graphics rendition.
The smartphone features 8MP camera sensor (the same as the 4S), however, the very sensor is ¼ tinier on the iPhone 5. One of few pleasant surprises is the interesting panorama mode (already seen on some Android phones). It boast about 25MP resolution, which basically integrates full resolution photos together. The easily noticeable novelty is the upgraded front camera. You will be able to shoot 720p videos now.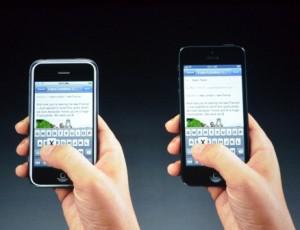 Apple iPhone 5
Besides these features, there are other interesting things new users will love to explore such as: three microphones, noise-reduction earphones, tinier speaker and completely new Lightning connector. The last-mentioned is 80% tinier, has eight pins and is double-faced. The designers decided to leave the standard 30-pin cable, which is excellent because this means that iPhone 5 accessories will most likely be compatible with previous iPhone models. 
As for the software, all that has been said so far is that the new iPhone 5 runs on iOS 6. We are looking forward to seeing what the new operating system has to offer.