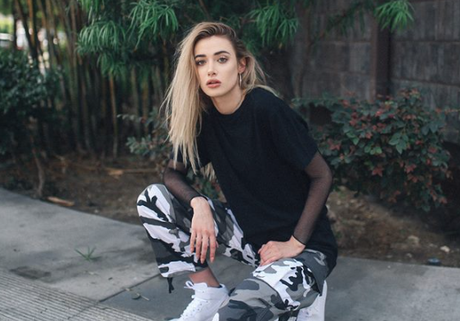 Interview by Melissa Edelblum
We had the opportunity to talk with singer-songwriter, Olivia O' Brien about her unexpected entry into the music industry, writing her own songs, and most importantly, keeping it real.
Your introduction to the music industry was somewhat spontaneous, as most people learned of your sound via your "I Hate U, I Love U" collab with gnash. Can you tell us a little bit about that experience, that process, and how it impacted your current sound?
It literally came out of nowhere and I did not expect it even a little bit. I originally thought gnash was just going to produce the song for me after I met him as a fan and sent him the song, but when he sent it back to me with his verse I was really excited. I wouldn't say it impacted my current sound at all because it was the first song I ever professionally recorded/released. I make completely different stuff now… that song was kind of an accident. Lyrically, I have pretty much always had the same style: honest, emotional, kinda angry at times. When it comes to the production and just overall style of the song, I definitely would say my music had progressed a lot since then though.
How would you describe your sound?
I still consider myself new to making music and I am still finding my sound. I don't like to say that I make one specific kind of music because I pretty much just make whatever I want to and figure it out later. I write how I feel in whatever way i feel like writing it and whatever happens, happens. I definitely am influenced a lot by R&B and alternative/indie music despite my music being technically "pop" (which I never listen to).
You're 17 and so young, yet you talk about such mature topics in your music. Where do you pull inspiration from?
I guess I am mature for my age because I can pretty much only pull inspiration from personal experience. I always try to write from other people's perspectives but I just can't because music is my therapy. It's how I let out my emotions and feelings and it just doesn't come as easily to me or feel as authentic if I write from someone else's perspective. I do write about observations I have made from other people but it's never from their point of view.
You write a lot of your own songs and your lyrics are so powerful and relevant. Can you tell us about your writing process?
I write all of my songs, not just a lot. That is the number 1 most important thing to me no matter what. It's what keeps me from comparing myself to a lot of the machine/label-made pop princesses of today. There is nothing wrong with not writing your own songs per say, but it's just a totally different thing than what I do. I consider myself a writer and artist above being a "singer". As for how I write, I don't really have a set writing process… like I touched on earlier, I just write down how I feel and make it a song. It varies by how I am feeling or even what kind of music I've been listening to around the time I write the song.
Realness is key part of you are, I dig it hardcore. As a young artist in the spotlight, how do you keep it real with the hyper-connection of social media? Is it hard, what do you think the impact is on emerging artists and the music industry? Do your digital experiences impact your music and the way you write?
I am an extremely sensitive person and everything I see online affects me in some way. When I first became a part of this world I had very low self-esteem because it felt like everyone was perfect and I wasn't. I later realized that this world online that everyone thinks is so amazing is all fake. Yes, there are many beautiful models and other girls who do not edit themselves… but SO MANY OF THEM do. Every girl who is big on social media has the app, Facetune, and utilizes it as much as possible. When I started realizing how fake it all is and how no one is really perfect, I stopped caring. I want the focus of my social media to be music, which gets lost sometimes among pretty girls who make music. I know so many people with followers who don't get as many plays on their music as they do likes on their selfies and that is something I never want to be. I don't want the focus to be on the way that I look, and I certainly don't want to let the desire to be impossibly perfect ruin my life. Social media is not real, no matter how real it may seem. I have a few unreleased songs that are about this topic and plan on writing more… my recent single "No Love" is also partially inspired by things I've seen online and how people act one way on the internet and another in real life.
"RIP" (love it!) has such a dynamic pop sound, an important metaphor, and an emotionally charged music video. This song feels incredibly personal, how does it feel to perform that song?
It is really fun to perform because it is just a fun song. I actually had the guy the song was about come to one of my shows on tour and it was really funny to perform in front of him because we were friends again and he knew it was about him. It is a very personal song to me, and it's about such a specific situation and time in my life so I can always channel that passion and emotion when I perform.
Do you have a song of yours that's your favorite to perform and is the most meaningful to you? Why?
"No Love" is definitely my favorite to perform, closely followed by "Empty." "No Love" is just so relevant to my life right now and makes me feel a million emotions when I perform. I also do it with just piano and not the full production which makes it very intimate and personal. "Empty" is another very emotional one for me and that's what makes it so special. It's easy for me to put myself in the place I was when I wrote it and connect with that part of myself which makes it extremely powerful.
Your sound is so versatile and you continue to explore new musical territories for yourself. Is there any specific genre that you haven't touched that you would potentially like to dabble in?
I have always loved very wordy and fast verses that have a flow to them… and I have a few songs where I almost sound like I am rapping. I love incorporating it into my songs and want to continue to do so just because it is fun to do and especially fun to write!
Dream collaboration and biggest musical inspirations. Go.
SZA is my number one favorite artist/biggest inspiration/dream collaboration… very closely followed by Kehlani. I love both of them so much and every time I see either of them live I cry.
What's been your most rewarding career moment so far?
Seeing everyone sing "i hate u i love u" at shows is amazing and reminds me of how monumental that song was for me… and for the people who related to it.
What can fans expect to see from Olivia O'Brien in the future?
I would say they should keep their minds open as I'm not even sure what exactly they can expect. I could do anything at this point, who knows! After my EP, an album is definitely coming soon.
Olivia O'Brien's EP, It's Not That Deep, dropped on Friday, November 17, 2017 and can be found on multiple streaming platforms and for download. Olivia is currently on tour. You can find out more information on her tour dates and upcoming music at http://www.oliviaobrienmusic.com/
Filed under: Interviews Tagged: interview, it's not that deep, no love, olivia o'brien