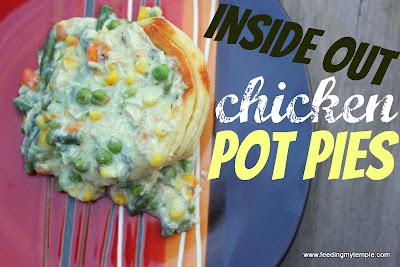 MMMM. Let's talk about pot pies. When I think of pot pies, I think of red box Banquet turkey, chicken, and possibly even beef with strangely cubed meat and that distinct sauce that screams freezer section. They were delicious. I could kill a pot pie in my day.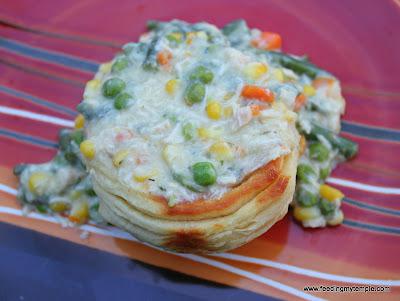 Homemade pot pies have always intimidated me, mostly due to the thought of laboring over or using puff pastry dough. No thanks. 
These little pies came together quite nicely and were unbelievably tasty. I will share a little tip that will make whipping these up a breeze. I put the chicken breasts needed for this recipe into the crock pot, covered them in chicken broth, and threw in a bouillon cube or two in. Cooked on HIGH for 4-6 hours, they were perfect for shredding! It was no fuss chicken at its finest. Thank you crock pot. 
Inside Out Chicken Pot Pies
Ingredients

1 can refrigerated biscuits

1/4 cup butter

3 chicken breasts, cooked and shredded

1 bag frozen mixed vegetables (carrots, corn, peas, green beans)

2 cloves garlic, minced

1/4 cup corn starch

4 cups chicken broth

1/2 cup fat free half and half

1 teaspoon dried parsley

salt and pepper to taste




Directions


Preheat oven to 350 degrees. Separate dough into 8 biscuits. Flatten each with hand or rolling pin. Drape each biscuit over and upside down ungreased muffin cup to create a bowl. Bake 13 to 17 minutes or until biscuits are golden brown. Remove biscuit bowls from muffin cups; set aside.
Meanwhile, melt butter in a large skillet over medium-high heat. Add chicken, vegetables, and garlic, cooking until vegetables are cooked through, 5-10 minutes. Sprinkle corn starch over chicken mixture and stir for an additional minute or two, until corn starch is no longer visible. Add broth and bring to a boil. When broth begins to bubble and thicken, stir in half and half, salt, pepper, and parsley. Add frozen peas and parsley; mix well. Simmer for an additional 2-3 minutes. To serve, spoon chicken mixture into biscuit bowls.