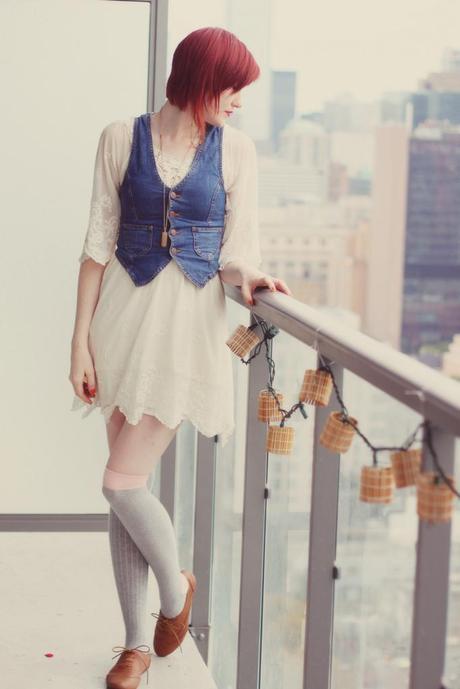 // Dress // Stockholm Vintage // Vest // H&M // Shoes //
Ardene
// Socks // ASOS // Necklace & Earrings // Forever 21 //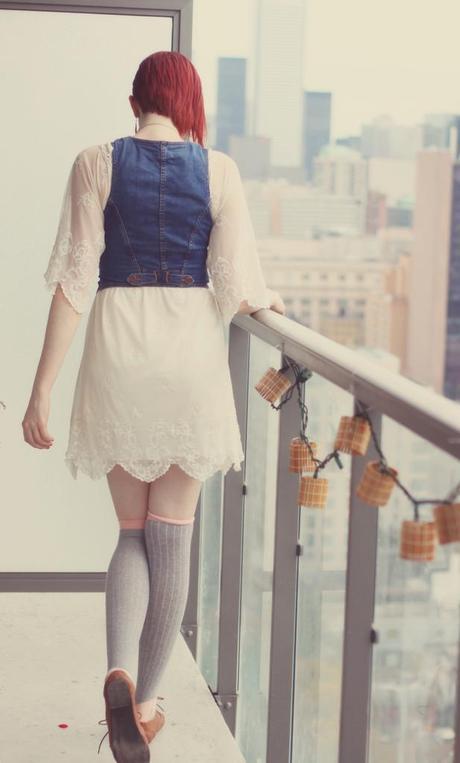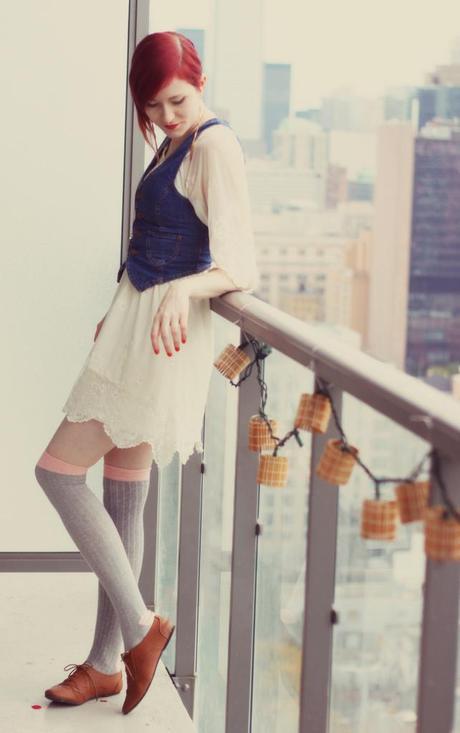 This weekend was phenomenal. The weather cleared up for Thanksgiving and it was wonderfully warm outside. I wish I could have spent more of it outside but alas I was strapped to the stove pretty much all weekend cooking up a storm of delicious fall meals and savory sweets.
This is one of my favourite dresses, not only because I got it while thrifting in Sweden and I have such lovely memories of walking around Stockholm to find the perfect dress, but because it seems to lend itself to every season. It was the perfect spring dress, the florals in the lace reflecting the budding flowers in the garden. It was ideal for summer as it was light, airy and perfect for hot days in the sun. And now, coming into the fall, with the addition of some great knee highs and my trustee denim vest, it is the perfect layering dress for the autumn. The delicate details sewn into the dress the perfect little texture for my fall texture obsession. And this dress is wonderfully versatile. With my cute brown oxfords and sock it works as a nice casual work outfit but throw on some heels and sparkly tights and you've got a great outfit for an autumn evening out with friends.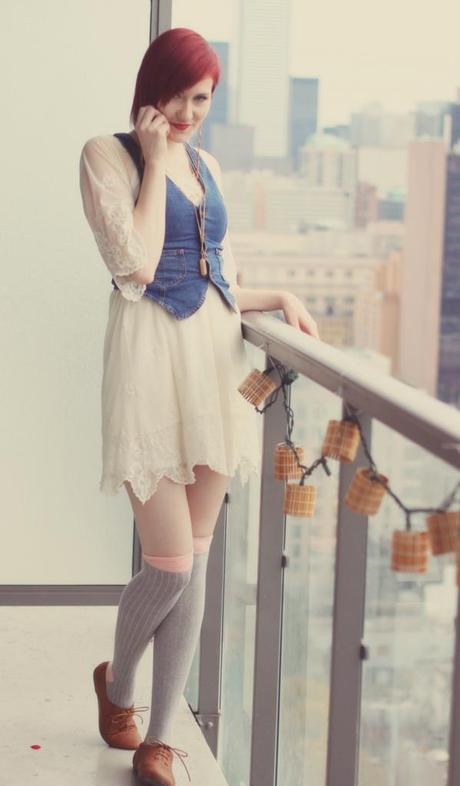 This holiday Monday I was feeling kinda sick from all the exhausting baking and running around on Saturday and Sunday, so I spent the day in bed, catching up on some reading and then decided to not waster the whole day inside and took a long walk along the streets of Toronto. The fall colours are finally starting to come out and it's truly a wonderful time to be in the city or country. I walked over to Goodwill and found some great pieces!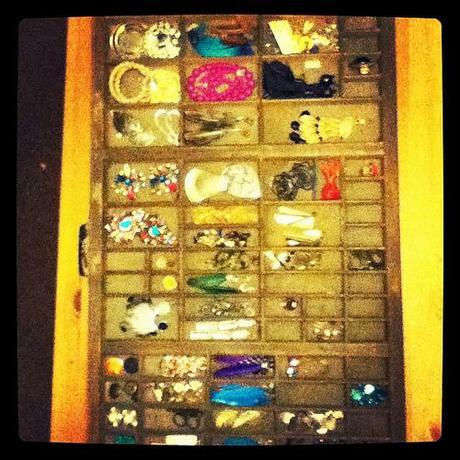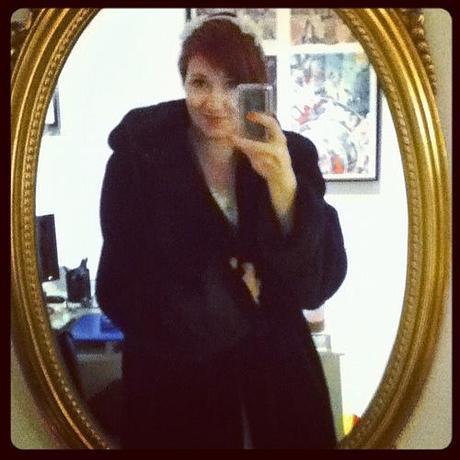 Got this fantastic letterpress drawer which, since my letterpress is already packed away for the move, is being used as a lovely jewelry holder. I found a few velvet and tailored jackets which are going to be just the thing come the winter and ever this amazing faux fur coat with a huge hood. Very little red riding hood-esque.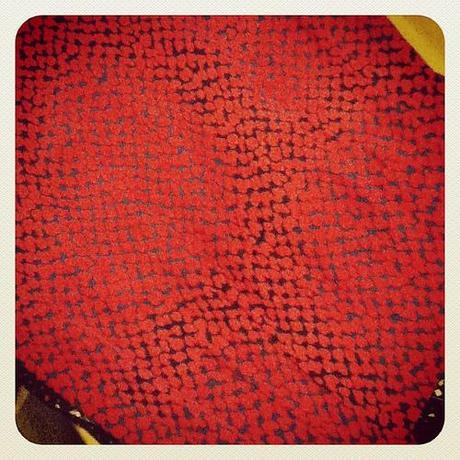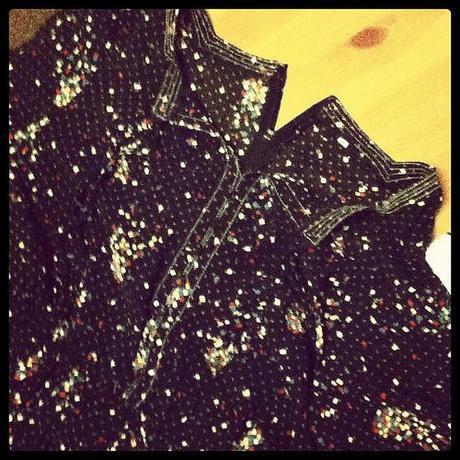 Got a great vintage dress and a hot pink leopard print skirt! Can't wait to grab some photos with these!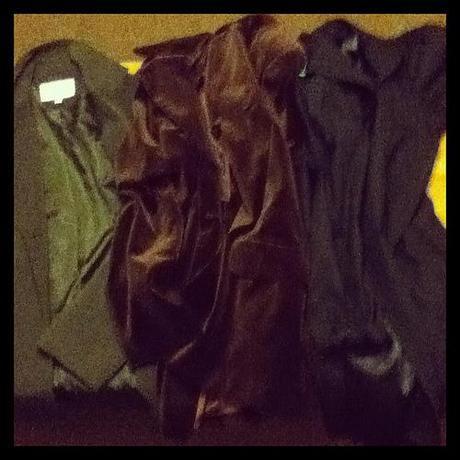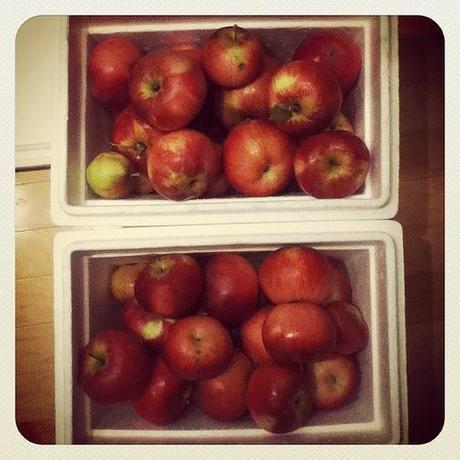 I also snagged a ton more apples from the farm's orchard while we were up there. Any suggestions on what to do with them all? What did everyone else get up to this weekend? Canadians, how did you spend your Thanksgiving?