Indian Party Makeup Tutorial : Cranberry and Copper Eye Makeup
Hey everyone today post is going to be a look I did on my You Tube channel its an Indian party makeup tutorial , the colors used in this look are all very suitable for ethnic wear. And you can always change the colors to match up your outfit, and keep the technique same. I have applied the darker cranberry shades on the inner and outer corner of the eyes and kept the middle potion of the mobile lid bright with the copper eyeshadow. For more details on how I achieved this look you can see the video.
Here is the closer look at the eye makeup :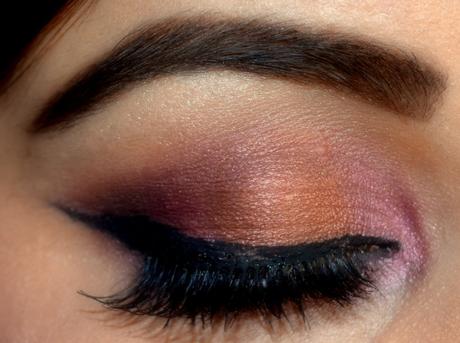 Cranberry and copper eye makeup
The list of product used for this look:
NYX eyeshadow base in Skintone
Foundation is KRYOLAN SUPRA IN FS26
Concealer is Maybelline Instant Age Rewind Honey
Eyeliner is Reserve Naturelle : Black
Mauve cream eyeshadow base Reserve Naturelle
Blush Inglot Freedom System refill no. 30
Bronzer : Physician's Formula Bronze Booster in Medium
NYX Eyebrow pencil
Lipstick : MAC Rebel lipstick
Since I was going for an Indian party makeup look I kept the lips dark, but a nude lip would also look good with look.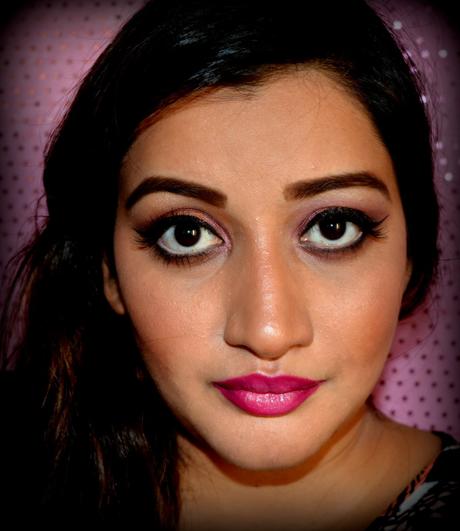 Cranberry and copper eye make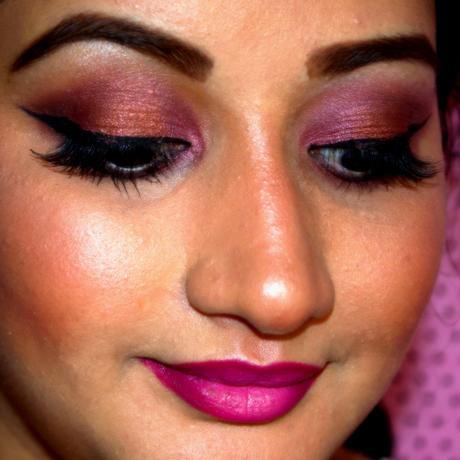 Cranberry and copper eye makeup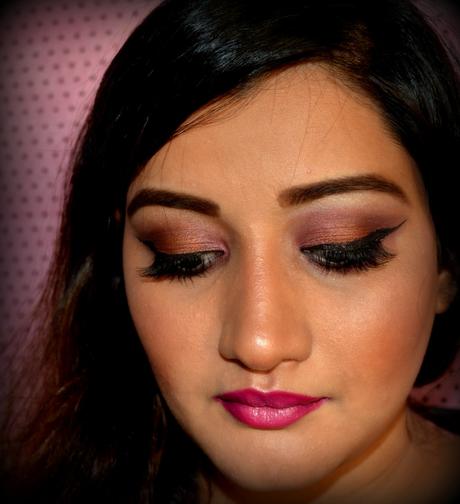 Indian Party Makeup Tutorial
Here is the video , do have a look at the video to see how I created this look. Until next time…
Related
You Might Also Like
Sultry Eye Makeup Tutorial : Sleek I divine palette
DAYTIME GLAM MAKEUP TUTORIAL VIDEO
Step by Step FALL MAKEUP 2014 : LORAC PRO
INDIAN WEDDING PARTY MAKEUP
BRIGHT EYESHADOW MAKEUP LOOK FOR SUMMER 2014
QUICK AND EASY MAKEUP WITH A POP OF COLOR
THE LAST 4 POSTS ON THE BLOG : THE WEEK THAT WAS MAKEUP TUTORIALS
GLAMOROUS SMOKEY EYES USING MATTE EYESHADOWS
Tags:
best lipsticks for indian skintone, bollywood makeup, bridal makeup, cranberry and copper mkaeup tutorial, cranberry makeup tutorial, dark lipstick for indian skintone, indian bridal makeup, indian makeup and beauty blog, Indian Makeup Blog, indian party makeup, indian party makeup tutorial, indian wedding guest makeup, inidan beauty blogger, kryolan supra foundation, mac rebel lipstick, makeup for wedding party, maybelline instant age rewind cocnealer, ombre lips, party makeup for indian brown skintone, party makeup look, smokey eyes makeup for indian skintone, urban decay ammo palette, urban decay eyeshadow palette, wedding makeup