It was a tale of two Zimbabweans this week as their respective teams got their house in order ahead of a clash that will go some way to deciding who the best test team in world cricket currently is – and the fact Duncan Fletcher and his successor Andy Flower will go head to head will only add spice to an already engrossing contest.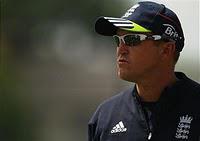 But while England only ever had eyes for Flower, Duncan Fletcher was eventually appointed Gary Kirsten's replacement after a lengthy and at times damaging recruitment process.
Kirsten stepped down following a successful stint in charge of the cricket mad nation, and he left them in rude health; with the World Cup tucked safely under their arms and sitting atop of the test match rankings.
It would be a difficult act for anyone to follow, but the fact that Kirsten is a protégé of Fletcher's only serves to set the former England man up for a fall, especially given the success Kirsten enjoyed during his time with India.
"He became one of the greatest influences on my life and career" said Kirsten of Fletcher in his autobiography, and the Zimbabwean has been accredited with transforming Kirsten's career when the pair met at the University of Cape Town.
But now the roles have been reversed and it is Fletcher who is following in the path of his young charge, and must prove himself in a job which it became apparent he was far from the first choice for.
In fact, it was Flower himself who the BCCI turned to when their overtures of South African Graham Ford were rejected for the second time (Ford turned down the job back in 2007).
The younger of the two coaches was said to be tempted by the offer - who could blame him when the money on offer was more than double that of his wages with England – and for a while there was a real possibility that he could leave the job that he had gained following the fallout of Peter Moore's acrimonious departure.
Although the former batsman publicly refused to comment on his future, little should be read into his unwillingness to pin his colours to the mast. Flower is nothing if not stoic and stubborn, unwilling to leave anything to chance – much like the technically minded Fletcher – and was always unlikely to comment unless he fully understood his options.
The main one of which was his reluctance to tour while he has a young family at home. Already a vocal critic of the international calendar, Flower was able to name his demands and present the evidence of an Ashes win and a Twenty20 World Cup victory as enough to convince the ECB that his demands must be met to secure his services for another three years.
And now both have made their beds and must lie in them, the prospect of a battle of the wits between the pair has been set up.
An already enthralling summer of cricket has just been turned up to 11.
If cricket betting isn't your thing, play scratch cards online (
http://www.scratchcards.me.uk
) for your chance to win big