Mophie have finally announced their first cases with integrated battery for iPhone 5. We are talking about their well-known Juice Battery Pack Series, which have always been one of the most popular products of this type from the iPhone 4 onwards.
Mophie Juice Pack Helium Case with integrated battery for iPhone 5
Even though it's been months now that iPhone 5 is on the market, there is still the lack of availability of accessories compatible with the new Lightning connector introduced by Apple in 2012. Today, however, Mophie, a company renowned in the production of accessories, have unveiled their new Helium Juice Pack for iPhone 5.
The Juice Pack Helium is the first case with integrated battery for iPhone 5 to protect and increase the autonomy of the smartphone produced by Mophie, a company recognized for its quality and safety of its products.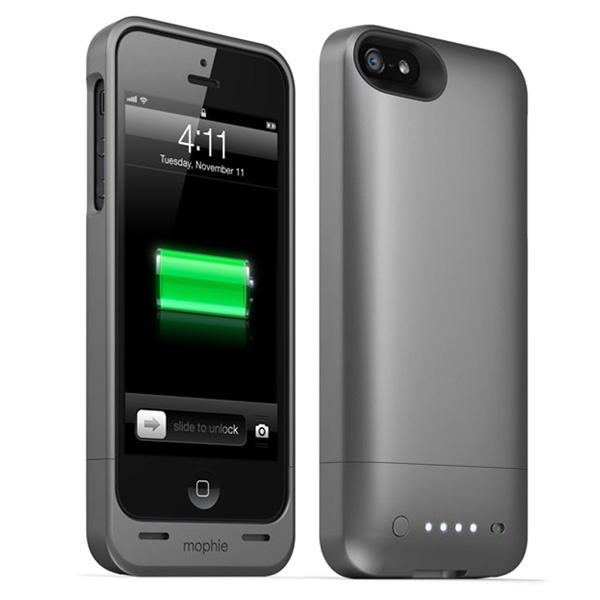 iPhone 5 Battery Case Mophie Juice Pack Helium – Metallic Black
Aesthetically, the Juice Pack Helium is very similar to those created for previous models: durable plastic, not bulky (13% thinner than previous cases of Mophie) and with a large built-in battery. The manufacturer claims that it is the battery cover thinner and lighter than ever: 1500 mAh of power is able to charge the battery of the iPhone 5 up to 80%.
The case wraps entirely the iPhone so as to provide almost total protection without affecting too much the aesthetics of the device. The Juice Pack Helium has cut-outs that are found on almost all cases (volume keys, speaker and microphone), but also a slot for the Micro USB charger to recharge iPhone and case simultaneously. Thanks to the additional reserve of energy provided by the helium juice pack you can get up to 6 hours of talk time on 3G or LTE networks, up to 7 hours of Wi-Fi internet browsing, while as for the multimedia functions – you can get up to 30 hours of audio playback or up to 7 hours of video playback.
Mophie Juice Pack Air for iPhone 5 Thinner Than Ever
Mophie have further improved their battery covers with Juice Pack Air for iPhone 5: it compresses a battery of 1700 mAh inside a cover for iPhone 5. All commands and inputs continue to be accessible and thanks to the ultra-thin design the built-in battery is almost invisible. Lighter and thinner than previous generations, but also more powerful to ensure that the phone keeps pace with your busy lifestyle.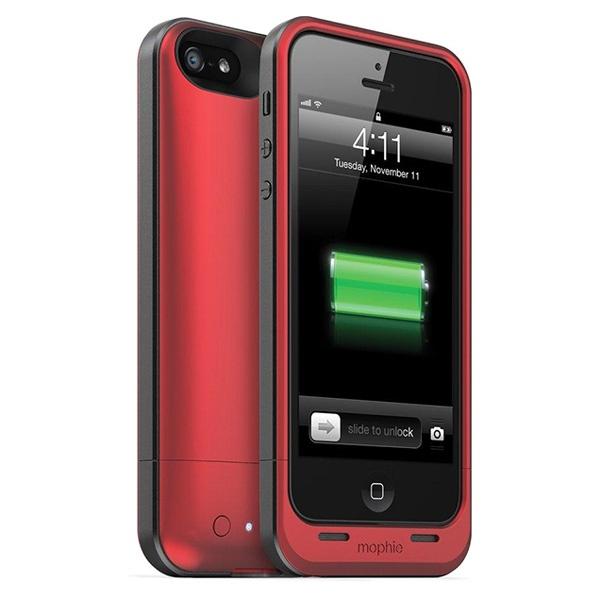 iPhone 5 Battery Case Mophie Juice Pack Air – Red
The cover weighs only 75 grams, and according to the manufacturer, is capable of delivering up to 8 additional hours talk time on 3G, up to 10 more hours of web browsing over WiFi, up to 40 extra hours of music listening, and up to 10 additional hours of video playback. These are just some examples, but you could deduce that the average duration increases by about 8 hours even using the iPhone 5 a lot. It is also resistant and protects your smartphone from bumps and scratches.
The cover / battery attaches to the iPhone and charges it via the lightning connector, while to charge the battery we can use a micro USB cable. The battery has a life of 500 complete cycles, where 'full cycle' means from 0% to 100% after 500 cycles, the total capacity of the battery may become less than 75%.