The Premium Kickstand iPad 2 / iPad 3 case attaches onto your tablet computer using three clips to keep the device firmly and securely, which makes the installation very easy to manage. When you pull up the flap on the fore side the three ribbons stay exposed. In order to turn your case for iPad 2 / iPad 3 into a stand convenient for typing, just fold the tablet backwards. This lets you type emails or edit documents, browse the Internet, or play games more easily.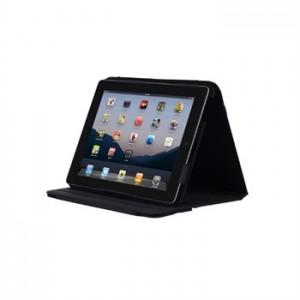 Case for iPad 2 / iPad 3 by Incipio
The iPad 2 / iPad 3 case by Incipio is made from sturdy nylon on the outside and a smooth microsuede in the inner side. This is a play-through case for iPad 3 / iPad 2, which means that you are allowed to use all of the tablet's features and functions such as ports, button, or camera, without having to remove your tablet from the case. Premium Kickstand deliver a great amount of protection to your favorite gadget. Besides, it adds up the overall look of the iPad, helping you stand out from the crowd.