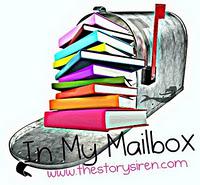 In My Mailbox is a weekly meme hosted by Kristi at the Story Siren where you can learn about all the awesome new books I've picked up this week!


Hey guys! This is my giant IMM for the week, including Christmas presents, wins, review books, etc. I was going to do a video IMM, but I decided not to because it was going to be like 20 minutes long....
I also got some great non-bookish stuff: An iPad!!! It's amazing, I love it :) Gift cards, socks, fingerless mittens that remind me of Jodi Meadows! I also got some book lights, book marks, and a book holder which is awesome!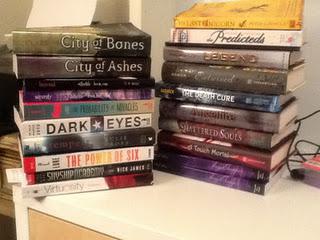 I was going to do a video IMM this week, but this pile is way too massive!! It would have taken way too long to read off all these books!
BoughtThe Last Unicorn by Peter S. Beagle
GiftsFrom my Bookworm Santa, Amanda!: The Predicteds by Christine SeifertFrom my best friend Katherine!: Legend by Marie Lu, Entwined by Heather Dixon, The Death Cure by James DashnerFrom Haley at Ya-Aholic!: Angelfire by Courtney Allison MoultonFrom Kaitlin at Books to the Sky!: Shattered Souls by Mary LindseyFrom Amanda at Stuck in Books!: A Touch Mortal by Leah Clifford, Half-Blood by Jennifer L. ArmentroutFrom my friend Shannon!: City of Ashes and City of Bones by Cassandra Clare! (I've read both of these, but I really wanted them on my shelf!)From Audris at YA Bookmark!: Half-Blood and Daimon by Jennifer L. Armentrout!
For ReviewBeyond by T.P. BojeSerenity by T.P. BojeThe Probability of Miracles by Wendy Wunder (Big thanks to Razorbill!)Dark Eyes by William Richter (Thanks to LibraryThing and Razorbill!!)
WonFrom Let the Words Flow, Twitter giveaway!: Tempest by Julie CrossFrom Pam, for buying some Stacey Jay books for the Stacey Jay and Suzanne Young signing: The Power of Six by Pittacus Lore, The Pearl Wars by Nick James, Virtuosity by Jessica Martinez
So this is my massive Christmas IMM! Hope you all had a fabulous holiday and make sure to leave some links to your IMMs so I can see what you got! Merry Christmas!