The 3D modeling has brought a new dimension to the world of presentation as far as architecture designs are concerned. It is basically picking the multidimensional images from your mind and pasting it on the paper in order to know how it looks like. 3D modeling has a great impact to transform things while presenting architectural designs and services. There are many benefits of 3D modeling in architecture presentation. Some of the key benefits have been discussed below.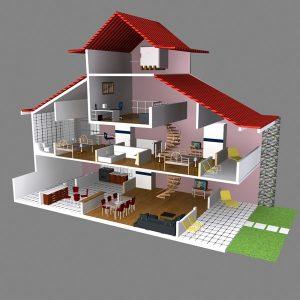 Quick, simple and realistic
3D modeling helps to deduce the value of diagonal, horizontal and vertical lines of 2D drawings to obtain a one-shot image of the architectural services. The design looks more vibrant and helps clients to go on a virtual tour to see the construction projects. With the help of 3D modeling, you can also check if a new plan is feasible. It helps to see and decide how designs would look like when small changes are done.
Best suited for project and marketing approvals
There is no doubt that 3D model offers a more satisfying experience when compared to a plain 2D sketch. It looks quite pleasing to a prospect and the vibrant images continue to linger in their minds for long. There is a better chance of winning the trust of the client. In addition, project approval takes lesser time in the construction business when you use a 3D model.
Corrections and remodeling made easier
When you use a 3D modeling, the impact can be seen easily in the overall designs even if smallest of changes are done. As a result, it helps to finalize your design, reducing the post-construction cost. Besides, the end construction turns out to be the best when 3D model is implied.
Easier to execute projects
When the design is clear in the mind of engineers, it becomes simpler to execute and complete projects at reduced costs. 3D model increases the productivity and there are fewer change orders. The cost growth also reduces to a great extent which is why 3D modeling plays a significant role in architectural designs. It is indeed a boon for architects as it helps to design a model of both commercial and residential flat which looks so real with wall paints, furniture, show pieces and more. It shows a great view to clients of their new dream home or dream office project. Thus, a 3D design shows physical dimensions of every object to help you understand the overall layout in a better manner. It also works well with showing the different angles of roofs such as Surrey Roofing.
This entry was posted in Blogging and tagged 3D modeling. Bookmark the permalink.