Engineers and architects need a flawless mechanism that transforms the proposed ideas to prospect clients. They work with architectural design firms that produce better quality images. This makes it simpler to convince potential buyers about the plan, especially when the layout is clearer. Earlier on, blueprints came handy, but the overall process was not certain. The developers in today's world understand the significance of 3D modeling as far as construction is concerned. They collaborate with the leading companies for these services.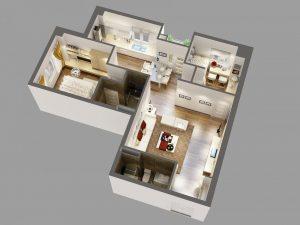 If you are a client, 3D modeling services allows you to obtain the best view of the completed project. Also, you are free to offer your views and suggestions. In addition, these drawings help developers to analyze possible design errors much before the construction takes place. Simply approach the best industrial architects for 3D modeling services after doing a thorough research. The expert designers work with these companies to produce the required visualization you are looking for. Some of the benefits of 3D modeling services are as follows.
Why choose 3D modeling services?
To visualize the scenario
As an architect, manipulate the models easily through 3D software. Examine different scenarios and choose the one that best suits your objective. Make changes in the design if you think there are flaws in the plan. It is simpler to make any changes in the design and if required, eliminate unnecessary costs. Choose reputed companies as they use high quality 3D modeling services to ensure precise designs for your plans.
Good speed
You understand the competitive market and hence its best to take action on your proposed designs as quickly as you can. This helps clients to save time and also create a good impression about your company. 3D modeling services complete the design process quickly without wasting your time. These companies use high quality software to interpret data at good speed. It increases the accuracy level and reduces the errors in the process.
Best control & better marketing techniques
The designers will have good control of elements when they use best 3D modeling services. So gather the required data through 3D laser technique and use them to develop a model of the original space. Have the best presentation of the plan to increase the marketing technique to a large extent. This way, developers approach potential clients with a better image of the completed project and help you show your marketing skills well.
Reduces the lead times
The key benefits of 3D modeling in the field of architecture are that it reduces the lead time through its advanced technology. It takes minimal time to create 3D models which helps you as a designer. Expect designs within a short span of time, so you don't waste a single minute to approach potential clients. 3D modeling is indeed a boon for architects.
This entry was posted in Blogging and tagged 3D modeling. Bookmark the permalink.