A few months ago I really enjoyed putting together my first wardrobe wishlist post for Imogen so thought I would do another one for spring and summer! Imogen is now wearing 6-9 month clothes and has been since a couple of weeks before she turned 6 months in February. She's just below the 91st centile line at the moment (chunk!) and so always grows out of the size just a little before she should. She's pretty long, so its usually the leggings and vests that go first and we can usually get a little more use out of the dresses and jumpers. Apart from H&M clothes which always seem on the bigger side – she's still fitting quite a few H&M jumpers and a pair of glittery leggings in 3-6 month size!
There's some really lovely clothes around for children at the moment, and some gorgeous spring colours. I'm loving yellows, greens and dusky pink but also love a bit of gray and monochrome, great to jazz up with a pop of color with a bright hair band or pair of leggings. Anyway, lets have a look!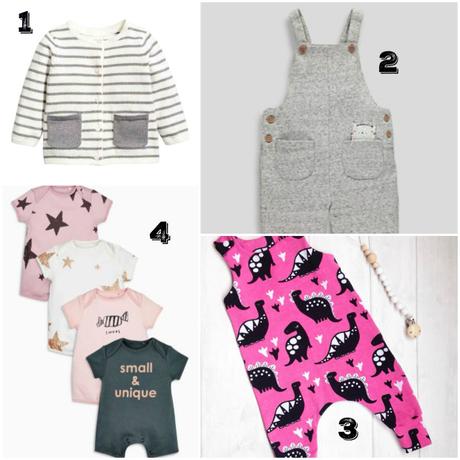 Glittery Grey Cardigan: H&M – £8.99
2. Girls Marl Dungarees: Matalan – £9
Hot Pink Dino Romper: Little E and Me
4. Pink/Grey Slogan Star Short Leg Rompers Four Pack: Next -£18
As mentioned above, I'm partial to a bit of gray clothing – it just goes with anything and I really like the look of this glittery one from H&M. Same goes really for these cute dungarees from Matalan – I think pair of dungarees is a staple in any childs wardrobe! A friend of mine introduced me to Little E and Me – a small business based in Staffordshire selling baby clothes with really cute prints, and I love this dinosaur romper – who said dinosaurs are only for boys? Last summer we didn't really get to put Imogen in many rompers – when she was born she was too tiny, and then after a couple of weeks the weather turned bad, so this summer I really want to make use of the romper – babies look so cute in rompers!!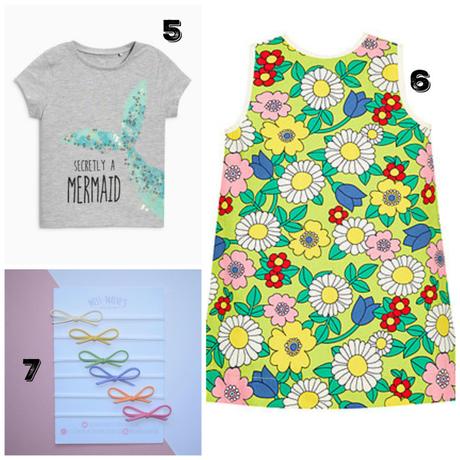 5. Grey Mermaid T-Shirt: Next – £6
Little Bird by Jools Floral Canvas Dress: Mothercare – £14

Spring Bow Head Bands: Miss Maeves Boutique – £8.50
Just like I'm loving unicorns at the moment (who isn't?!), I'm going to also jump on the mermaid bandwagon – and I love this slogan tee from Next! I don't usually buy much from Mothercare as I can't often find that many things I like and I do think its a bit overpriced, but I do like a few things from the My K or Little Bird ranges, and this dress would be perfect for summer. Anyone who knows me now, knows I love to pop Imogen in a little head band and I love these colours from Miss Maeves Bowtique, great for spring and so delicate too.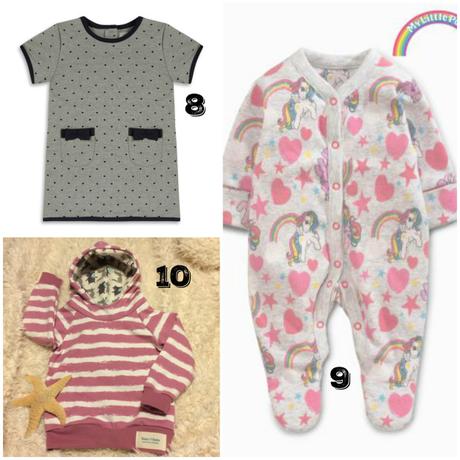 8. Baby Girl Grey Heart Print Dress: Primark – £6
9. My Little Pony Sleepsuit: Next – £10
10. Beach Hoodie, Organic Sweat Jersey, Dusky Pink: Bear & Babe – £17.50
I actually now own the Primark dress as I braved the rain the other day and drove across to the The Fort shopping park where there is a HUGE Primark – yay! I've always loved my little pony and think this sleep suit is just so so cute. Lastly, a word on Bear & Babe – if you are looking to shop small and local then this business based in Sheffield (so local to where I used to live!) is one to look out for for amazing handmade baby clothes – there's so much of their stuff I really want at the moment but looooove this little hoodie!
I hope you enjoyed reading about my dream wishlist for Imogen for the next few months – if you've got any suggestions then do point me in the right direction or if you are a brand who would like to feature your baby clothes or accessories in one of my What Imogen Wore posts please do get in touch!!
hot pink Dino romper – Little E and Me