Here are the details of the IMATs.  I'm sure that many of you who are going have already bought your tickets, but for those who never heard of these, here is the nitty gritty....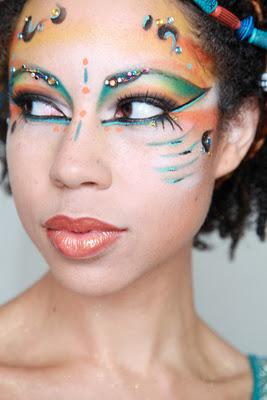 More to Love at IMATS London 2012
What: International Make-Up Artist Trade Show
When: (Pro Hours) 2 to 7 p.m. Friday, Feb. 3; (Public Hours) 8:30 a.m. to 5 p.m. Saturday, Feb. 4; 10 a.m. to 5 p.m. Sunday, Feb. 5, 2012
Where: Alexandra Palace, London (Wood Green tube station)
Price: £20-75
Phone Number: (001) 360.882.3488 ext. 106
Website:
www.imats.net
The International Make-Up Artist Trade Show returns to London this February with more space, more hours and more top talent than ever before!
IMATS London is moving from Alexandra Palace's West Hall to its Great Hall Feb. 3-5, 2012, which means more than twice the space for exhibitors and presentations. And in an IMATS London first, Pro Hours will be held 2 to 7 p.m. Friday, Feb. 3, so that Make-Up Artist Pro Card holders can shop and network without the weekend crowds. Master classes, open to pros and the public, also will be held Friday.   
Some of the make-up industry's most dazzling artists have been booked for the show. Keynote speakers include BAFTA winner Nick Dudman, the make-up mastermind behind the entire
Harry Potter
film series; he'll recreate a goblin make-up on actor Warwick Davis live at the show. Emmy Award-winning fashion veteran Valenté Frazier (America's Next Top Model, Elle, Vogue) will also be a keynote speaker.   
Additional special guests include Rob Freitas (Star Trek, Men in Black), BAFTA winner Neill Gorton (Saving Private Ryan, Dr. Who), Einat Dan (Vogue Sposa, Maxim), Lan Nguyen (Vogue, Elle) and Dany Sanz (Make Up For Ever founder). Dan and Frazier will teach the Friday master classes.      
Scores of international cosmetics companies will unveil new products and tools at IMATS London and offer discounts on old favorites. Industry leaders will teach workshops, do live demonstrations and share their work in the Make-up Museum, which will showcase creatures and effects from popular films and television shows.     
In the student make-up competitions, international make-up students will race to create winning looks. This year's beauty competition is themed Wild Kingdom; the character competition has a Men in Black Aliens theme.          
IMATS is produced by Make-Up Artist magazine, a division of Key Publishing Group. IMATS is held annually in London; New York; Los Angeles; Vancouver, B.C.; Sydney and Toronto. Make-Up Artist is read in nearly 70 countries and was created in 1996 by Emmy Award-winning make-up artist Michael Key.