I'm back in the rolling rumble of the city and I'm so glad I cleaned again last time so now that I'm back again in the flat it's still cozy to come back to. I make it a habit to do a real scrub down and disinfecting of our little personally old-yet-new rented space every time upon returning then once again before I leave (the polluted fluff of the area does gather even if just under a week). We clean religiously to avoid getting sick or itchy in any way. We may not be the neatest two on a daily basis, but we can't stand dirty surroundings. We can live with clutter but our tolerance for dirt is low because of our allergic reactions (afflictions apparently can be teachers in disguise). My teenage brother maintains our place by sweeping and mopping when I'm not around, washing the dishes, taking out the trash, and doing his laundry. We like our floor to be so clean we can take our bare feet to it. Once we're six months in we'll probably take my Mom's high-powered rainbow vacuum cleaner over the entire place, but it will have an easy job by then since we clean so regularly. This time upon returning to the flat I was delighted to finally to oversee a relative's repair guy install our IKEA Melodi pendant ceiling lamp (Php950) which has just lifted the central room of our kitchen-dining area entirely.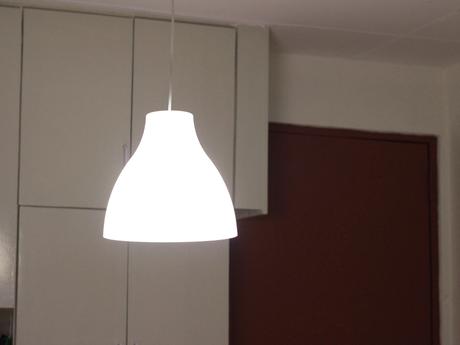 The IKEA Melodi pendant lamp is I think their most affordable ceiling lamp in the whole category, but it still makes a dramatic difference when you hang it thoughtfully. It hangs here with an bright part-warm part-cool 9-watt LED bulb that I'm glad isn't too yellow (GES from ACE Hardware have this warm-cool blend) that's beautifully diffused by the faux/frosted plastic shade. Lots of people ask me if IKEA is now officially in Manila, the answer is no, but Furniture Source, the helpful resellers of IKEA and other foreign brands of homeware, have been around for ages bringing in some new designs by ikea together with bestseller faves. You might remember this post on the Php3,500 IKEA Glasholm desk I purchased from Furniture Source Philippines last year for my room in the South(@furnituresourcephils on IG) and this follow up post still with the same IKEA desk but paired with a Flototto pro chair which was a gift. Read on to see more photos and more home items and repair tasks I kept busy with yesterday, plus Furniture Source PH sent me a surprise because of my blog posts featuring them!
Because of the Melodi lamp the main focus of the light intensity is over the dining table unlike when it was just a bulb attached to our ceiling which made it feel like a storage room before. Now, there is direct light and the rest of the diffused light gently lights the kitchen-dining which is the central area of our 2-bedroom space. My brother has the air-conditioned space and I take the space with no air-conditioning because I don't like sleeping with any air-conditioning. I like hotels because they have silent air-conditioning but ultimately I prefer the electric fan. If it is too warm to bear my brother will open his door and since our space is small his air-conditioner cools the entire flat including my room and the dining area.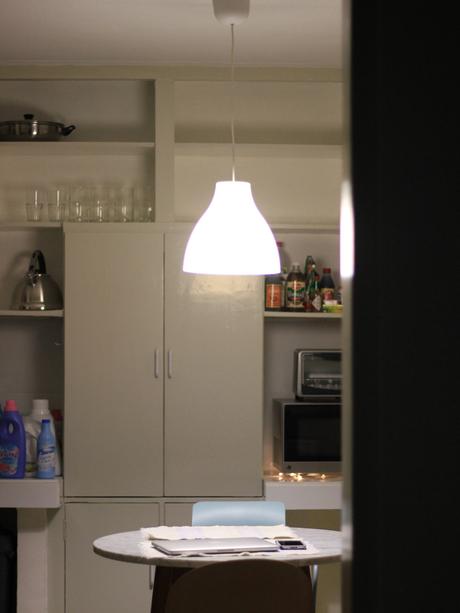 Since our small 2-bedroom space is just a section of an old house that we renovated the finishing of the room is obviously not like a modern condo (painted wood cabinets, uneven floor), we don't have our own bathroom or even a sink. All plumbing utilities and the restroom are outside and communal and so is the sink where we wash our dishes. We dream of maybe having a small sink inside one day. We can get some basic cooking done inside our flat but for aromatic Filipino cooking we usually unplug our tiny single induction stove (flameless) and cook outside in the common area. It's great discipline for us to get many chores done outside the flat as well. We are allowed use of a cousin's washing machine once a week, a full load each and we hang up our laundry outside.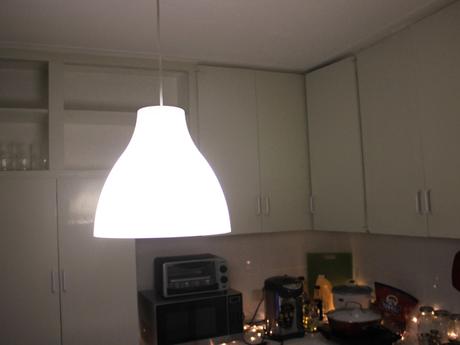 I'm also quite excited that we got this hanging up of utensils done in the kitchen, I could have done it myself, but I didn't have the tools for attaching the rack so an uncle's repair guy came over to help, he also attached the lamp. Nothing in this part is from IKEA, these are cheap racks you can find in well-stocked supermarkets (usually the older ones like Makati Supermarket Alabang, Landmark). The racks are Php30.00 and are probably even cheaper in wholesale places like Divisoria. Don't judge me for my grater still having part of the price tag on...lol, we haven't used it yet.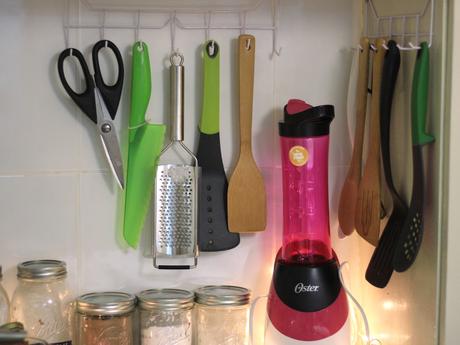 The rest of the other stuff, we have gotten use out of already. I prefer the utensils exposed and suspended so no insects can hide in suspicious dark vases if you leave them standing. Each hooked rack is about Php30.00 from the grocery. This way cooking utensils are easy to access and always at the ready. The Oster solo blend-and-go type blender was a Christmas gift from my best friend Alma, I still have to use it this week! You know when stuff's new you don't want to dirty it up just yet and have it stand well-lit for a bit, or is that just me haha. Now, last but not the least...the gift from Furniture source. Furniture source (now at this website, but still also on FB) texted me out of the blue asking if I was the blogger behind blessmybag.com, they knew I was a customer. I answered and they said they'd like to send me a gift as a thank you for featuring them in this post from last year...in fact they would send it to me immediately after I gave them my details. This delivery came two hours later! What a gift! Look, IKEA chocolate and...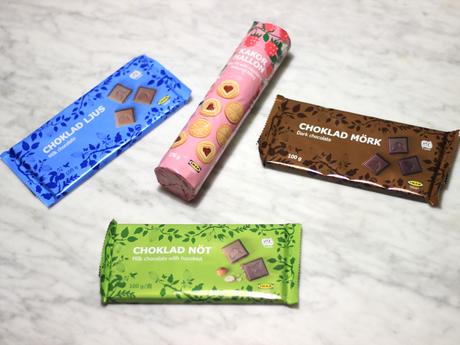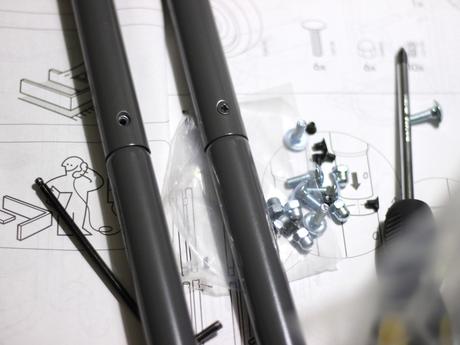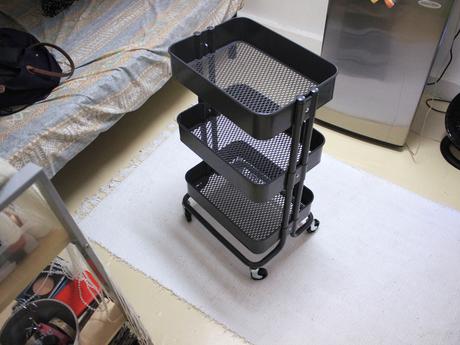 ...the RASKOG Utility trolley in dark grey, and it's a wheeler! I assembled it myself with page to page help from the manual included. I was tempted to get the bright turquoise one but I had to think practically, in the event of bringing the item to different living spaces it was better to have it in a neutral color. This is nice to have as bedside or office storage...but also it can function as a drinks cart in the dining area since it moves around so easily.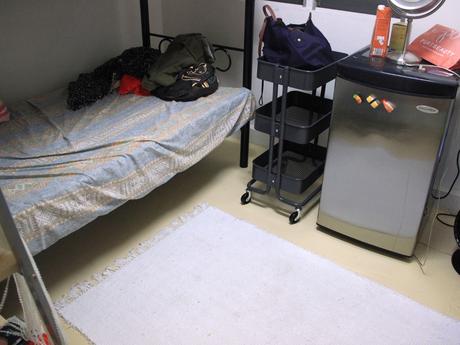 For now I've kept it here but it should prove more useful in the kitchen later on. Hope you liked my lengthy home post. Now you sort of have a glimpse of our city space, it's not way luxurious but not shabby either now that we've worked on it. We're happy we've adjusted and have made it as cozy as possible. Thank you to Furniture Source Philippines for inspiring this post, it's so funny how I was already planning and shooting the post for the Melodi lamp already (which has been waiting to be installed since November) then a few hours in after its installation you guys texted asking if you could send the RASKOG Trolley over :). You've made our stay here easy.