Workspace goals, check. In all honesty, at first, a glass desk was not the one on the list. I had cycled and recycled the thought of having a stereotypical beauty enthusiast workspace. You know...like someone might have stuffed more and more white IKEA storage into my room. Later, the cheerful concept of a museum for a room turned marmite on me. It suddenly didn't seem practical because I almost always have makeup on my hands when I'm testing makeup, or after having cleaned my brushes. I had a daymare of an infestation of flesh fingerprints covering the ever popular IKEA Alex drawers or my imaginary IKEA Micke desk (there are several Micke desks, I first eyed the narrow white one with a single roll-out drawer, out of stock locally). I began to think and internalize more whilst in the belly of an IKEA stockist's showroom. I'm not against any of you who just love how white brings in the added light while providing an instant surface for blogging or Insta-pushing everything pretty, I get you. If, for example, you live in a polluted city in a cramped space more WHITE is definitely your answer to opening things up and giving the illusion of more breathable space. I just wasn't so sure I wanted that completely white feel personally for me. I'm a lazy lout when it comes to making sure things are spotless white all the time. I just want things to STAY WHITE without my maintenance (brat LOL). Did I love the concept of having everything white in my room or did I begin to hate it? Would I decide to turn my room into a safe-to-say contrived blanc manifestation of tons of popularly curated, dreamy minimalist Instagram feeds? Roomspiration is okay, I don't mean to be a snob, just thinking for myself here. In my mind, especially after seeing Essie Button rock that beautifully clean, white home office (which completely suits her fancy for curating artsy, colorful objects) , I remained tempted to do the same. That is, of course, until I saw this IKEA Glasholm glass desk which felt like more of a step in the grown-up direction for me, and it was the exact same price as the other IKEA table I originally visited the store for. I also didn't mind that it didn't have any drawers, I mainly want my desk to be something I do stuff on, not store stuff in.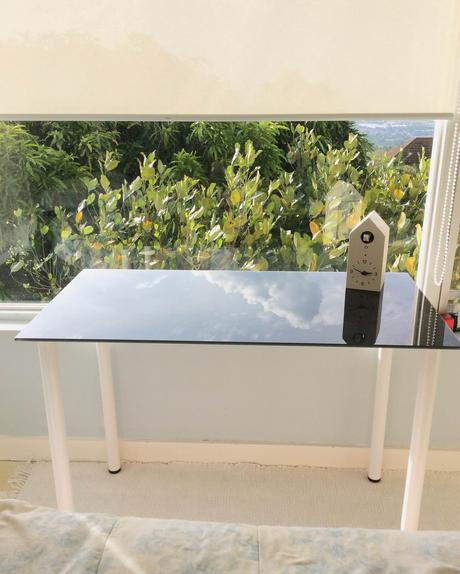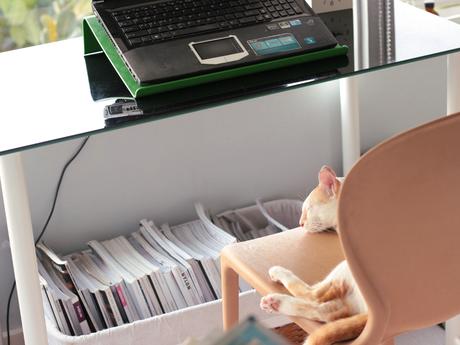 IKEA Glasholm Desk from @furnituresourcephils (IG) ,

Showroom:ONLINE CATALOG w/pricing and measurements by album: facebook.com/furnituresourcephils As of today this was the last Glasholm desk unit. 38 Granada St., Villa Ortigas II, Brgy. Valencia, QC., Daily 9am-8pm, Nationwide Delivery, Viber/Mobile: 09175383738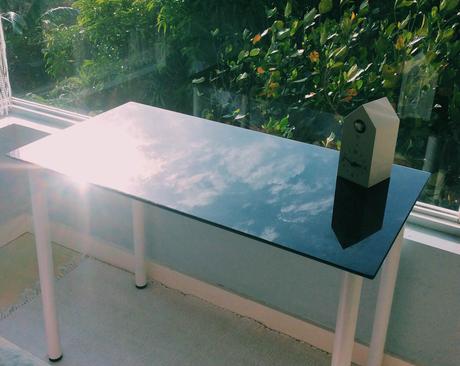 Along with getting a new desk I played a bit with an alternative way to use my LED fairylights in my room even when Christmas-time hasn't reared its red and green head yet.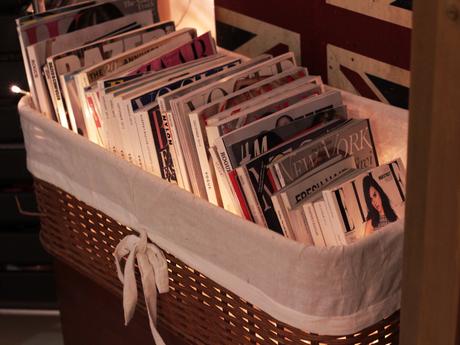 Hiding the fairylights in this basket surrounding the bottoms of magazines gives your "magazinspo" spot a bit of a magical glow at night, great idea as well for children's books for bedtime stories or their favorite soft toys. It's just something I suddenly thought of, no Pinterest or pegs involved. This basket of magazines however in the last 4 days has since migrated to beneath the desk (but it obstructed my feet) and now is to the left of the desk by the window on top of a chest, still glowing by sunset.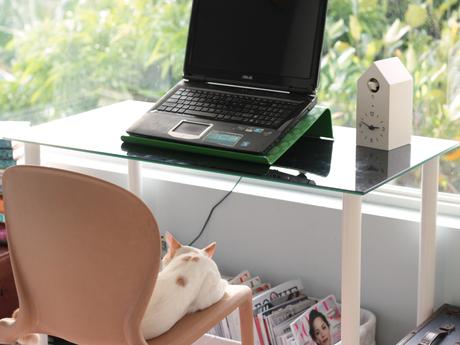 A couple of deciding factors on choosing the IKEA Glasholm desk had nothing to do with appearance. Laguna has extremely high humidity. I have an 8 year old IKEA cubby in white compressed wood which began peeling and warping at the corners around 2 years ago so this glass desk is a keeper. I also wanted something that resisted getting smudged or visibly dirty and was super easy to clean so that I could eat meals on it if my family was not home, make an art mess on if I felt crafty, and spill makeup on if I was experimenting. I also wanted something minimalist yet sturdy so the Glasholm desk was my answer. It was a cinch to assemble, the glass underneath has 4 round, stainless metal wells and the legs come with screw-tops so you just twist them in. The glass isn't transparent but it beautifully reflects the sky and will probably give me a sangria surface during a beautiful sunset. I also can't wait to set a vase or mason jar of fresh flowers on top eventually. For the good value price of Php3900 from an IKEA stockist I'm pretty stoked to have picked this up. It got me blogging right away as you can see, and I finally have a place to plant myself for more productivity.