Today is our ten-year anniversary. Taken as a whole, a decade seems to have blinked by. But taken in pieces, it has been a long, strange, wild ride. I almost lost John after just our first year of marriage. We fought back from his cancer and liver transplant together. We have climbed mountains together, rafted rivers, trekked through the Himalayas, sailed and surfed and skied and loved each other through worldly adventures and daily rituals.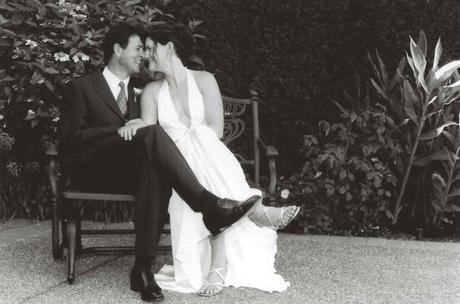 July 16, 2005
When I look back at the woman I was ten years ago today, when I vowed to love and cherish my husband, I was a different person. I was younger, of course, full of optimism and the kind of blind faith that makes us want to cleave ourselves to another person for all of eternity, but I was also pretty naïve. While I thought on my wedding day that I was wise and mature and knew exactly what I wanted out of life, I also wasn't fully formed yet. Back then I hadn't been tested like I have now. I hadn't yet watched my husband lying emaciated in a hospital bed wondering if he would ever wake up. I hadn't yet held his hand while his mother took her last breath. I hadn't yet cried in his arms in grief after losing my dad.
Call it an accumulation of experiences—the kind of self-awareness that comes from witnessing ourselves manage crises and joys, trials and triumphs. But when I look back at that bride, I want to treat her kindly, to pat her hand and tell her that while it might not be easy, it will be worth it.
If I could go back and whisper into the ear of that former self, I know what I would say. I would tell that blissful bride to accept each moment, to stop trying to orchestrate her life and simply be present for it. I would remind her to enjoy every moment with this man she was committing herself to. I would tell her that while life can't be lived easily, it can be lived fully. I would tell her not to take everything so personally.
It is easy to look back at our former selves and access our growth. It is much harder to look ahead and imagine how we will be ten years from now. If I'm being honest with myself, I have to admit that the next ten years probably won't be as rosy as I'd like to think. Life always has a way of messing with your best intentions. But there's one thing I do know. Whatever lies ahead for us we will face it together.
After ten years of marriage, I know that I'm lucky to have John as my husband. He challenges me to be the best version of myself (admittedly, this isn't something I'm keen to appreciate all that often, but still). He's strong when I'm weak. He's even-keeled when I drop my basket. He pushes on towards camp when I want to set down my pack and lie, exhausted, on the hard ground.
Today I celebrate what we've accomplished and shared so far. Here's to the next ten years.