I am sharing some recent craft makes with you today. Browsing 
Pinterest for Wedding Card and Birthday Card ideas
I discovered lots of inspiration. I combined some of the ideas to come up with two rather lovely yet different cards.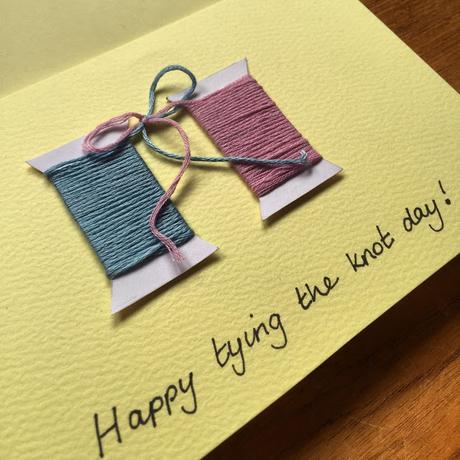 Handmade Tying the Knot Wedding Card
Both the cards I have made have a sewing slant to them, one a birthday card for my sister and the other a wedding card for a friend.
The handmade wedding card 'Tying the Knot' was much simpler to make. A few pieces of card and some spare embroidery threads tied in a symbolic knot. It made a lovely unique wedding card, which was very well received.
The birthday card was a simple mug of tea design made from fabric. The tricky part for me was I had decided to sew the fabrics using free motion stitching on my sewing machine. I had little clue as to what I was doing, I attached the cover to the feed dog of my sewing.        . machine and somehow I managed to squeeze the hoop with my fabric in under the needle. As you can see from the stitching it is rather wild, I felt like I was in control of a runaway train! Clearly I have much to learn about free motion stitching. But my sister was more than impressed with the finished card.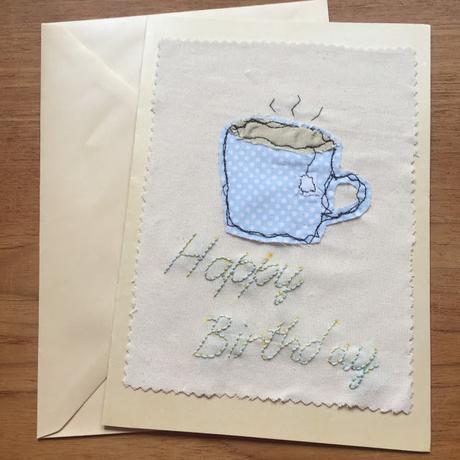 .
Free Motion Stitching Birthday Card
Free Motion Sewing - A Mug of Tea
I am joining in with Making Home linky this week at Mrs Crafty B.