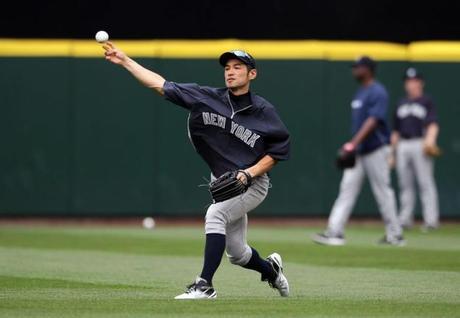 Photo: Otto Gruele Jr. - Getty Images
- Adam Parker


It's official — Yankees general manager Brian Cashman is the evil mastermind at the head of the long-hated 'Evil Empire.'
The New York Yankees are once again in the news, this time, acquiring 10-time All-Star outfielder Ichiro Suzuki.
If you jaw just fell to the floor, we don't blame you. Our reaction was exactly the same. Stunned.
Who did New York have to give up to land arguably the greatest pure hitter of our generation!?
They must have needed to empty their farm system and then some to land Ichiro, right? What about the money? No doubt the secret branch of the U.S. Treasury Department that resides in the catacombs of Yankee Stadium (your welcome, conspiracy theorists) was printing money non-stop or had to outright give Seattle one of their prized printing presses.
After all, Ichiro IS, or I guess WAS the Mariners after Ken Griffey Jr. moved on, and even when he returned for one final hurrah before hanging up his cleats.
The 38-year-old Ichiro -- he will turn 39 during the World Series -- acknowledged his interest in being traded, as he felt Seattle was no longer the best place for him in their current rebuilding phase.


"When I spent time during the All-Star break to think, I realized this team (Mariners) has many players in their early 20s,"Ichiro said through a translator."I began to think I should not be on this team next year. I also started to feel a desire to be in an atmosphere that I could have a different kind of stimulation than I have right now."
Japanese translator aside, we can all read between the lines. Ichiro is at that point where he just wants to win. Can you blame him?
Since coming over to the States back in 2001, Ichiro has grinded tooth and nail, and has poured virtually every ounce of blood, sweat and tears to try and accomplish in Seattle the only goal he's yet to complete in Major League Baseball — winning a World Series.
Unfortunately for the Yankee haters out there (which realistically speaking is everyone who is not a Yankees fan) Cashman brought Ichiro to the Bronx for little more than minor leaguers D.J. Mitchell, Danny Farquhar and $2 million in much-need cap relief. For the Mariners, this was basically a trade made to show loyalty to one of the organization's greatest players as well as lighten the load on the wallet.
To put it simply, the Mariners basically "gifted" Ichiro to the Yankees for a couple million dollars (chump change to the Bronx Bombers) and two magic beans. That's highway robbery in every sense of the word. The lowest of risks that could result in the biggest of dividends if Ichiro can be even half of what he once was.
My guess? The odds are most definitely in the left-handed Ichiro's favor. First, he moves from pitcher-haven Safeco Field to hitter-friendly Yankee Stadium, where even his line drives could leave the yard over that notoriously short porch in right field.
Oh, and the talent Ichiro now has surrounding him in the lineup is obviously far and away superior to what he had in Seattle. It's so obvious in fact, that I'm not even going to bother with comparisons — anyone who has seen either of these teams recently knows what I'm talking about.
But enough of me subtly bashing Seattle.
Instead, props to them for giving Ichiro a chance to play for a world championship after he gave them everything he had for over a decade. As a thank you, I'm sure Ichiro will be glad to send Eric Wedge and the rest of the Mariners a postcard from the World Series.
Welcome to the Big Apple, Ichiro!
Be sure to follow Beard And Stache on Twitter @BeardAndStache, and also Adam @Adam_Parker43, Like our Facebook page HERE!