Happy Holidays Lovey!
I didn't sleep well last night and I think it was because I wasn't in my own bed (I was awake for about 3 hours in the middle of the night)... but anyways all day I've been pretty lethargic and lacking in energy. My goal over the holidays is to stick to my workout schedule and try to make the healthiest choices possible when it comes to what I'm eating and drinking. Today the Wingham gym wasn't open past 1pm and by the time I mustered up the energy to actually exercise, it was about 1pm.. boo.
Not to fret! I'm staying at my Aunt and Uncles house (they go to Vegas over Christmas) and they happen to have a home gym. SCORE.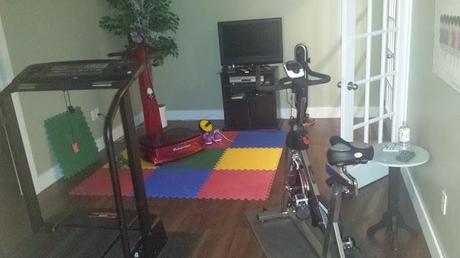 By no means is it crazy or extensive, but there's enough stuff there to have a seriously good workout. I didn't feel like going on the treadmill or doing some spinning, so I came up with a tabata workout that I could do multiple times to get a nice sweat going. If you don't know what "tabata" is, it's a type of interval training where you're doing work for 20 seconds, and resting for 10 seconds and you do it a total of 8 times which puts you at the 4 minute mark.
I came up with this workout and designed it so that you complete it 5 times, making it 20 minutes in length. I downloaded a tabata timer on my phone (it whistles at you every time you stop and start!) and laced up, walked downstairs and got my sweat on. Oh - I made a pretty sweet playlist on my laptop and brought that with me too. And water. Always water.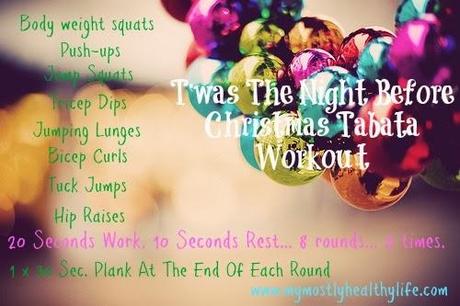 T'was The Night Before Christmas Tabata Workout! If you don't have any fitness equipment at home, you can use a stair for the tricep dips and you can use some heavier cans or basically anything you can bicep curl for the bicep curls! Easy peasy!
I will admit, by round 3 I opted for alternating lunges as opposed to jumping lunges, and the hip raises were getting REALLY hard by the end of the 5 rounds. The Tuck Jumps were also brutal and I always feel stupid doing them, so I'm glad no one was around to see that! Lol... I also added a 30 second plank at the end of each round to engage the core and really target the whole body. The workout in total took me about 25-27 minutes including my water breaks and music changes. Not bad! I was really sweaty by the end. I also almost gave up after 4 rounds... but nobody likes a quitter, right?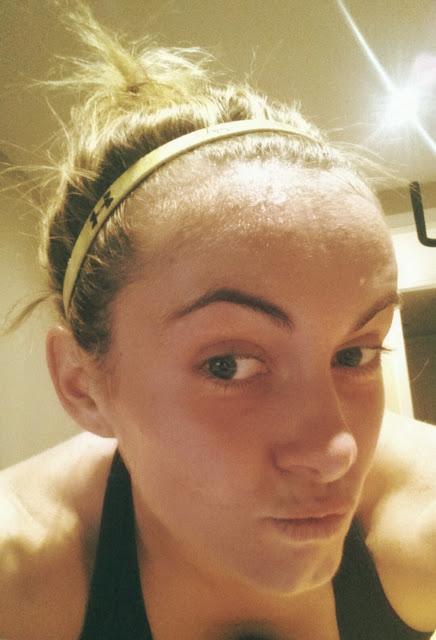 If you look closely at that photo, you can see the sweat on my forehead and a drip at the very end of my nose. I wasn't lying when I said it was a hard one! :) My hair also is insane, so don't judge me lol.
Alright, I'm off to drink my protein shake and head over to my parents house. I think I need a shot of espresso... le sigh.
If you have 30 minutes today - try this workout out and see how great it feels! :)
Ps - SANTA COMES TONIGHT! So Happy Holidays, or Merry Christmas, or Feliz Navidad, or whatever it is you celebrate, HAVE A GREAT NIGHT! And if I don't talk to you, a great day tomorrow!! xoxo