Hi friends! Man this week flew by fast (in a good way)!
Pretty excited for Friday cause another cousin is graduating from high school! He's the little one on the far right.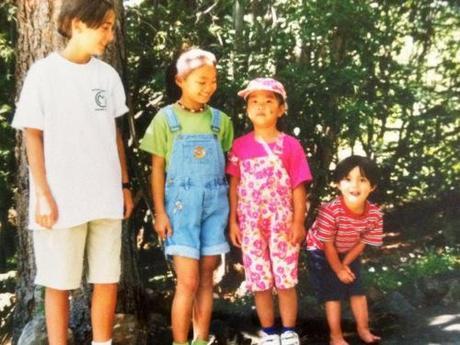 I brought sexy back in my denim overalls before JT did
I will be going to high school and college graduations for the rest of my life. Seriously. I have 1 in 2015, 2 in 2016, 1 in 2017, 4 in 2018. Then my youngest cousins sometime around 2023 and then my kids at some point. I should invest in a good set of bleacher seat pads for when my ass hangs lower than my knees.
Tuesday WORKOUT:
50 min. tempo run.
It was going great until around mile 3, when I realized I was dehydrated. My middle (faster) miles ended up being slower than I wanted because I'm an idiot who can't remember the simplest of things: drink water. When I got home I immediately drank coconut water with IN Refresh mixed in. I actually like the taste of that more than when it is mixed in with water!
—–
And now, I want to talk about sleep. I know how important sleep is for recovery and just overall health, yet I don't get enough. I am curious to see how many hours/night you kiddos average. If you're interested, Runner's World has a great article on sleep and runners that I read a little while ago. And if you don't want to, here's the CliffNotes version: run hard + sleep more = recover
Ryan Hall pens naps in his calendar as "business meetings," and both Deena Kastor and Shalane Flanagan log as much as 10 hours of shut-eye a night. They clearly understand what science is increasingly revealing: It's during sleep that your body recovers from hard training and builds you into a better runner.
I'm bringing this topic up because I recently got a FitBit (huge thank you to Kyle's mama) and one of the cool features is that it tracks your sleep. I knew that I was always tired and that I could probably use more sleep, but it's different when you see the actual numbers.
I have been averaging  6.5 hr/night and that's with my weekend sleeps which are almost always longer. The FitBit also tracks restlessness and awake time. I know it's probably not the most accurate thing, but it does give me a rough idea.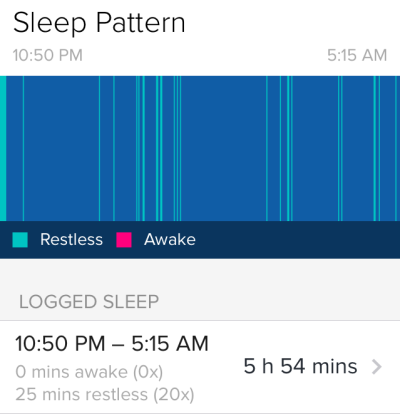 I'm no expert, but me thinks I don't get enough sleep.
Clearly I am the worst person to sleep next to. I roll around a lot and have been known to wake up completely turned around (my head at the foot of my bed).
When I used to have sleepovers with my girl friends, I'd often offer to sleep on the floor or couch or something. Not fun to wake up to people hating your guts for rolling on top of them in the middle of the night.
All I can say is, good luck Kyle.
Anyone do a tempo run this week?
How many hours/night do you sleep?
Are you a restless sleeper?