Home > Stock Market > I think the FTSE has further to fall.
I think the FTSE has further to fall.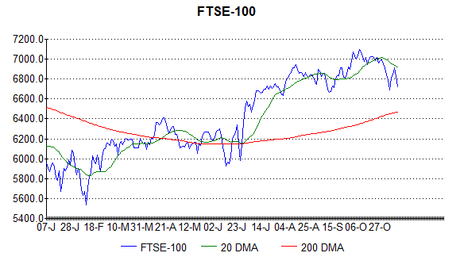 So, it's Trump then. I can't say I'm entirely surprised, as people who want change are significantly more motivated to turn out and vote than those who believe in the status quo. The markets seem undecided as to how to react however: Dow futures were down 1,000 points as the result became apparent on election night, but the Dow actually closed up during trading on Wednesday! The FTSE-100 gyrated similarly as the stock market decided it might quite Trump's tax cut and infrastructure spending plans. The bond market liked them less so though - inflation is likely to rise and his plans are unfunded so government borrowing will probably rise significantly as well. Never mnid, this will help bring about the realization of the West's bankruptcy all the sooner!
Turning to the FTSE, I think there is likely to be further to fall after the peak pattern I noted in my previous post. If we are at the start of a bull run, then a 10% correction at this stage would be typical, which would take us down to 6,400. There is a little chart support at this level (the April peak) so I'll make that my initial target, but I wouldn't be surprised if the index went a little lower. There is strong support at 6,200 however, and I would expect that level to hold. If it didn't, then I would start to question my belief in the bull market. The index won't fall in a straight line though, and, in the short term, I suspect that there may be another bounce from just below the last 6,693 low to just below the 20 day moving average this week.