Moon Stickers

For those of you who don't know, I can draw. I enjoy sketching. That's why I created Anais as my blog's icon 7 years ago. One thing leads to another, Anais was too high maintenance and she was let go - I assure you, she's in a happier place now... now that doesn't sound right, oh well. I did not stop drawing. I kept drawing until the day comes where I decided to share my art with the world.
Inspired by the moon that shines over me as I went camping last year, I decided to draw the different phases of the moon. Accompanying the phases is a moon tarot card. The card that pushes you to trust your instincts and intuition so that you could be lead to higher levels of understanding. To allow the moon to shine on the creatures that are in hiding the truth and the facts that we need to see.
After various positive reactions from you guys when I posted my painting stream and sessions on IjournalUsee Instagram stories, I decided to print it as a reward for you. That's where Ko-fi comes in.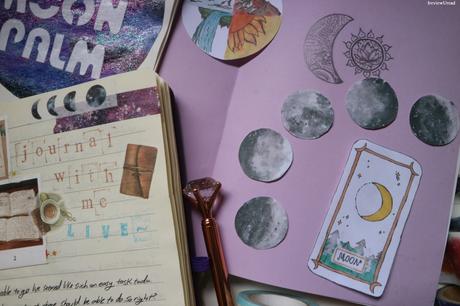 Coffee for Stickers | Get a sticker pack for buying me a Ko-fi

Ko-fi is a place where you can support creators like myself to continue creating. All it takes is 1 coffee. You can buy more than 1 coffee, depending on how much you want to help me. Take it like as if you're getting me a cup of coffee or a cheap lunch while you talk to me on stream or watch me ramble away on youtube. If you are not interested in donating the coffee's fixed price, you can donate any amount you want in my tip jar here. If I am streaming, your tip will show on stream and you can watch me get flustered while I thank you live. If not, do remember that any amount you donate will help me keep IreviewUread and IJournalUSee running.
Since it's my first time, I thought it would be nice to give you a little gift for buying me a coffee.
What will you get for buying me a coffee?
5 Moon Phases stickers
1 Moon Tarot Card Sticker
Handwritten Thank-you Note
1 Free 4 Elements sticker
Each cup of coffee is USD$3 so delivery is free. If you do not want a sticker pack and just want to support my work, I sincerely thank you and hope that you would continue watching and reading my work for more years to come.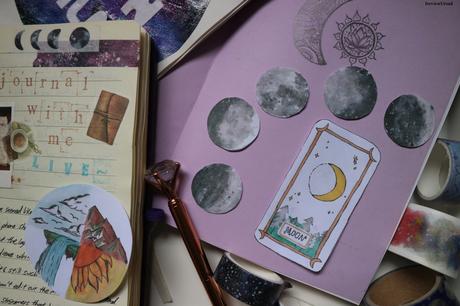 What should you do if you want to get your sticker pack?
For those that are outside of Singapore:
Head to IjournalUsee's Ko-fi to buy me a cup of coffee.
You can leave your address in the messages - remember to tick 'private message' so only I can see your message.
Alternatively, you can leave your email in the messages or contact me on IjournalUsee Instagram. Do notify me your paypal email/ Ko-fi username that you used to buy me a coffee for verification purposes.
For those in Singapore:
There are 3 ways you can get the stickers:
Through IJournalUSee Ko-fi - Prices remains to be USD$3 if you choose this option but I will add some extra stationery for you to make up for the delivery cost. (You will only get extra stationery if you choose this option and your mailing address is in Singapore)
Through IJournalUSee Instagram
Through Carousell (I'll link the listing once I've posted it)
Since the price on Ko-fi also includes the international shipping price, it made sense to have it cheaper if you contact me directly if you are from Singapore. Sticker flake packs would be SGD$2 for people residing in Singapore - This price only applies if your mailing address is within Singapore.
If you PayPal, the payment could be made via:
PayNow or Paylah!
Bank Transfer
Cash - For meetups only. Do note that I only do meetups at in the North of Singapore, more information to be conveyed to you if you choose this option.
Purchases made are non-refundable. No exchange is allowed either. Stickers will be shipped out via normal mail only.
Shipping information
I will ship the stickers out within 48 hours of receiving the coffee. All mails will be sent out via Singpost normal mail. I am not liable for lost mails.
International delivery:
Shipping out of Singapore takes 2 weeks to a month to reach.
Singapore delivery:
If you are within Singapore, you can choose to do mailing or meet up for collection. For mailing, the stickers will reach you within 7 workings days. Meetups location and timing are to be negotiable.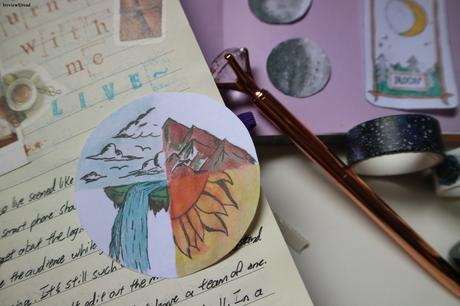 More information on the stickers
You will not be getting the original paintings of the stickers, so they are not as vibrant as you see in the video. However, they are accurate to the photos I've posted here.
I have printed the stickers on sticker paper and hand-cut them out myself. I don't love the quality of the sticker paper for the backings are a bit difficult to remove - sorry about that, beginner's problem. Once I get enough funding, I can upgrade my printing quality and sticker papers so do look forward to that.
Here are the dimensions for the stickers:
Moon Phases (Each) - Diameter = 3cm
Moon Tarot - 4.3 cm x 8.1 cm
4 Elements - Diameter = 6.5cm
Thank you for your support!
Be it you reading this post or you supporting me through ko-fi, I would like to thank all of you for your support. Without you, I wouldn't have gotten this far with IreviewUread. Do note that you don't need to buy a coffee. It is more of an opportunity for us to share this bond over something that I've created.
I hope that you would continue to support me through this new adventure on IJournalUsee. Feel free to leave a comment or email me if you have any further questions.
Ko-fi - Coffee for Stickers | IJournalUsee Instagram