Hello everyone!
If you've been following this blog for a while, you know that I've always struggled with acne and nothing has been able to completely eliminate it. So when I was offered an opportunity to test out some new skincare products from Skintactix, I jumped!
I've struggled with every form of acne imaginable - whiteheads, blackheads, purpleheads (kidding!), cysts, papules, etc. Thankfully I haven't got it anywhere other than my face (knock on wood!), but I know how much of a struggle it is to treat it. I've tried a bajillion over-the-counter drugstore treatments and a million and one prescription creams. Nothing works. Soooo...
Over the next four weeks, I will be updating you weekly on the progress of my skin with pictures. I will be using the 3-step Skintactix system day and night with no other products (except a moisturizer), and I'm starting the challenge today, so here's what my skin looks like right now.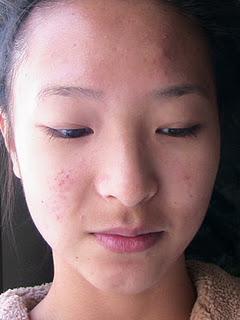 Freshly washed face, no makeup. You can see some breakouts on my forehead and right cheek. The left cheek is pretty clear except for a little bit of scarring.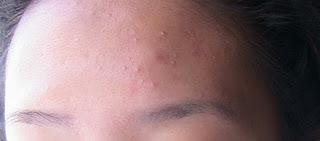 Small breakout on my forehead, along with a developing cyst.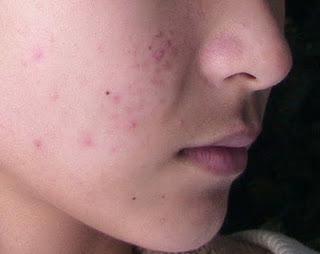 Breakouts on my right cheek, with some scarring.
So as you can see, my skin is far from perfect. Hopefully by the end of this challenge though, it will be!
Here's what the system includes: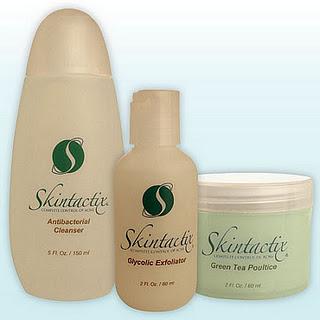 My actual kit is smaller than this, but my camera ran out of battery before I could get a picture. Antibacterial Cleanser, Glycolic Exfoliator, and a Green Tea Poultice
The instructions say to use the antibacterial cleanser to cleanse skin, apply a thin layer of the glycolic exfoliator and leave on, and then apply a layer of the green tea poultice and leave on. 
As for speed of results, the pamphlet mentions that results will usually begin around the third week, and a flare-up could occur during this time as well. Blackheads will take about 2-3 weeks to treat and whiteheads about 3-4 weeks. 
Skintactix also gives a guarantee that these kits will reduce acne, blackheads, and/or whiteheads, or you can send it back for a refund.
If you interested in checking out Skintactix for yourself, you can find them here.
The next update will be at the end of the week, so stay tuned!
Love,Belle